A Celebration of my Aunt Fran and Uncle Irving's 60th Wedding Anniversary
---
Update:
28 September 2004
. Both Aunt Fran and Uncle Irving have died - Irving in April of 2003 and Frances in July of this year. I miss them terribly but will always treasure the wonderful memories and family values they shared with me. My cousin, Harlan, and my sister's husband, Don, have also passed on since this was first posted.
---
This past summer of 1998, my family (on my mother's side) celebrated the 60th Anniversary of my

Aunt Fran and Uncle Irving Lundeen,
of Altona, Illinois (east and south of Moline). Frances is my mother's sister. For my readers who don't know,

my mother (Marie) and father (Charles, Jr.)
have passed away (both before 1980), as have my mother's other sister, Helen and her husband, Dwight. Thus, Frances is the last of the three "Anderson girls" (my maternal grandparents were Dora and Frank Anderson); they had three girls ... hence, the name has stuck.
Aunt Fran and Uncle Irving have been very much like second parents to me. They and my parents had a special relationship that age has made clearer to me ... many of the summers of my youth were spent on the farm with them, and their children (my cousins), Harlan, Bob, and Lori. To say that those summers , and all the other times we shared, were influential on me and my life would certainly be an understatement. To know Fran and Irving is to love them, plain and simple. Life is full of complexities but Fran and Irving have shown me so many things about the world and living ... I am proud to be in the world with them and overjoyed over the long endurance of their marriage. I'm especially pleased that Vickie and I were able to be there for this delayed celebration .. their real anniversary is New Year's Day, but a family gathering in Illinois in late December/early January can be a bit dicey, thanks to my favorite subject, the weather. Thus, the celebration was delayed until summer.
Just for fun, this is what they looked like at their

25th anniversary.
I guess, for me, this is how I always remember them, since I was just a boy, then. Even more fun is how they looked

just after they were married.
When my cousin Bob was just a baby, in 1944, the family looked like

this.
And in 1949, they looked like

this.
Lori was a very special gift to them and to all of us ... she was born well after Bob and even after me (I'd been the baby of the family for a long time) but has become everybody's joy. Lots of love was lavished on her, and she's proof positive that lots and lots of love simply can't "spoil" any child. Here's
Lori with her husband, Ron (Smith).
So, a 60th anniversary reunion of the Lundeen family looks like

this.
Helen and Dwight's boys (my cousins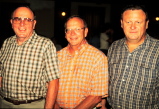 Herb, Jim, and Dennis)
are all grown up now, of course. Dennis, being nearest my age, has always been closest to me. His three kids -

John, Jeff, and Jill
are growing up fast, of course.
My sister, Joanne, and her husband Don Beckett were also at the celebration, so

the "Doswell" clan
was well-represented.
After the formal celebration, we re-convened on the Lundeen farm ...

here
are Fran and Irving with their extended family ... children, niece and nephews, grandchildren, etc. It was a lot of fun and I love visiting all of them every chance I get. This was only the second time that all of the cousins (children of the "Anderson girls") had been reunited since we all began to go our separate ways: Harlan, Bob, Lori; Herb, Jim, Dennis; Joanne, and me... the last time was when Lori got married in 1986...

Here
is what we all looked like at that happy occasion. I was a lot skinnier but still didn't like wearing suits. My family has had to put up with my whims, of course ... that's what families do for each other ... unconditional love, no matter how silly we are at times.
As a special bonus, in the church where the celebration was held, there was a gallery of photos from confirmation classes dating well back into the end of the 19th century. As luck would have it, naturally, the classes with the three "Anderson girls" were among them and I took photos of the photos so I could have a record of them. My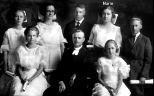 mother, Marie, was the oldest,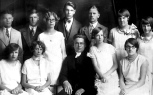 Helen was in the middle, and
Frances was the baby.
---
My thanks to Cousin Lori, for loaning me the old photographs of the Lundeen family, on display at the celebration, so I could scan them. If I've left someone out, please don't be upset ... this project turned out to be a little bigger than I thought, so I'm trying to stay focused.