Chuck Doswell's
Storm Chase Log - 2003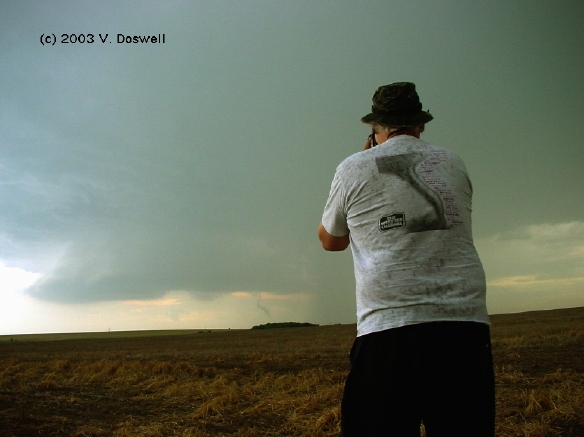 ---
Posted:
05 April 2003
Newest update:
31 July 2003
: added some more images ... I think this update finally does it for this year, although I might find something else to add, so I can't rule that out.
NOTICE .. Any duplication, electronic or otherwise, of the images at this Website without my expressed permission is a copyright violation, and I will treat it as such. Do us both a favor and ask me for permission before using any of the images herein ... you can e-mail me at cdoswell@earthlink.net.
NOTICE .. All images I show on my Web pages have been: scanned from original transparencies, shot from a digital camera, or captured from video, with some digital enhancement (touch-ups of dirt on the transparencies when scanned, and some modifications of the scanned images and frame captures to make them look more like the originals or to enhance the image quality). I do not alter my images digitally to put in things that were not originally in the image or remove things that were originally in the image, and I do not make digital composites. I am personally opposed to such image manipulations unless they are admitted to clearly and obviously.
Route notation: "USXX" denotes US highway XX, "I-xx" denotes Interstate highway xx, "SSxxx" denotes state (SS) highway xxx, "FMXX" in TX denotes farm-to-market highway XX. Wherever possible, cities that are National Weather Service sites are identified with the appropriate 3-character identifier.
---
Chase #1 - spot chase (w/Vickie)
03 April 2003 (Thursday) - supercell
Route: OUN, OK9 to I-44, south to Lawton, then north on US281 to Apache, OK, west on OK19 to 8 west of Apache ... then back to Apache, north on US281 to OK9, then east to Chickasha, OK, then northeast on I-44 to OK9, back to OUN.
A "spot" chase with my wife, Vickie .... our first chase of 2003. It turned out to be a great day! We chased my forecast, which anticipated the chance for a few isolated storms in southwestern OK, after making the decision to go when the first high-based storms went up. Drove past the high-based junk for a while, hoping to find something better going up behind the crud, and then a good-looking anvil became apparent as we were approaching Lawton, OK. After some manuevering, we got into a good position and simply set ourselves down on a hilltop, with a great view of the storm. It was an LP-appearing supercell with little apparent inclination to produce a tornado, but the late afternoon was pleasant and we had a front-row seat view of a very pretty storm, so we stayed put, and shot video and stills of the storm until after sunset.
Some nice stills from Vickie's digital camera can be seen below.:
Also, at the site by Elke (and Roger) Edwards you can see the same storm from a different perspective, while Bob Conzemius offers yet a third perspective.
Chase #2 - spot chase (w/Vickie)
15 April 2003 (Tuesday) - thunderstorms
Route: OUN, I-35 north to I-240, west and north to I-40, to US281, northwest to Seiling, OK, northwest on US270 to Ft. Supply, OK, north on US183 to Buffalo, OK, west on US64, to about 8 west of Gate, OK, then east on US64 to US283, south to US60, east to Seiling, OK, then southeast on US270 to Geary, OK, south on US281 to I-40, east to I-240, then south and east to Sooner Road, then south back to OUN.
Not a particularly good chase day for us, owing to bad visibilities and my bad decisions. When storms began to go up, we headed west to them, but the storm we found in the OK panhandle was awful. This was discouraging enough ... then we heard about the tornadic storms in the TX panhandle, so we headed south, but I was still unhappy with the storm we found earlier, and was not convinced it was a good idea to drive through murky skies, perhaps right into dangerous storms, so I basically gave up and veered off west of Arnett, OK. If we had gone on south, we might have intercepted the good storms coming toward OK from the TX panhandle, but ... . My congratulations to those who got tornadoes on this day. .
Chase #3 - spot chase (w/Vickie)
23 April 2003 (Wednesday) - thunderstorms
Route: OUN, west on OK9 to I-44, southwest to SPS, then on US277 to about 6 mi southwest of Dundee, TX, then back northeast to Mankins, TX, then southeast on TX25 to FM210, east to Archer City, TX, then south-southwest on TX79 about 8 mi, then back to Archer City, TX, east on TX25 to Windthorst, TX, then north on US281 to SPS, to I-44 northeast, then east on OK9, back to OUN.
Again, not a very good chase day. We got a late start, thanks to some OU commitments of mine. I saw some isolated storms on radar at about 1745Z and hoped that something good might evolve from them and persist until we got to them, somewhere southwest of SPS. When we got out of SPS, we found the dying remnants of a supercell that was rapidly dissipating. It was dark to the south, so we headed that way, but when we got into clear skies, the convection was distinctly non-supercellular and mushy ... new storms were going up, so we stayed with it for a while, but it was getting late and I was bummed. We had supper at Luby's in SPS and went home.
[It was both unpleasant and pleasant at the same time to reminisce about 14 May 1986, when Al Moller and I intercepted a great storm west of Archer City that produced a tornado east of Archer City. ]
Chase #4 - spot chase (w/Vickie)
09 May 2003 (Friday) - supercell (missed the tornadoes)
Route: OUN, west on OK9 to OK4, north to near Piedmont, OK, then back to Mustang, OK, west on OK152 to Binger, OK, then north on US 281 to I-40 north of Hinton, OK, then back to Binger, OK, and west on OK152 about 17 miles, then back east to US81, then south to Minco, OK, then east on OK37 to Newcastle, OK, south on US62 to OK9, east to OUN
A frustrating day ... because of the retreating dryline situation, I held off leaving until almost 5 pm, and we encountered considerable haze (abetted by Mexican smoke?) so we dithered about for a while. We didn't chase the storms north of OKC because with traffic, we assumed we'd never catch them. [Going west, Howie Bluestein's UMass radar truck passed us at about 90 mph, then cut us off ... going on to pass a vehicle ahead of us while heading up a hill!] Finally got some radio information about storms to the west-southwest, so we got after them late in the day. Intercepted a developing supercell (image is grainy because it's nearly dark) between Binger and Cordell (famous names in OK storm chasing history) ... but found ourselves in a chaser convergence that included Greg Stumpf, our Dutch chaser friends, and the Doppler trucks. The visibility was awful and the storm was just getting going as it got dark. Given the circumstances, I basically decided our chase was done, so we drove home ahead of the developing storm for a while (sirens going in Minco!). I don't like chasing potentially tornadic storms in metro areas, especially at night, with bad visibility. It turned out to be the second day in a row with significant tornadoes in the OKC metro area!
Note: Just for the record, we did not chase on 08 May, even though at one point the tornado track was only a few miles north of where we live, when it hit Tinker AFB. Bad visibilities were a factor in my decision not to chase, and when the tornado first began, it was already in the Metro OKC area (in Moore!). Some parts of Moore have been hit 3 times in the past 4 years ... unreal!
Chase #5 - spot chase (w/Vickie)
15 May 2003 (Thursday) - supercells (missed the tornadoes)
Route: OUN,Sooner Rd north to I-240, to I-44 and to I-40, west to Business I-40 in AMA to US60, northwest on Loop 335 to US 287 to near Masterson, TX, then south on US287 to I-40, east to US287 to Claude, TX, then back on US287 to I-40, west to Loop 335, north to US60, then northeast on US60 to FM683, north to FM293 to Panhandle, TX, then north on TX207 to TX136, then back on TX207 to Borger, TX, then east on TX152 to Pampa, TX, then south on TX70 to I-40 east to OKC, south on I-35 to Rock Creek Rd, back to OUN
A not untypically frustrating chase day. I made one very bad decision ... we were on our way north out of AMA after we heard of the first tornadoes, and had crossed the Canadian Breaks when we stopped, worried about new storms firing in the area of "best parameters" near AMA. Not a good choice, as it seems the true "sweet spot" was up north .. best combination of shear and instability with breakable CIN, that is.
Anyway, we paid for that decision ... 750 miles without seeing tornadoes that we might have been able to catch. More bad decisions followed that one, in a dark comedy of errors. We did see a couple of small supercells northeast of AMA but the roads didn't permit staying with them. Just missed some golfball hail in Borger from one of those that we were trying to catch. Slinking back homeward, south of Pampa, I might have gotten an interesting lightning shot or two and some video, but even that cost us, as the road we chose to pull over on was a muddy quagmire ... thank goodness our vehicle had 4wd!
To add insult to injury, we drove through the tornado track near Lela on I-40 and saw the overturned semis. And ... as a perfectly awful way to end a perfectly awful day, we rode in the MCS cores (I've learned to hate MCSs!!) from a few miles west of Shamrock to around Yukon, pulling into our driveway about 0315 a.m. ... reminds me of my OU student chase days, but I had more stamina back then.
---
24 May 2002 (Saturday) - supercell
Route: OUN, OK9 to I-44, southwest to OK17, west to US281 north to Apache, west on OK19 to OK58, north to Carnegie, OK, west on OK9 to OK34 north of Granite, OK, north to OK 152, west to I-40, west on I-40 to OK30, north to OK152, west to Mobeetie, TX, north on FM48, then west on FM1268 to FM748, south to TX152, west to FM171, south to TX273 to Lefors, TX, then south on FM291 to I-40, west to AMA, south on I-27 to PVW
A decent outcome to a chase complicated by numerous minor bad decisions. After much meandering and some nowcasting info from Sam Barricklow (thanks, Sam!), we wound up on a nice tornadic supercell near Miami, TX. It put on a good show for about 30-40 min, and then turned into a squall line. Met John Monteverdi at TX70 and I-40!
25 May 2002 (Sunday) - possible weak supercells
Route: PVW, south on I-27 to Lamesa, TX, southwest on TX349 to MAF, southwest on I-20 to Monahans, TX, northwest on TX18 to Jal, NM, west-northwest on NM128 to 5 west of FM652, then back to FM652 southwest to Orla, TX, then southeast on US 285 to Pecos, TX.
Frustrating ending to what started out as a day with some promise of good storms. We wound up seeing several storms near CNM, one of which might have been a supercell, but it was obviously dominated by outflow and the storms eventually developed into a long squall line, so we gave up. No images.
26 May 2003 (Monday) - thunderstorms
Route: Pecos, TX, I-20 to Toyah, south on FM2903 to Balmorhea, south on TX17 to Fort Davis. Drove to Alpine and back.
Essentially nothing. Stayed with our friends, Hal and JoAnn. On our drive to Alpine for groceries, saw some weak multicell storms.
27 May 2003 (Tuesday) - nothing
Travel day ... returned home.
Chase #7b - Chase Vacation with Vickie
01 June 2003 (Sunday) - thunderstorms
Route: OUN, Sooner Road north to I-240, west and northwest to I-40, west to US281, northwest to I-40, west to US281, northwest to Seiling, OK, northwest on US270 to Ft. Supply, OK, north on US183 to US160, west to US54, southwest to GUY, south on OK136 about 5 miles to unnumbered road, east to OK207 north to US412, east to Hardesty, OK, then back west to GUY.
Frutrating day ... things did not unfold as hoped for and a large,outflow-dominant squall line greeted us near GUY, so we set down.
02 June 2003 (Monday) - thunderstorms
Route: GUY, west on US412 to Boise City, OK, north on US287 to CO94, then back south on US287 to Boise City, OK, then southwest on US56/64 to CAO, southeast on US87 to NM402, south about 10 miles, then back to CAO.
A day that came close to being a bustola. We incorrectly forecast the best chance to be in central CO, but it didn't happen that way. So we dived back south and southwest to try to catch the best storms. By the time we got there, whatever it had been, the storm was outflow-dominant, so we quit. Went to Eklund's in CAO for a nice supper with Steve Hodanish and other chasers, plus John M.
03 June 2003 (Tuesday) - supercells, tornadoes (brief)
Route: CAO, south on NM402 to Nara Visa, NM, then southwest on US54 to TCC, then east on I-40 to San Jon, then south on NM469 to Grady, NM, then east on NM209 to NM241 to FM1058 to TX214, south to FM145, then north to 3 south of FM1058, then west on an unpaved road for 4 miles, then south on an unpaved road 4 miles, then west on an unpaved road for 4 miles, to FM2013, then south and east to FM1731, south on FM1731 to 3 miles south of Bovina, TX, then back north to Bovina, TX, then southwest on US60 for 3 miles, then back northeast on US60 to I-27, north to AMA.
All in all, a pretty decent day! We (John Monteverdi and us) chased our forecast to the boundary, near the TX-NM border. After some dithering and thinking about an early storm that developed south of LBB, we saw new convection go up to the north. We drove to it and saw what we hoped would be an isolated supercell, but it started to split off new storms to the northeast and new storms developed to the west and southwest. We chose to stay with it as it began to move southward. It had a tremendous inflow, with a band of dirt coming off the road we had just come westward on before our turn south. The storm started to hail on us, so we started moving south, and drifted a bit west. Looking it over and seeing a good base to the west, we thought about continuing west, but we saw some wild circulations and upward motion in the base of our original storm, and along what we presumed to be a flank of the storm. As we went south we saw what we assumed to the a gustnado to the west of us (although it might have been like the others we saw later). Once we jogged east and started south again, we saw our first tornado (that's John M's car) to the east no more than 2 miles ... about 8 miles NNE of Bovina, TX. The wild circulations at cloud base continued, with short funnels forming and dissipating, with occasional debris whirls. A second tornado then spun up about 5 miles north of Bovina, TX, with a third about 3 miles north of Bovina, TX. No condensation funnels to ground, but tornadoes, nevertheless. Then the storm collided with what appeared to be a left-mover's precip that was coming at us from the south.. From that point, the tornadic part of our show was over. We dithered about trying to decide what to do next. We had a nice rainbow associated with a storm to our north, and some new storms were going up to our west and northwest, while a major storm continued to our southeast. We finally gave up and began to shuffle toward AMA, stopping for a bell-shaped storm that was swallowing outflow and so was doomed, and for a nice sunset scene. Sadly, John M. had to go on towards his return flight home from DIA the next day, so we parted company at that point.
04 June 2003 (Wednesday) - supercell, tornadoes (brief)
Route: AMA,, US 287 to Dumas, TX, west and northwest on US87 to CAO, south on NM402 to Nara Visa, NM, southweston US54 to Logan, NM, south on NM469 to Grady, NM, wouth on unnumbered unpaved road to NM288, west to NM 224, south to US60/84 to Fort Sumner, NM.
A good (even marginally tornadic) day! We traveled to the northwest in hopes of seeing something good come off the Raton Mesa, but it was early junk, so we (having met Al Pietrycha) went south in hopes of something going later in the day. We found a promising storm approaching Logan, NM, and it turned to be the storm of the day. We drifted southward with the storm for a ways, with it looking good, if outflow dominated. Then, we shot westward and got in tight to its south. Fascinating structure was displayed for us, with an inflow "stinger" coming inward, meeting the RFD to the west. At one point (no images - for some reason, I had no cameras in hand at the time) it produced two brief, "dust bowl" non-condensation funnel tornadoes, not unlike what we saw the day before. Spectacular structure on the storm, with dust coming up from the ground to above cloud base, with fascinating lighting. After producing the two tornadoes, the storm began to go downhill and never looked potentially tornadic again. Another storm developed to its northwest, but it was clearly swallowing dusty outflow, which pretty much ruined the photo ops.
05 June 2003, (Thursday) - return trip
Route: Fort Sumner, NM, east on US60/84 to NM252, northeast to TCC, along I-40 east to I-44, to I-240, south and east to Sooner Road, south to OUN.
Looked at data in TCC, decided to go home and take care of some urgent business. May go out again soon.
Chase #7c - Chase Vacation with Vickie
09 June 2003 (Monday) - supercell, tornado, lightning
Route: OUN, north on I-35 to ICT, north on I-135 to north of SLN, US81 north to US36, west to Smith Center, KS, south on US281, west on KS9 to US283 to US24, west to HLC.
Great day! We had too far to go to get to the best area in northern NE, so we settled for what we could reach. By the time we got to Logan, KS on KS9, we were about ready to give it up, as the storm we were approaching looked really lame, with a dissipating left-moving cell confusing the picture. But as we continued toward the storm and at the same time, toward our intended stopping point for the day (Colby, KS), it revealed a flared-out, bell-shaped base and got a real nice LP supercell look. We stopped about 5 miles north of HLC and went west a short ways on a dirt road to watch the storm. It began to look interesting, but then it started to rain on us after about 20 min, so we went south about 3 miles. By that time, a funnel had become apparent about 3 miles to our northwest. It touched down about 7:44 CDT and lasted until 7:56 CDT - it was not a major tornado as most of its life was a skinny rope, although it got a bit larger shortly before starting to dissipate and finally roping out. It was clear that the police had seen it and the sirens in HLC were sounding as we watched the tornado. After the tornado, we went a short ways west of HLC and watched the very nicely-sculpted storm for quite a while, but nothing tornadic developed (although there were some attempts). We bagged it and celebrated with the traditional steak in HLC! Late that night, I ventured out for some post-storm lightning, but I apparently missed the best of it. Many thanks to John Monteverdi and Sam Barricklow for nowcasting support. Sam also saved a radar image of the storm, which he e-mailed to us that night. See here for information collected by Al Pietrycha about the weather situation on this day, and to see about the storms we couldn't reach, in NE.
10 June 2003 (Tuesday) - thunderstorms
Route: HLC, west on US24 to Colby, KS, west on I-70 to Seibert, CO, north on CO59, north to Cope, CO, west on US36 to CO63, north to Atwood, CO, west on county road to Willard, CO, north on county road to CO14, east to unpaved county road (17) north 2 miles, then back south to CO14, east to Sterling, CO, north on CO138 to CO113, north to SNY, east on US30 to US385, north to AIA.
Pretty much a not very interesting day. Had to dodge what certainly appeared to be a nasty storm with hail near Sterling, CO, but everything else we saw was mushy junk. Hoping tomorrow will be better.
11 June 2003 (Wednesday) - supercells, psbl tornado
Route: AIA, north on US385 to CDR, east on US20 to VTN, north on US83 to Mission, SD, east on US18 to Winner, SD, then west on US18 to US183, north to Presho, SD, north on unnumbered country road for about 5 miles, then south, back to I-90, east to Kennebec, then continuing east to near Chamberlain, SD, south on paved road , which turned unpaved, eventually to SD50, southeast to YKN.
Pretty decent day. Waited out the pre-initiation phase with BC, Bruce Haynie, and Ed Calianese in Winner after a chaser convergence earlier in CDR with Tempest Tours and Roger Edwards ... we waited in Winner until things got going, then wandered north to a great view of the developing storm, which began to take on supercell characteristics. It developed a great-looking clear slot and some transient wall clouds that produced some brief funnels, and then dissipated as a new meso developed. Moving mostly east, we followed the storm along I-90 (and an access road, for a while). Met Roger Edwards and his wife Elke, so we watched the storm with them for a while, as it began to evolve toward the HP end of the supercell spectrum, and it may have produced a rain-wrapped, brief tornado during that phase (but probably not). We continued to chase the storm but it was evolving into a nasty beast by sunset. We were treated to some nice views at sunset, and then a loooonng drive to YKN for the night. Had a late supper with Roger and Elke and Patrick Kerrin.
12 June 2003 (Thursday) - thunderstorms
Route: YKN, south on US81 to OLU, southwest on US30 to GRI, south on US281 to I-80, west to LBF, south on US83 to US24, west to Colby, KS.
A day devoted mostly to repositioning, with Roger and Elke, Late in the day, some multicell storms were seen developing near LBF, but we were not optimistic that they were going to be much. We kept moving west and then south. Some more storms developed on the way south into KS but they weren't much to get excited about, either. We stopped for some photo ops near sunset.
13 June 2003 (Friday) - supercells (weak)
Route: Colby, KS, I-70 to Oakley, KS, south on US83 to Guthrie, TX, west on US82 to Idalou, TX, north on FM400 to FM597 to Anton, TX, south on FM168 to Smyer, TX, west on TX114 to FM2195, south to TX125, east to Whiteface, TX, south on FM1780 to FM1585, east to FM303 to Sundown, TX, east on FM301 to US385, southeast to FM41, east to Ropesville, TX, northeast on US62/82 to LBB.
Frustrating day. Dove south to get to storms, but when they finally went up, the supercells were discrete only for short times, as storms dumped outflow to the southwest, leading to backbuilding and undercut mesos. Reunited with BC and Ed, separated from Roger and Elke in the process. Gave up at sunset and had a fun late supper with Ed, BC, Bruce Haynie and spouse at Hub City Brewpub in LBB.
14 June 2003 (Saturday) - nothing
Route: LBB, US62/82 east to Guthrie, TX, north on US83 to Sublette, KS, northeast on US56 to DDC.
Fun day. Met briefly with Roger and Elke in LBB before we parted ways again. Took artsy shots of old, abandoned homes and wildflowers on the way back to DDC.
15 June 2003 (Sunday) - thunderstorms
Route: DDC , south on US283 to US160, east to US183, south to Fort Supply, OK, east and south on US270 to I-40, east to Sooner Road, south to OUN.
Nice trip home ... had breakfast with Jim Johnson and his wife Caroline ... then stopped in Big Basin Prairie Preserve and did some photography. Then a leisurely drive home, punctuated by some weak storms developing to the south and east of Norman.
---
22 June 2003 (Sunday) - thunderstorms
Route: OUN, north on Sooner Rd to Franklin Rd, west to I-35, north to ICT, I-135 to I-70 (north of SLN), west to Colby, KS.
Travel day to get closer to DIA for an early departure tomorrow. Stopped to photograph a developing thunderstorm that apparently was on the south end of a line from near Hays, KS northward into NE.
23 June 2003 (Monday) - thunderstorms
Route: Colby, KS, west on I-70 to DIA ... DIA, northeast on I-76 to I-80, east to LBF, north on US83 to NE92, east to BBW, east on NE70 to US183, south to I-80, east to EAR
Not a very happy outcome to the day, especially for me. We got a relatively early start after all the clients (4) arrived. Looked like a great day, but the cap kept things bottled up until late, and then the action that finally got going was a mess. As the sun set, I dropped my new MF camera and it is now an expensive paperweight. Ouch!
24 June 2003 (Tuesday) - supercells, many tornadoes
Route: EAR, north on NE10 to NE2, northwest to Ansley, NE, north on US183 to Bassett, NE, east on US20 to Newport, NE, north on NE137 to NE12, east to Butte, NE, north on NE11 to US18, east to US281 to SD46 east to US81, south to 303 St, east to 444 Av, south to 305 St, east to Volin, SD, east on 305 St. to SD19, north to Centerville, SD, east on 294 St, to 466 Av, north to SD44, continuining north on SD17 to SD42, east to FSD.
A fantastic day! After dithering a bit in Nebraska, we finally committed to the north and finally saw a major storm develop in the distant northeast (southwest of MHE), but we just couldn't catch up to it, so we settled for storms coming out of Nebraska into southeastern SD. After one storm tried hard to become tornadic but failed, we picked up on the next storm, which rapidly transformed itself into a rotating beast and began to produce tornadoes two at a time! After those dissipated, its wall cloud continued to rotate, producing a funnel that formed a nice cone most of the way down, but may or may not have actually "touched down". Then, the storm developed a major tornado that narrowly missed the town of Centerville, SD. While that tornado was still going on, another one had already formed to the east As the one east of Centerville was dissipating, another pair of tornadoes formed so at one point there were three tornadoes ongoing at the same time (although they might not have all been on the ground at any one time)! The last of the three became a substantial tornado, once silhouetted by lightning. That tornado continued, but without a condensation funnel all the way to the surface, as yet another vortex was forming nearby. The evolution between these two vortices became complex, with the one on the right maintaining its dominance, but eventually both seemed to wind down. As we continued to follow the storm, which was moving mostly northward, there were several funnels, including a small tornado that twisted into a curly-cue, and then another tornado formed to our north, followed by a last tornado to our northwest such that again there were two on the ground at the same time. By that time it was nearing sunset, and although we continued to follow the storm, which exhibited dramatic structure, the tornado show was over for us. Later that evening, the supercells were absorbed into a short but nasty squall line that followed us into FSD for the night. [NOTE: images are video frame captures, digitally enhanced to improve the contrast. Grainy images were shot in very low light.]
25 June 2003 (Wednesday) - weak thunderstorms
Route: FSD, east on I-90 to Fairmont, MN, south on MN15 to IA15, continuing south to Algona, IA, west on US18 to Sheldon, IA, southwest on IA60 to US75, continuing southwest to SUX.
Basically, not much happening. Whatever weak threat existed today vanished in the wake of a morning squall line through Iowa. Now thinking about the weekend, which looks promising in the progs.
26 June 2003 (Thursday) - nothing
Route: SUX, south on I-29 to OMA, west on NE92 to US77 to Fremont, NE.
Nothing day. "Replaced" my medium format with a digital Sony F717, had the damage to my medium format checked and replaced my boonie hat (lost in the RFD early in our Tuesday chase) during a stop in Omaha, NE.
27 June 2003 (Friday) - supercells
Route: Fremont, NE, south on US77 to I-80, west to EAR, south on NE44 to US6/34, west to Cambridge, NE, south on NE47 to NE89, west to US83, south to GCK.
Excellent chase day, given relatively low expectations. Stopped for a while to watch a weak, high-based storm, then pushed on to find some stronger storms to the west. Dropped south into northwestern KS and found an outflow-dominated supercell, that persistently put out rain- and dust-"feet" and began to show some nice structure in mid-levels when we were at the intersection that goes to Monument Rocks. Before it began to play out, there were some nice structural features shown. Then, a new storm developed on its boundary and began to show a nice wall/tail cloud. It evolved into a very organized supercell that put on quite a dramatic show late in the day, with sirens blowing in Scott City, KS as we drove through. Late in the day (after sunset), we watched another storm to the distant southwest in fading red twilight illumination that probably had been a supercell, as well.
28 June 2003 (Saturday) - thunderstorms, lightning
Route: GCK, north on US83 to I-70, west to Burlington, CO, north on US385 to 4 north of Wray, CO, then west on an unnumbered road for 2 miles, then back to US385, south to Burlington, CO.
An odd day. Things were slow to get going, as Bill suggests is common in CO. Watched a storm split, producing a left-mover that even included a tornado look-alike. After a long interlude with not much happening, the storm split off another left-mover and developed some interesting mammatus. We went south to get ahead of the storm, which had a nice layered appearance on the leading edge. It began to produce a fair amount of lightning and another storm to the west did also, as well as some interesting scenes in the sky. After the gust front overtook us again, we bailed for the day.
29 June 2003 (Sunday) - thunderstorms, psbl tornado
Route: Burlington, CO, west on I-70 to LIC, southwest on US24 to COS, I-25 to Fountain, CO, north on I-25 to DEN, northeast on I-76, to Brush, CO.
Another slow-developing day, with low expectations of supercells and severe weather. We chased our forecast towards what appeared early to be the best combination of instability and shear, but things were quite lame around COS. We took a group photo near COS. After an aborted push south, it appeared the best storms were up near DEN, so we turned back and headed that way. By the time we got to DEN, it was obvious that the best activity in reach was multicell storms near Ft. Morgan, CO. We were treated to a wonderful sunset display on the apparently weakening storms, including a post-sunset mammatus display. One more surge of new updraft (that's Bill) produced a brief funnel along the flanking line that might have even been tornadic briefly (and weakly), but probably wasn't. Anyway, a very nice way to end a mostly frustrating day.
30 June 2003 (Monday) - weak thunderstorms
Route: Brush, CO, southwest on I-76 to Fort Morgan, CO, northeast on I-76 to Sterling, CO, west on C014 to CO52, south to I-76, southwest to DIA.
Basically, a busted day. Wandered around northeastern CO, hoping for something good to happen. Finally went west to storms coming off the Cheyenne Ridge, but they were lame. Saw a very distant storm in southern SD (about 250 miles away!) on the horizon, and then a another storm that apparently developed south of DEN on the Palmer Divide, but the chase is basically over. A good tour with 2 great days and lots of interesting authentic chase experiences.
01 July 2003 (Tuesday) - return trip
Route: DIA, east on I-70 to SLN, south on I-135 to I-35, continuing south to I-40, east to Sooner Rd, south to OUN.
The usual trip home ... I dropped off my MF camera with the Pentax folks in Englewood, CO before starting the long drive home, which went smoothly and without incident.
---
Ups and Downs:
A major down was the dropping of my relatively new medium format camera, such that it was inoperable for the rest of the chase. Worse than the financial impact was that as a consequence, I shot no high quality stills from the big tornado day on June 24th. The best part of the incident is that fixing the camera has turned out to be much cheaper than buying a new one.
I continue to detest chasing in KS, owing to their apparently endless road de/construction projects, but no big delays were critical this year and I did bag another KS tornado, so the eternal de/construction projects are temporarily forgiven.
Obviously, June 24th was a pretty fabulous day. Depending on how one counts things, it might have beaten my previous personal record of 12 tornadoes in one day (22 May 1981), but there was so much going on, it's hard to be sure just how many we saw ... at least 6 for sure, and possibly up to 13 or 14. This one day turned a decent year's chasing into a great year. So much for certain chasers's expressions of preseason gloom and doom over the long-range model forecasts!! Many chasers had career years and/or career chase days.
What "chaser convergence" happened this year was without the major convoys of 35+ chase vehicles. Mostly, it included nice post-storm interaction with friends, which is nice, indeed. Apparently, there were indeed hordes of chasers in southeastern SD on 24 June, but the road network was able to keep us all dispersed.
I received some major-league nowcasting support this year ... especially Sam Barricklow and John Monteverdi. It was greatly appreciated and very helpful at times. Thank you!! We met many friends again this year (e.g., Steve Hodanish, Linda Kitchen, Kathy Velasquez, Matt Crowther, Betsy Abrams, Greg Thompson, et al.) and chased at various times with John Monteverdi, Al Pietrycha, Ed Calienese, Brian Curran, and Roger & Elke Edwards. Tempest Tours tour director Bill Reid makes a fine chase partner, as well as a patient (and relentless) storm chaser. Experiencing the plains and its storms with friends is a constant delight. As always, I appreciate the wonderful pages maintained by Greg Thompson (NCAR/RAP) and Matt Powers et al. (College of Dupage), as well as those of the SPC (special thanks to John Hart and all others who work to maintain the SPC site).
Some Impressions:
Chasing put me into 8 states this year: OK, TX, KS, NE, CO, SD, MN, IA, and NM. The road network in southeastern SD is excellent, with many of the country roads paved ... but of course there is the hassle of the Missouri River and its limited crossings. Once the river is crossed, however, the chasing is every bit as good as that between LBB and AMA (with its great road network of paved FM roads).
For reasons unknown, this was my year to see lots of dramatic mammatus clouds (see below, and above). It's odd how some years you see lots of phenomenon X and very little of Y or Z. Then in some other year, you don't see X much at all, but lots of Z.
Bogus reports continue to abound. We were standing next to a sheriff's deputy in KS on 27 June who called in a funnel with a storm that was not close to producing a funnel, apparently inspired by a Doppler-motivated tornado warning. He had said earlier that it probably wouldn't be tornadic, but the warning seemed to induce some sort of belief that the storm had changed.and tornadoes were about to happen.
Bonus images:
1. I took Vickie's digital camera with me for my damage survey of the 4 May tornadoes in the Kansas City metro area. During our Civil Air Patrol overflight of the path on 6 May, we encountered some developing storms with mammatus, so we cut short our mission and headed back to the airport at Lee's Summit, MO. I took several pictures of the spectacular mammatus display (here and here, for example). Not bad for a non-chase.
2. Some interesting roadside vegetation in an unnamed location ...
3. An example of a horseshoe vortex.
4. Some corn shredded by the storm near Scott City, KS on 27 June.
5. An explosion of cactus blossoms by a Texas roadside.
6. A very nice catch of wildflowers this year .. here, here, here, and here, for just a sample
7. Another sunset image from 11 June..
8. Also, some more of one of my favorite subjects: abandoned farm homes - here, here, and here
9. A real Kansas wildcat, at Big Basin Prairie Preserve.
10. A nice scene along US160 in south central Kansas.
11. Another nice scene in KS, from 12 June.
12. An oldie, from late on the day of Dougherty, TX tornado (5 June 95).
---
Food and Lodging Recommendations
These have been consolidated into a single new page, here.