Chuck Doswell's
Storm Chase Log - 2004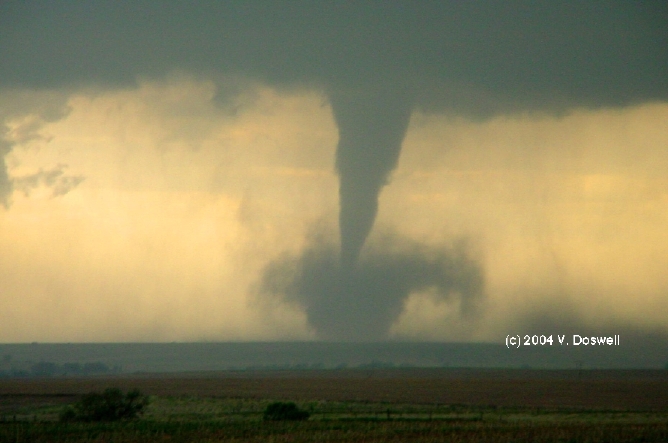 ---
Posted:
13 August 2004
Newest update:
12 January 2004
: added two bonus images
NOTICE .. Any duplication, electronic or otherwise, of the images at this Website without my expressed permission is a copyright violation, and I will treat it as such. Do us both a favor and ask me for permission before using any of the images herein ... you can e-mail me at cdoswell@earthlink.net.
NOTICE .. All images I show on my Web pages have been: scanned from original transparencies, shot from a digital camera, or captured from video, with some digital enhancement (touch-ups of dirt on the transparencies when scanned, and some modifications of the scanned images and frame captures to make them look more like the originals or to enhance the image quality). I do not alter my images digitally to put in things that were not originally in the image or remove things that were originally in the image, and I do not make digital composites. I am personally opposed to such image manipulations unless they are admitted to clearly and obviously.
Route notation: "USXX" denotes US highway XX, "I-xx" denotes Interstate highway xx, "SSxxx" denotes state (SS) highway xxx, "FMXX" in TX denotes farm-to-market highway XX. Wherever possible, cities that are National Weather Service sites are identified with the appropriate 3-character identifier.
---
Part 1 - Early spot chases
27 Mar 2004 (Saturday) - supercells (missed the tornadoes)
Route: OUN, Sooner Ro to I-240, west and north to I-40, west to US183, north to OK33, northeast to 2 east of Fay, OK, then back southwest on OK33 to OK54, tnen south to a nunnumbered country rd south of Weatherford, OK, then north on OK54 to I-40, then east to Hinton, OK, then north on US270/81 to the intersection with the Spur, then southeast on the spur to I-40, then east to I-240, to Sooner Rd, to OUN.
Interesting chase. We got out a little late to see the early tornado near Butler, OK, which was thoroughly "occluded" when we got there, so we then went east and saw a funnel near Fay, OK. After that, we gave up on that storm (with its hordes of chasers) and went after a new storm developing to the southwest, south of I-40. It quickly became supercellular and looked like it was close to becoming tornadic for a while. Ran into Al Moller and chased with him for the latter stages of the chase. It was getting late so we gave up the chase after a while and went after sunset shots of the storm, which apparently produced some more tornadoes [see here for what we missed].
21 Apr 2004 (Wednesday) - supercells
Route: OUN, south on I-35 to Paul's Valley, then north and east on OK19 to OK133, then north to OK59, then east to Byars, then east to US177, then north to Asher, then west on OK39 to Lexington, then north on US77 to OUN.
Another interesting chase day. Again, we got out a bit late, and got trapped on I-35 in a hail shaft. Then, once we got going again, we saw a funnel east of us on the backside of the storm we were chasing. We continued to try to catch up with the storms, but they were looking less and less supercellular, so we finally bagged it. On the way back home, we chatted with Roger and Elke Edwards for a while.
End Part 1 - begin Part 2
(chasing w/Vickie)
10 May 2004 (Monday) - nothing
Route: OUN, Sooner Rd to I-240, west and north to I-40, west to US281, northwest to Seiling, continued northwest on US270 to Fort Supply, north on US183 to US160, west to US283, north to DDC.
A repositioning day. We had to leave late so, serious chasing was not possible. Wound up in DDC. Met and had dinner with Jim Johnson and his wife, Carolyn.
11 May 2004 (Tuesday) - busted
Route: DDC, north on US283 to HLC, detoured east on US24 to north of Bogue, KS, then north on unpaved road to KS9 north of Densmore, KS, then west on KS9 to US283, north to I-80, northwest to LBF, south on US83 to MCK, west on US34 to Culbertson, NE, south on NE17 to KS117, continued south to US36, east to Oberlin, KS, south on US83 to I-70 north of Oakley, KS.
Frustrating day. Went north into NE, but things apparently were better in KS, but only marginally so. Storms went up and most fizzled shortly thereafter. We wound up chasing a dying storm late in the day, which croaked as we drew close. Gas prices are a shock!
12 May 2004 (Wednesday) - supercells [missed major tornado event!]
Route: Oakley, KS, south on US83 to US270/412, eastUS283, north to US64, east to OK34, north to KS line, continued north on KS1, north to US160, east to Medicine Lodge, KS, north on US281, east on KS42 to SE 100th Ave, north to US54/400, east to 6 mi east of Cunningham, KS, then back west to Pratt, KS.
A day with some bad choices that put us out of position. My original thought was either the Pratt, KS area or farther west into southwestern KS. I chose the latter (poor choice, as it turns out). Saw Bill Reid and the Tempest Tours group in GCK. By late afternoon, the CU were dissipating in southern KS, and we could see towers off to the southeast, so we headed that way, we wound up west of Fort Supply, OK (and saw Bruce Haynie) when things finally began to fire, well off to the northeast. We tried to catch up with the storms to our north, but it was just too much ground to cover and we dawdled too long at the roadside stop near Fort Supply. I eventually gave up as it was getting dark and we had to penetrate some considerable precip to continue chasing. This was likely to be dangerous if the storms were still tornadic (and they were!), and turned west of the storms to got some storm shots at sunset. I also did some old farmhouse shots in southwestern KS earlier on our trip south, so the day wasn't completely wasted, but ... see here for what we missed, which was substantial (and painful, in retrospect).
13 May 2004 (Thursday) - thunderstorms
Route: Pratt, KS east on US54/400 to I-235, south to I-35, south to Sooner Road, south to OUN.
Travel day - returned home after deciding it probably wasn't worth chasing. It wasn't.
End Part 2 - Begin Part 3
(Chasing w/Vickie):
17 May 2004 (Monday) - supercell
Route: OUN, north on I-35 to ICT, continued north on I-135 to Newton, KS, then west on US50 to US281, north to Hoisington, KS, then west on KS4 to La Crosse, KS, then north on US183 to I-70, then east to KS232, then south to Wilson, KS, and then southeast to KS156, then northeast to I-70, east to SLN.
Interesting day. Storms went up on the front and looked really bad for a while, but a storm near RSL got really cranked up late in the day and looked close to producing a tornado for a while, but then crapped out. It did produce a tornado "look alike" for a while, though. Given low expectations, it turned out reasonably well.
18 May 2004 (Tuesday) -busted/capped
Route: SLN, south on I-135 to KS61, southwest to HUT, then southeast on KS96 to east ICT, US54/400 east to unnumbered road, north to Elbing, KS, west on unnumbered road to Newton, KS, north on I-135 to SLN.
The day had some real possibilities but no storms could bust the cap, so we returned to SLN to prepare for the next day.
19 May 2004 (Wednesday) - busted/capped
Route: SLN, north on US81 to York, NE, east on I-80 to US59, south to IA92, east to US169, north to I-80, east to DSM
Another capped-off chase day. Not much good to say about a second bust day in a row.
20 May 2004 (Thursday) - nothing (missed supercell/psbl tornadoes)
Route: DSM, west on I-80 to I-76, southwest to US385, to Burlington, CO
Came west a long ways to hook up with John Monteverdi and Thom Trimble. Did some flower photography near Oakland, IA, before the long haul westward. Missed an apparently picturesque supercell storm in northeastern CO in the process.
21 May 2004 (Friday) - thunderstorms (distant supercells)
Route: Burlington, CO, north on US385 to I-76, northeast to I-80, east to LBF, north on US83 to Thedford, then north for 5 miles, then back south to NE2, west to MHN, then south on NE97, south for 8 miles, then back north to NE2, east to Thedford, NE
Another frustrating day, chasing a retreating boundary northeastward, with strong capping. Went to look at advancing squall line from the west when some apparently strong storms fired late to the east, too late and too far away for us to catch, so we bagged it. Might have gotten some lightning, but probably not.
22 May 2004 (Saturday) - supercells, 3 tornadoes
Route: Thedford, NE south on US83 to LBF, then east on I-80 to EAR, south on NE44 to US6/34, east to Minden, NE, then back west on US6/34 to NE46, south to NE89, east to Orleans, continuing east on US136 to Red Cloud, NE, then north on US281 for 8 miles, then back to NE Spur91B to Cowles, NE, then north on unnumbered country road to NE4, east to US81, north to York, NE
Really great day! After the usual indecision, we headed toward the early storms that developed to the west, which turned out to be the right choice. After dealing with local traffic in Oxford, NE, we finally headed out of the river valley and were greeted by a tornado on the ground! It was a nice cone/elephant trunk, apparently out in open country. We had a great backlighted view. It eventually became wrapped in dust, and then the dust began to collapse as the tornado roped out. Following the storm east, we drove into Alma, NE as the sirens were going and saw a ropy tornado to the west-northwest that became an nice elephant trunk. It became wrapped in rain, so we headed east. After it dissipated, we continued east and saw the dissipation of a third tornado that we had not seen earlier because of rain wrapping into the RFD. The storm continued eastward at a pretty good clip, and we saw some interesting inflow bands feeding it from time to time. Finally, it got too dark to see much, so we quit. Met Tim Marshall and Carson Eads in York, NE for the traditional steak dinner celebration.
23 May 2004 (Sunday) - down day
Route: York, NE, east on I-80 to LNK.
Decided not to chase the system east in anticipation of the next day'Äôs weather.
24 May 2004 (Monday) - supercells, ~10 tornadoes
Route: LNK, south on US77 to BEA, west on NE4 to US81, south to US136, west about 4 miles, then back east, south on US81 to US81, KS148 east to unnumbered country road south to Clifton, KS, east on KS9, then south to Clay Center, east on US24 to MHK, south on KS177 to KS4, east to KS99, south to KS31, east to US75, to Lyndon, south about 4 miles then back north toUS31, west to Osage City, KS, then north and west on US56 to I-335 to EMP:.
A fabulous day! Hung around the library in BEA unitl storms fired to our west, and then raced to catch them. The southernmost of them produced 9 tornadoes that we saw, including some early, mostly transparent tornadoes (The first, the second [no images], and the third [no images]), then another elephant trunk (#4), which was then joined by #5, followed by a situation with 3 on the ground at one time (see also here for another viewpoint of the same event by Jon Davies). Tornado #5 didn't last long, so #4 and #6 continued for a while before #4 dissipated, leaving #6 to go on alone for quite some time. Precip then chased us away from the end of #6 and, as we went south, #7 began between rainshafts and another (#8) that was farther south that can barely be seen in some of John Monteverdi's video). Once we got south ahead of the storm, we thought it was over but another one (#9) formed near Belleville, KS [and, arguably. another (#10), in the background of the same image - that might just be a rainshaft], followed by a "half tornado" coming out of the backside of the storm (we never saw any debris) as the storm began to move more eastward. Then we raced southeast after new storms to the south firing on the dryline bulge. This series of storms became spectacular updrafts from the back side, but we were never able to "turn the corner" on them. Eventually we stopped for some lightning shots as the sun set (that didn't turn out).
25 May 2004 (Tuesday) - nothing
Route: EMP, south on I-335 to I-35, south to US70, west to I-44, northeast to OK9, east to OUN
Nothing much going on, so we wandered down to southern OK, then west, and then back home. Duty calls and we'e shut down for a few days.
End Part 3 - Begin Part 4
(Chasing w/Vickie):
29 May 2004 (Saturday) - supercells, 3 possible tornadoes, 2 tornadoes
Route: OUN, north on I-35 to ICT, continued north on I-135 to KS18, west to Lincoln, KS, north on KS14 to Beloit, east on KS9 to KS28, northwest about 5 miles, then back southeast to CNK, north on US81 to KS148, east about 13 miles, then back west to US81, south to SLN.
Interesting, if frustrating day. Going against my last forecast (for southern KS/northern OK - see here for what we missed by not staying with my forecast!) before going out, we went north of ICT, to SLN, where we met hordes of chasers (Matt Crowther, Betsy Abrams, Al Moller, Sam Barricklow, etc.) - wound up chasing with John Monteverdi and Thom Trimble again. Unfortunately, we anticipated more eastward movement than northeastward, which sent us west too soon - a choice that we could never recover from. We caught the early stages of a storm developing northwest of SLN, which produced some first one and then another ropy funnel that extended more than halfway to the ground. Then that mesocyclone weakened and as we continued with the storm, it produced a brief tornado that we didn't capture any images of, and another that was apparently wrapped in dust and precip near Jamestown, KS and never got a good view of it, but which was a large "wedge" event (see here for another, clear view of it - and here, as well). We also saw an apparent tornado (or at least a funnel). The storm evolved into a huge, slow-moving HP supercell with striations and beautiful structure - allthough the air was rather hazy - that we watched for quite a while at a distance. Nice mammatus under the anvil, too. We finally headed south and on the way, we could see new storms firing on the cold front.
30 May 2004 (Sunday) - nothing
Route: SLN, south on I-135 to I-35, continued south to OUN.
Decided not to chase into areas east, so headed home. Watched storms developing to the east, but resisted the urge to go after them. Time to shut down, again - duty calls Vickie once again, and I have a trip to Sardinia.
End Part 4 - Begin Part 5:
18 June 2004 (Friday) - nothing
Route: OUN, Sooner Rd to I-240, west and north to I-40, west to AMA, Loop 335 north and west to US287, north to LAA.
Thought there might be a chance to see a storm by taking a different route towards DIA, but .. nope. Crossing the OK Panhandle border with CO put me in cold, drizzly ENE'ly flow. Brrr...
19 June 2004 (Saturday) - thunderstorms
Route: LAA, north on US287 to LIC, north and west on I-70 to DIA rendezvous with Tempest Tours. Then ... south on I-25 to near COS, off on Exit 150 to Woodmen Rd, east to Falcon, Co, then northeast on US24 to Calhan, CO, then south on unnumbered country roads to Yoder, CO, continuing south to Boone, CO and on to US50 to LHX and on to LAA.
Picked up the guests at DIA, went south and watched storms developing south of DIA for a while, but these went nowhere, so we continued south and watched a new storm develop to our southeast, which looked quite good for about 15 min but then turned rapidly into a fuzzball and died. Then we bagged it in anticipation of a better day tomorrow.
20 June 2004 (Sunday) - supercells
Route: LAA, north on CO196 to CO96, then west to US287 to Kit Carson, CO, then continued north on CO59 to Seibert, CO, then east on I-70 to Burlington, CO, then north on US385 to Wray, CO, then west on US34 to Yuma, CO, then south on CO59 to US36, then east to Wheeler, KS, then south on KS27 to Sharon Springs, KS.
Mostly frustrating day, having made some poor choices early .. went north toward what we thought might be one of two good areas, so serious storms began near the Front Ranges on the Palmer Divide. The anvil from that storm spread over us so we went east and then farther north to get away. Storms developed on the south side of the Cheyenne Ridge and started toward us, but they were not very good and suface flow was really weak, so the storms had trouble restraining their southward surges of cold outflow. We saw some interesting structure at Yuma, including the "whale's mouth" view of the backside of an outflow shelf cloud.. We then worked southward to stay with the clearly outflow-dominant line of storms, occasionally stopping for some structure shots of outflow, including one with a new line developing on the outflow of the more mature line. Finally, in northwest KS, south of GLD, the tail-end storm began to take supercellular form, with virtually continuous thunder. Apparently, storms going on the northern side of the outflow from the "Lamar" supercell collided with the tail-end storm of our line and a new supercell developed on the colliding boundaries. It apparently came quite close to producing a tornado, and then light came under the combined anvils and created a sensational sky, including a "red rain" image and a shot of the new storm illuminated by red sunlight, which was a nice way to end the day, after all. By staying with what seemed to be a bad storm day, it turned good late and salvaged most of the day for us.
21 June 2004 (Monday) - supercells, possible tornado
Route: Sharon Springs, KS, south on KS27 to Elkhart, KS, then south on OK95 to Texoma, OK, then southwest on US54 to Stratford, TX, then south on US287 to Txloop335, then west to FM1061, then northwest to near the Potter County line, then back south to Bushland, TX, then west on I-40 to 3 miles east of Vega, TX, then east to Wildorado, TX, then south on FM809 to FM1062, then east to the west side of Canyon, TX, then south on an unnumbered country road 3 miles then east on an unnumbered country road to I-27, then south to FM285, then east to Wayside, TX, then south on FM2301 to Claytonville, TX, then west on FM145 to US87, then south to I-27, continued south on I-27 to PVW.
A wild and exciting day. We wandered south into the TX panhandle waiting for things to fire. A storm went up to our south and we dropped south to check it out. It was essentially a skinny LP storm, which began to show signs of diminishing as another base developed to its immediate west. This second storm was watched for quite a while, and it began to develop precip, which created outflows that apparently undercut the storm, even as it was intensifying. The backbuilding continued as the storm split and then continued to expand, propagating both southward and westward. We drove west after the backbuilding, but it was hopeless. Meanwhile a wild supercell came out of the mess and began to drop southward. We caught up with it near Canyon, TX, just as the storm was bearing down on the city after causing a lot of wind and hail damage in Amarillo, and then we raced to stay ahead of it. Much wild action but it was dark, dirty, and rain-wrapped. All in all a "nasty beast" of an HP supercell, that might have produced a brief tornado as we ran ahead of it. Late in the day, some new storms began to develop to the south of the southward-moving supercell as we raced to stay out of the greenish-black storm coming south. Lots of lightning from all storms, including a number of very close strikes. We finally bagged it at dark.
22 June 2004 (Tuesday) - nothing
Route: PVW, north on I-27 to AMA
Nothing day ... postfrontal stable airmass. Did some touristic stuff.
23 June 2004 (Wednesday) - thunderstorms
Route: AMA, northwest on US287 to Dumas, TX, west and then northwest on US87 to CAO, then southwest and west on US56/412 to NM193, north about 8 miles, then back south to US56/412, east to CAO, then northeast on US56/64/412 and then east on US64/412 to GUY, then northeast on US64 to LBL
With low expectations, wandered west to the high plains and interecepted some weak thunderstorms, with high bases and low tops. Saw other storms developing northwest of AMA. We stayed with the NM storms for a while and then bagged it, with hopes for a better day tomorrow. The progs are not all that exciting with this pattern,
24 June 2004 (Thursday) - strong thunderstorms
Route: LBL, north on US83/160 to GCK, then west on US50/400 to Lakin, KS, then south on KS25 to US56, then southwest to Hugoton, KS, continuing south on KS25 to OK136 to GUY, then east on OK3 to OK__, to the TX border, continuing south on TX207 to FM2535, then east and south to FM2387 to Spearman, TX, then northeast on TX15 to Booker, TX, then south on TX23 to US83, then southeast about 4 miles, then back northwest on US83 to Perryton, TX.
Another interesting day with low expectations, owing to low moisture and bad vertical shear (northerlies aloft). Anticipated storms becoming linear with a strong outflow push to the south. This began to happen, although the line never did become very solid. Storms with high bases developed and began to push their outflow southward, undercutting the convection. This produced considerable dust and sort of a haboob in southwestern KS. This chased us southward - some new storms developed ahead of this, in the OK panhandle, east of GUY. These storms actually had some interesting structure but late in the day began to push outflows rapidly southward again. Another storm fired well south of us, in the TX Panhandle, which dragged us farther south, into the TX panhandle. Once there, we found some interesting structure as the sun began to get low in the sky and a nice opportunity with interesting light as the sun went down (no good images for me, though), south of Booker, TX. Then we bagged it for the night, driving through some dissipating nonsevere storms.
25 June 2004 (Friday) - thunderstorms
Route: Perryton, TX, north on US83 to OK3, then west to GUY, continuing west on US64/412 to Boise City, OK, then north on US287/385 to Springfield, CO, then west on US160 to one mile east of CO389, then back east to Kim, CO and north on CO109 to LHX.
With marginal moisture and shear, and weak flow aloft, not much hope to see a good storm, although some nonmesocyclonic tornado was at least remotely possible. A good forecast for boring storms came true, again. We watched them for quite a while and then went on to LHX for the night.
26 June 2004 (Saturday) - supercell
Route: LHX, southwest on CO10 to Walsenburg, CO, then south on I-25 to Raton, NM, then southeast on US64/87 to Texline, TX, then east on FM286 to FM2586, then north to US56/64 to Boise City, OK, then north on US385/287 to LAA, then continued north on CO196 to CO96, west to Eads, CO, then north on US297 to Kit Carson, CO, then north on CO59 to Seibert, CO, then west and north on I-70 to DIA.
Not a bad day, given continued low expectations. Got some nice cloud pictures with the early mountain convection. Then an apparently good storm on the plains developed to our south so we went after it. Went through the wake of a good hailstorm, with hail all over the road. Sat and watched a supercell (weak) dissipate near Des Moines, NM. Encountered a wreck (a fifth-wheel RV overturned) on the highway apparently triggered by the hail on the road. After the supercell dissipated, we went east and then north. We were about to quit for supper, but then went out to watch a gust front approach. After supper, on the way back to DIA, another wreck (not seen but heard about from a guy at the US287 intersection) closed US287 northwest of Kit Carson, so we had to go the long way around to get back to DIA, late.
27 June 2004 (Sunday) - nothing
Route: DIA, east on I-70 to SLN, then south on I-135 to ICT, then south on I-35 to OUN.
The chase was over, so the long drive back to Norman. Went through a deluge south of ICT but the trip was otherwise uneventful.
End Part 5 - Begin Part 6:
A last spot chase w/Vickie & Friends
01 July 2004 (Thursday) - supercell, possible tornado
Route: OUN, OK9 to I-44, southwest to SPS, then northwest on US287 to Qanah, TX, then south on TX6 to Crowell, TX, then west on US70 to Paducah, TX, then north on US62/83 for about 5 miles, then south to US70, west to FM 1037, then north tor 2 miles, then south to US70 and west for about 7 miles, then back east to FM1037, then south for 3 miles, then east on unnumbered country road for 1 mile to FM2278, then east to US83, then south for about 16 miles, then back north on US83 to CDS, continuing north to US62 turnoff, then east to Lawton, OK, then northeast on I-44 to OK9, to OUN.
A very nice chase day, with our visitors from England, Mick and Sharon, along for the ride. We chased the forecast to near CDS, then dropped south to be ahead of any southward-propagating supercells, which is what we found. After seeing some possible tornadoes (that might have simply been rainshafts or tricks of the light, the supercell we interecepted produced a funnel that made it about halfway to the gournd and persisted for several minutes before becoming rain-wrapped and dissipating. Then we tried to push west, but rain into some hail so we retreated and then dropped south as our supercell followed. The storm put on a spectacular structural display, with a banded mothership appearance and a tail cloud before beginning to go downhill and moving more toward the east. No further tornado attempts, but the storm continued strong. As we returned north, the skies became quite beautiful both north and south as the sun set - we found some hailstones by the side of the road and a farmer showed us a stone that was about 3 inches in diameter that had fallen near him earlier while he was in his fields on a tractor.
---
Ups and Downs:
Obviously, we did well with the storms on 22 and 24 May, although one always feels that a better job could have been done. At least based on the tornado count, this has been one of my better years, despite making some big mistakes and contrary to some dire predictions from some pessimistic chasers when the season got off to such a slow start in April and early May.
I found that managing three cameras at once works poorly and my photography from the trip was not anywhere close to what I'd hoped I could do. The two outbreaks in Harper County, KS were major disappointments since on both days (12 May and 29 May), I had initially targeted that very area and for reasons that seem silly in hindsight, I chose not to go there. Live and learn, of course. I can only imagine what this year would have been like if we had been in Harper county, KS on those two days ... sigh.
This seemed to be a year when supercell storms seemed determined to spin out tornado families of considerable size. This seems much less common some years than others, but this is my second year in a row seeing ~10 tornadoes on a single day! Has this always been going on and we just never knew about it until "saturation chasing" resulted in at least some chasers seeing most of the tornadoes being produced? Wish I knew.
Our chase was broken up into several segments this year, owing to our various obligations and commitments. It worked out all right, although we surely missed some worthy chase days. Who knows what we would have seen? That's chasing ...
Bonus images:
1. Iowa flower photography on 20 May here and here.
2. A cholla cactus in bloom on 26 June.
3. On 27 March, this vehicle belonging to an OKC media chase team passed us doing around 80 mph and was tailgating the vehicle that had been in front of us, eventually passing it going up a hill in a no-passing zone. The tag is clearly visible, if anyone wants to know ...
4. Two late scans from the "bonus" chase of 01 July - one at the peak color time of sunset, and another several minutes later, as the alpenglow lifted above the main towers.
---
Food and Lodging Recommendations
These have been consolidated into a single new page, here.