Chuck Doswell's
Storm Chase Log - 2005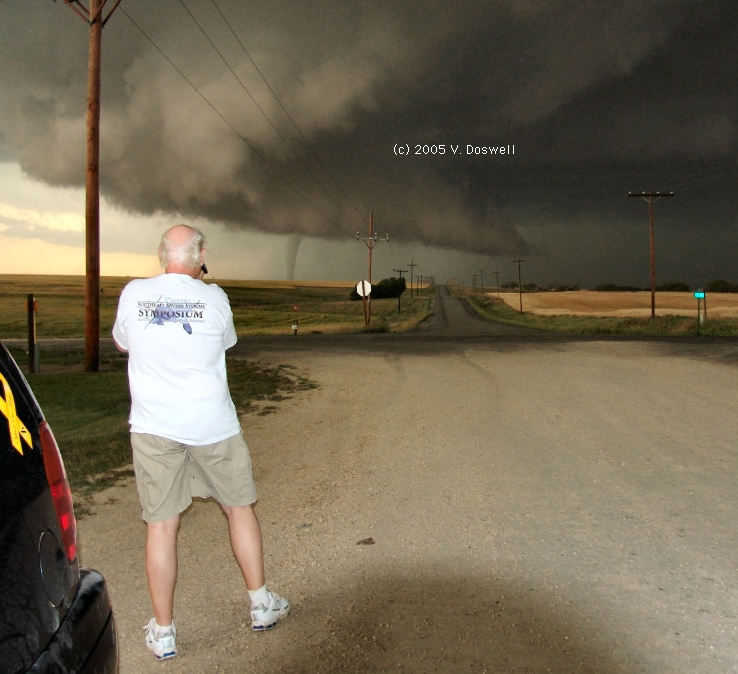 Shooting video of the first of two tornadoes on 09 June 2005, at the corner of R Road and the main road north out of Zurich, Kansas.
---
Posted:
13 April 2005
Newest update:
03 April 2006
: added Tempest Tours 2006 group photos.
NOTICE .. Any duplication, electronic or otherwise, of the images at this Website without my expressed permission is a copyright violation, and I will treat it as such. Do us both a favor and ask me for permission before using any of the images herein ... you can e-mail me at cdoswell@earthlink.net.
NOTICE .. All images 0n this page have been shot with a digital camera, or captured from digital video, with some enhancement (to make them look more like reality or to enhance the image quality). I do not alter my images to put in things that were not originally in the image and I do not make digital composites to make scenes that I did not actually see. I might, at times, remove clutter like power lines.
Route notation: "USXX" denotes US highway XX, "I-xx" denotes Interstate highway xx, "SSxxx" denotes state (SS) highway xxx, "FMXX" in TX denotes farm-to-market highway XX. Wherever possible, cities that are National Weather Service sites are identified with the appropriate 3-character identifier.
---
Part 1 - Early spot chases
10 Apr 2005 (Sunday) - supercell (missed the tornadoes)
Route: OUN, north on I-35 to US60, west to Pond Creek, OK, west on US64 to OK8, north to Kiowa, KS, west on KS2 to US281, north to 19 mi north of Pratt, KS, then south to unnumbered country road, west to Byers, KS, then north to 1 mi south of Radium, KS, then east on KS19 to US281, south to Pratt, KS, then east on US54/400 to Cairo, KS, then south on county road to KS42, west to US281, then south to Alva, OK, then east on US64 to OK11, continuing east to I-35, then south to OUN.
Mostly a bust. We just couldn't catch up to the tornadic storms near I-70 in KS, given where we started from at noon, unless we had known in advance precisely where to be and left at least an hour earlier. Call it a bad forecast. See here and here for what we missed. We wound up going almost to Great Bend, anyway, and saw a lot of mushy, pretty disorganized storms. Finally, one of them evolved into an apparent supercell, which we saw to our west from near Radium, KS (!). But another storm to its south was already raining into its inflow (and on us), so we headed south and never saw any storm that organized again. There were some pretty sky shots available (after supper in Pratt, KS) ... and then the long drive home.
07 May 2005 (Saturday) - weak thunderstorm
Route: OUN, Sooner Rd. to I-240, west and north to I-40, west to Shamrock, TX, south on US83 to FM256, west to Memphis, TX, south on US287 to Estelline, TX, west on TX86 for 12 miles, then back to Estelline, TX, south on US287 to CDS, north and then east on US62 to FSI, then north on I-44 to OK9, then east to OUN.
Almost completely a bust. While we watched on the laptop, the cirrus began to fill in the clear air behind the morning convective storms and basically shut down the heating before the storms could get going. This was a great example of the common chasing problem of thick cirrus overspreading a day with good potential. We met a number of our friends out west of Estelline, and had a convivial late evening supper in LTS. Lots of great wildflowers in western OK and the eastern TX panhandle. Retrospectively, they would have made a better target than the storms. Anyway, that's chasing. No images of the "storms" we saw - too pathetic and not even picturesque.
18 May 2005 (Wednesday) - weak thunderstorms
Route: OUN, Sooner Rd. to I-240, west and north to I-40, east to I-35 North, to OK11, west to 10 west of Medford, OK, then back to Medford, then west again on OK11 to OK132, north to Manchester, OK, continuing north on KS179 to Harper, KS, then east on US160 to KS2, northeast to the Harper-Kingman county line, then east on an unnumbered county road, to Conway Springs, KS, then south on KS49 to US160, then east to Wellington, KS, then south on US81 to South Haven, KS, then south on OK177 to I-35, then south to I-40, east on I-40 to Sooner Rd, then south to OUN.
Another near-bust, this time with low initial expectations, so the disappointment was easier to take. After some nonmeteorologically-associated delays, we ambled northward and waited for initiation of storms in Medford, OK for a couple of hours. Finally, the cells began developing along the front so we moved into position to get close to them. We were greeted when we got to just south of Anthony, KS with some pretty pitiful convection along the boundary. This weak activity slowly cycled up to a not very significant "crescendo" as we were giving up late in the day, near Conway Springs, KS. Here is what the radar looked like, with our "storm" indicated by an arrow. Atter that, it was a more or less futile search to find a decent open restaurant for supper, and then back home.
---
Part 2 - Chase Vacation
28 May 2005 (Saturday) - supercell (weak)
Route: OUN, Sooner Rd to I-240, west and north to I-40, west to US281, northwest to Seiling, continued northwest on US270 to Fort Supply, west to US283, north to DDC, west on US50 to GCK, north on KS US83 to Scott City, KS, west on KS96 to Leoti, KS, then north about 5 miles, then retrace the route back to GCK.
A long drive for not much. We used Threat Net to target what seemed to be the best storm, which had some indications of a mesocyclone, but by the time we got to it, the system was turning into a weak squall line. We thought we might have seen a funnel as we were nearing the storm but poor contrast makes it impossible to be sure and the storm crapped out as we got close enough to see.
29 May 2005 (Sunday) - supercells (weak)
Route: GCK, west on US50 to PUB, south on I-25 to RTN, east on US64 to NM 325, north 3 mi, then back to RTN
A good chase day, albeit without a tornado. Saw storms developing after meeting John Monteverdi and his chase partner, Scott Landolt in PUB, so we followed them to the southeast. Saw a funnel southeast of RTN and then continued to stay with the storms. Our storm split and the right split member wound precip around its mesocyclone and died. The left mover stayed strong for a while and we tried to get ahead of it. After that, we went up Capulin volcano for the view.
30 May 2005 (Monday) - supercells, 1 tornado, and 2 "possibles"
Route: RTN, north on I-25 to NM72, east to Folsom, NM, south on NM551 to Capulin, NM, west on US64//87 to RTN, north on I-25 to NM72, east to Folsom, NM, south on NM551 to Capulin, NM, east on US64/87 to CAO
An excellent outcome to a mostly frustrating day. Storms kept firing near RTN and moving off toward the northeast into no-man's land to the north of Johnson Mesa. After chasing one off that way, we did a complete circle and chased another that was developing to the west of RTN. The storm looked very good, although we were rather distant from it, coming very close to being tornadic to the west of the ridges west of RTN. It apparently produced a brief tornado (or so it seemed) about 6:10 pm while off to the northeast of RTN, but we couldn't see where it reached the surface, if it did, as our view of it was blocked by terrain on Johnson Mesa. No stills or video of that brief wrap-up. Then, we were about to give it up and head to CAO for the next day, when we stopped about 23 mi to the west-northwest of CAO to watch the storm, thanks to Kevin Scharfenberg - excellent suggestion. Upon getting out, it was pretty clearly a supercell, with a nice inflow band. As we watched it, the storm wrapped up a cone funnel / tornado - my main camera was video, so the stills are with a wide angle - that was on the ground for about 7 min or so, apparently near Des Moines, NM. I caught the whole episode on tape, including the biggest phase and then a ropy stage. I have some video frame captures here1, here2, and here3, just to dispel any doubts that might exist about it being on the ground.
With that, a group of friends arrived so we watched the storms and talked awhile, including Al Pietrycha, Sam Barricklow, and Jimmy Degura. Late in the day, new storms were firing behind the tornado producer and one produced what appeared to be a third tornado for the day - very distant from us (no images). It was clear that the shear associated with the short wave trough was causing most storms to be "severely sheared" - apparently, buoyancy was relatively weak and shear was relatively strong. A beautiful finish to the day, despite many frustrations and disappointments. A traditional celebratory steak in CAO with friends capped off a great day.
31 May 2005 (Tuesday) - supercells
Route: CAO, south on NM402 to Nara Visa, NM, then southwest on US64 to Logan, NM, then south on NM469 to Grady, NM, then east on NM241 to FM1058 to Hereford TX, then southwest on US60 to FM1259 east to FM2943, south to US385, then south to Dimmitt, TX, then east on TX96 to Nazereth, TX, then north about 2 mi on FM188, then back south to Hart, TX, then southeast on TX194, to FM1424, then south to US70, then west to Springlake, TX, then south on US385 to Littlefield, TX, then northwest on US84 to Sudan, TX, then north on FM303 to FM3458, continuing north to FM145, then west to Lazbuddie, TX, then north on FM1172 to Black, TX, then northeast on US60 to Canyon, TX, then north on I-27 to AMA.
A good chase day, if not tornadic. We chased the first good storm we could into Hereford, TX and saw it evolve quickly into a nasty HP supercell, we stayed with the storm for quite a while, as its outflow became even more dominant. The storm had a ground-scraping inflow tail into the "notch". Finally, it was losing its good look, so we kissed it off and went after another storm to the southwest which had been more isolated. But that second supercell was overtaken by outflow from the storms to its northeast, and it rapidly became a linear mess, so we bagged it and ran around its southwest flank, where we witnessed a gustnado, and then headed north, in preparation for a travel day.
01 Jun 2005 (Wedneday) - nothing
Route: AMA, north on US287 to Stratford, TX, then northeast on US54 to LBL, north on US83 to Oakley, KS, west on I-70 to Colby, KS
Travel day. Did some wildflower and scenic photography during a repositioning day.
02 June 2005 (Thursday) - supercells
Route: Colby, KS, west on I-70 to Genoa, CO, then back east to Seibert, CO, south on CO59 to Kit Carson, CO, east on US40 to KS25, north to Colby, KS.
Another good chase day, again without seeing a tornado. We hung around Colby waiting for the cap to break, with WiFi in the hotel. Finally, after 5 pm, it was clear that the storms in Colorado were the play, so we blasted west, arriving too late to catch the supercell near Last Chance, but saw a great storm near Limon. Awesome structures, including a beaver's tail, wall cloud, and clearly rotating cylindrical towers. We stayed with the storm for a while, but it began to lose its good look, so we quit for the day. I left my wallet in a restaurant in Colby, so we had to go back there. Ran into Steve Hodanish, Roger Hill, and Kevin Scharfenberg.
03 June 2005 (Friday) - thunderstorms
Route: Colby, KS, south on KS25 to US40, west to Sharon Springs, KS, south on US83 to Syracuse, KS, west on US50 to LAA, then back east on US50 to GCK
Strange day. Went to southeastern CO in hopes of something developing, but heard about tornado warnings to our near east, near GCK. Drove toward the center of the upper low, and saw some interesting storms - moving southward on the KS/CO border and northward two counties to the east - obviously right near the center of a sharp upper low/trough. Saw a possible funnel coming into Lakin, KS, and a briefly interesting lowering later, but it dissipated.
04 June 2005 (Saturday) - thunderstorms
Route: GCK, east on US50 to Florence, KS, south on US77 to El Dorado interchange on I-35, back north on US77 to US50, back to Newton, KS
A generally bad day. Both Vickie and I had some bad moments driving, we had a flat tire as we were trying to intercept storms just west of Florence, KS, and the storms were lousy for a "High Risk" outlook day - not even supercells, so far as I could tell, and our intercept road was closed (US77 northbound from Florence) for construction. John Monteverdi and Scott Landolt had to go back towards DIA. About the only good thing was some photography of old grain elevators at De Graff and Burns, KS.
05 June 2005 (Sunday) - weak thunderstorms
Route: Newton, KS, north on I-135 to SLN, then west on I-70 to KS23/US83, north to LBF, then west on I-80 to Ogallala, NE, northwest on US26 to Northport, NE, then north on US385 to AIA.
A repositioning day. Agony over missing the OK tornadoes, but the priority had to be to reposition for the upcoming week in the northern plains. Saw a High Plains fuzzball thunderstorm late in the day. Bobby Prentic, Scott Fitzgerald, and Greg Breneman arrived at the restaurant in AIA after we ordered, but it was too late - the grill had closed, so they had to go elsewhere.
06 June 2005 (Monday) - strong thunderstorms (missed the tornadoes)
Route: AIA, north on US385 to SD79 to I-90, west to Spearfish, SD, north on US85 to Buffalo, SD, west on SD20 to Camp Crook, SD, north on County Rd. 867 about 35 miles, then retracing steps back to Buffalo, SD, then northeast on US 85 to Bowman, ND
Another frustrating chase day, thanks to the difference between expectations and reality. We chased into a region where we expected to find isolated, probably high-based supercells moving ENEward. Instead, we found a mess of northward-moving convection that evolved into an outflow dominant "guster" south of Buffalo, SD - with some young chasers apparently unaware of the consequences of having such a storm roll over them. We saw some really interesting structure, including a sort of rotating thingy at the end of the arcus cloud. It was a race to stay ahead of the "gates of Hell" as we headed toward Bowman, ND. As soon as we got there, the storm was on us. We missed the tornadoes from the supercell in extreme southeastern MT by making a bad road choice, but we did manage to see the storm (if not the tornadoes it produced) from a distance, through the hills on the winding gravel road we were travelling. It only takes one bad choice to miss everything ... that's chasing, though.
07 June 2005 (Tuesday) - supercell, 1 tornado (or possibly 2-3?)
Route: Bowman, ND, south on US85 to Buffalo, SD, east on SD20 to SD73, south to SD212 ro US83, south to I-90, west to Kadoka, SD, south on SD73 to SD44, west to 2 mi west of Mablee, SD, then back on SD44 to SD73, north to I-90, east to Murdo, SD
A really good chase day. Readjusted the forecast based on ThreatNet observations of storms developing in southwestern SD, so we wound up blasting west and then south to a terrific storm, which was clearly rolling along a boundary. At first it was sort of LPish than then cycled up to a more classic structure. It began to produce a tornado as we were going down into a valley, so we had to wait until we crested a hill to begin to shoot the tornado - we missed getting any images or video of the first part. It wound up being about a 7 min tornado that had a lengthy ropy stage if the initial cone is seen as a continuation of the extended rope stage. It could also be interepreted as 2 or even 3 separate tornadoes, but my inclination is to believe it was all one tornado. Whatever. I have some video frame captures during the latter parts of the rope here1, here2, here3, here4, and here5 that show the tornado as seen zoomed-in with the video camera. The best part of the storm was the beautiful structure of the supercell. We shot ahead of the storm by running around the mesocyclone to its north (and got a few hail dents in the process) with Al Pietrycha, As the storm continued NEward, we stopped on the Interstate late in the day and got more great structure shots, Saw Curtis Alexander and Josh Wurman with the DoWs. Another steak dinner to cap off a successful tornado intercept.
08 June 2005 (Wednesday) - nothing
Route: Murdo, SD, south on US83 to MCK.
Repositioning day. Met Charles Edwards and his crew plus David Fogel and Keith Brown in Murdo, SD, during breakfast.
09 June 2005 (Thursday) - supercells, 2 tornadoes
Route: MCK, south on US83, continued south on KS23to I-70, east to HYS, then north on US183 to Plainville, KS, then west to Zurich, KS, then north on 10 Road to R Road, then east to US183, north 2 miles, then south to HYS, then west on I-70 to Ellis, KS, then north on 130th Ave. to Buckeye Road, east to 170th Road, north to St John-St Andrew Road, then east to 230th Road, south to Buckeye Road, east to US183, south to HYS.
An absolutely fantastic chase day. We began with bad news, discovering that we had a bad front tire and needed to drive to HYS from MCK to get the tires for Vickie's GMC Envoy. We sat in the office at G&L Tire and Automotive, Inc., waiting for the work to be done, and finally got out of there at 4:30 pm. We raced north and after some manuevering, we wound up seeing an elephant trunk tornado. As if this wasn't enough, a cone vortex developed in front of it, and touched down, as well. This cone funnel rotated about the elephant trunk behind it. Thus, we had two major tornadoes going on at once, only about a mile away from us.
The evolution of this system can be seen by considering first the lead image on this page, taken by Vickie with me videoing the elephant trunk tornado. This tornado is actually behind the cloud formation over my head in the image, which is rotating strongly. As we went down the road eastward, I was hanging out the window shooting video. The capture here shows the development of the cone tornado and it is moving left to right relative to the elephant trunk tornado (another view of the two tornadoes at about the same time by R. Scott FitzGerald can be seen here - enhanced slightly over the orginal). The next capture shows the cone tornado kicking up debris, and having passed across the front of the tornado behind it (another shot by R. Scott FitzGerald here - again enhanced slightly). The last shot in the paragraph above shows it having advanced even farther from left to right.
Although we left just before the end of the rope-out of the elephant trunk tornado, two more video frame captures show the process beginning, and then just before the rapid rope-out was completed, which was just seconds after this last shot of mine.
The cone continued northward, and the elephant trunk advanced eastward, dissipating less than a mile from us. The cone developed into a major league tornado north of us, but its RFD cut us off, so we wound up going south and then west to intercept another supercell. By the time we got to it, that storm had become an HP mess, so we broke off. However, it was clearly pretty active electrically, as seen here. We had a very close lightning strike shortly thereafter, as well - so close that I got an internal reflection of it in my video lens even though it was at right angles to the direction I was shooting.
Nevertheless, a steak dinner was in order!! Met a bunch of chasers - Roger and Elke Edwards, David Fogel, Keith Brown, Al Pietrycha and his girlfriend, Chris, Tim Samaras, Carsten Peters, Jon Davies, and Carl Young (see here for the group, minus Al and Chris). This kind of socializing, after the event, is great.
10 June 2005 (Friday) - supercell (weak)
Route: HYS, south on US183 to US56, southwest to US283, south to Minneola, KS, then southwest on US54 to Meade, KS, then south on KS23 to OK23, continued south to US64/270, then west to US83/270, then north to KS51, then west for about 3 miles, then back to US83, then north for about 5 miles, then back south on US83 to US270/412, then east and southeast to I-40, then east to Sooner Road, then south to OUN.
Not a very exciting outcome to the day. The overnight MCS activity messed up whatever potential was associated with the oncoming trough, resulting in widespread, mostly weak convection. We chased a storm near LBL for a while - it was weakly supercellular, with shear but not concentrated rotation. Finally, we gave up and wandered about for a while, before deciding to push for home. Southeast of Woodward, OK, we found some developing storms, which we looked at briefly, before moving on. Found some interesting widlflowers, but that's about all. Finally, the sun set on our day, and on this segment of 2005 chasing..
23 June 2005 (Thursday) - nothing
Route: OUN, Rock Creek Rd to I-35, north to I-135, continue north to I-70, west to DIA.
Just a travel day.
24 June 2005 (Friday) - thunderstorms
Route: DIA, northeast via I-76 to Ft. Morgan, CO, north on CO52 to CO 14, east to CO71, north to NE92, west to NE 29, north to Harrison, NE, then north on unnumbered county road for about 14 miles, then back south to Harrison, NE, then east on US 20 to CDR.
Not a bad day, given that not a whole lot happened, storm-wise. We picked up the guests at DIA, and headed out. In northeastern CO, we stopped to view a multicell storm for a while, as well as a complex of storms that went up to our southeast. The multicell storm died while some good storms appeared to be coming out of WY, towards western NE, so we pushed north. Sadly, these storms seemed to tire out as they came eastward, rather than intensifying as expected. I did some photography near a mini-badlands north of Harrison, NE, then the sun broke through and we had a great rainbow. One of the dying storms had a temporary re-invigoration but apparently, storms developing to the east killed it off. Other storms developed to our south as well, and a strange sort of cloud line approached us and eventually chased us back down the road we came. We watched lightning for a while in the town of Harrison (not frequent enough for me to try photography, though), before pushing toward our motel and food .
25 June 2005 (Saturday) - thunderstorms, possible weak supercell
Route: CDR, US20 west to US385, north to SD79, continued north to I-90, northwest to Spearfish, SD, north on US85 to Bowman, ND, then southeast on US12 to Lemmon, SD
Basically, a bustola, thanks to the lack of initiation in the target area. Some storms came out of MT near dark that might have had some weak rotation, but otherwise, a frustrating day.
26 June 2005 (Sunday) - supercells (possible brief tornadoes)
Route. Lemmon, SD, east on US12 to US83, north to SD10, to unnumbered county road, south to Ipswich, SD, west on US12 for 3 miles, then back east to Ipswich, SD, then north on SD45 to County 128 St, east to US45, north to County 126 St, east to County 365 Ave, south to County 128 St, east to County 370 Ave., north to County 120 St, east to County 377 Ave, north to SD10, east to US281, north to SD10, east to County 396 Ave, north to County 104 St, east to Hecla, SD, north on SD37 to ND, continuing north on ND1 to Ludden, SD, east on County Rd 14/5 to Brampton, SD, south on County Rd 4 to Britton, SD, then east on SD 10 to Sisseton, SD
A good, but also frustrating day. We got on a developing storm early, but it quickly became outflow-dominant. Since it was the only show around, we hung with it for quite a while, uaing some unpaved roads at times. It would develop strong rotation at cloud base occasionally, had a lot of lightning, and produced some funnel clouds that might have had brief touchdowns but nothing we could be sure of enough to call tornadoes. We got a nice view of it producing an RFD wrap-up and wall cloud, but no obvious tornadoes out of a day that began with considerable promise of them. Met and chased with Matt Crowther for a while.
27 June 2005 (Monday) - supercell (distant)
Route: Sisseton, SD, east on SD10 to I-29, south to SD46, west to US81, south to YKN, west on SD50/46 to US18, continued west to SD43, south to NE11, continuing south to NE12, west to VTN
Basically, another bust. What makes it worse is that a surprise, spectacular supercell produced a number of tornadoes in the NE panhandle, west and south of BFF. We couldn't have made it from Sisseton, unless we had left very early. Late in the evening, after we had stopped for supper, a new supercell developed in western Cherry County, but by the time we got there, it had weakened, leaving us with a gusty line of moderate storms late in the evening. Tomorrow is another day ...
28 June 2005 (Tuesday) - supercells
Route: VTN, north on US83 to I-90, west to Sturgis, SD, east on SD34 to SD79, north to Newell, SD, northeast and east on US212 to Faith, SD, then south on SD73 to unnumbered road southeast to Red Scaffold, SD, then another unnumbered road to Cherry Creek, SD, then north on BIA12 to SD63, then south to US14, east to PIR
Yet another good, but frustrating day. We expected great things from the setup and when high-based storms began to fire, it was expected that their bases would lower as they tapped the rich surface air. No soap. Another storm to our southeast looked pretty good, so we went after it. For a time, we had a good look at what was clearly a supercell with a nice circular base. Some folks who had gone through the storm earlier stopped to show off their hail dents from the baseball-size hail it produced! Unfortunately, as we were maneuvering to get a better angle on it, a left-mover slammed into it from the south and that was that. The storm went into the sad, ever-diminishing updraft base phase thereafter. It redeveloped some interesting looks as the sun was setting, but we gave it up shortly thereafter. Tomorrow may be our last tornado shot for the tour.
29 June 2005 (Wednesday) - strong thunderstorms (missed the tornadoes)
Route: PIR, east on SD34 to US14, north and then northeast and then east to Miller, SD, then north on SD45 to US212, then east to SD25, then north to Eden, SD, then west on County 122 St, to SD27, then south and west to Langford, SD, then back east and north on SD27 to County 122 St, east to Eden, SD, then north on SD25 to SD10, then northwest and west to Britton, SD, then back east to SD27, then north to County 104 St, then east to just north of Claire City, SD, then south on SD27, becoming County 455 Ave, south to SD10, east to I-29, then south to ATY
Another frustrating day. Got up early to get east and north on what seemed to be a potentially interesting day, toward the backed winds ahead of the surface low, but storms began to fire to our southwest, so we struggled to decide which storms to go after. With some indecision associated with backed surface winds to the north, we wound up confronting a conglomerated mess that was throwing a shelf cloud hard eastward at us. We got engulfed in the mess by not being able to outrun it, in Veblen, SD. After that, it was clear that our chase was over for the day, so we pushed south a little, struggling to deal with the high waters in Brown County, SD - we saw some mammatus in Claire City, SD, and then bagged it after taking some group photos (see below). Tornadoes developed later in the afternoon, in MN, in southerly flow, apparently under a westerly wind max at the base of the negatively-tilted trough, but we would have been hard-pressed to catch those, even if we'd correctly anticipated them there - which we did not.
30 June 2005 (Thursday) - nothing
Route: ATY, south on I-29 to I-80, west to LBF.
Repositioning day. Skipped an attempt to go after the southeastern KS storms - too far and not a great probability of success.
01 July 2005 (Friday) - supercells
Route: .LBF, west on I80 to Ogallala, north on NE61 to Lake McConaughy, then back south to I-80, west to Big Springs, NE, then continued west to I-76, southwest to Julesburg, then south on US385 to Wray, CO, then east on US34 to Haigler,NE, then south on KS27 to St. Francis, KS, then east on US36 to Wheeler, KS, then south on KS27 to I-70, then east to Brewster, KS, then south on unnumbered couity road to KS25, south about 10 miles, then back north to KSUS40, southwest to Sharon Springs, KS, then north on KS27 to I-70, west to DIA
A day with a very nice, albeit nontornadic, storm. Our original target formed in the southern NE Panhandle, then died as we approached. The second target formed in northwestern Yuma County, CO and also died as we got close, but another storm formed in its wake near Wray, CO, which produced some microbursts and its CG lightning from the anvil set a prairie fire. Later, it became a beautiful LP supercell with a circular base. Several stubby funnel clouds were produced but had little chance of becoming tornadoes. We worked to stay ahead of its hail (we experienced a few 1" stones) as it propagated strongly toward the SSE, gradually weakening as it did so. The warm sunset light on the weakening storm was great,.
02 July 2005 (Saturday) - thunderstorms
Route DIA, east on I-70 to SLN, then south on I-135 to ICT, then south on I-35 to OUN
The chase was over, so the long drive back to Norman was done. Along the way, storms developed from towering CU along a boundary in NWrn KS - these had a nice appearance from far away as the sun set. A nice bonus for the day
---
Ups and Downs:
As of the end of our chase vacation, this has been a great year. My trip with Tempest Tours was something of a disappointment - it seemed that we didn't always make the right choices, and it seemed that the best storms were always at least 200 miles away late in the afternoon. We could see them on ThreatNet, but couldn't catch them. Nevertheless, there's much to be up about this year: Vickie and I had 3 tornado days, with the one incredible experience on 09 June - words and pictures simply can't convey our feelings as we watched two simultaneous tornadoes. The RFD winds hit us before we left and it was a struggle to hold the cameras steady. Words fail me ...
Also we had two great experiences - needing a spare tire after the blowout near Florence, KS, on 04 June, we finally stopped in Agar, SD on 07 June to get petrol, and the Amoco station owner on the highway, Eric, was really helpful in getting our situation stabilized. I didn't get his last name, but his competence, courtesy, and cheerful demeanor was a real treat.
Then we had a near-disaster on 09 June, again having tire problems, we needed at least 2 new tires and struggled to find the right sized ones for Vickie's GMC Envoy The McCook, NE, Wal-Mart tire and lube manager (never got his name) went way beyond what was necessary to search out nearby places by phone for someone with the right tires in stock. Finally, he found the Firestone dealer, G&L Tire & Automotive (Sales Manager - Robert W. Gerstner) in HYS, so we took the 2 hour drive there to get all the necessary work done - in less than two hours. Because of their excellent service and courtesy, we were able hit the road at 4:30 pm and blasted north out of HYS toward the storms, after what could have meant a busted chase day. Very nice people are out there on the plains, folks. Don't ever lose hope about humanity, with such people around.
By the same token, in Ellis, KS, we had some problems with the Casey's conveniece store - we bought petrol and then the manager insisted that their machine indicated we owed them $45 when all we pumped was $28.55. We even showed the idiots the numbers on the pump! Anyway, it took us 10 precious minutes to get this worked out, which might have cost us dearly for the second supercell we chased on the 09 June, but it turned out not to matter.
Lots of idiot chasers are still flying about (including research radar trucks), parking on the roadside or off the road but walking or standing on the roadway as if there's no one else on the road but them. And chaser convergence continues to be a nightmare, at times. This year, on our tornado days, we somehow managed to see all of them without another chaser vehicle in sight, although after the tornadoes, in each case, we found numerous chasers swarming about.
Given our work situations, especially for Vickie, we have to chase according to a schedule, and it stinks to miss out out a good chase day like12 June, in TX, but - that's also an inevitable part of chasing. Others have done less well than we, so we need to be grateful for the good days and avoid being frustrated by what we missed and others saw. Experiences are to be savored for what they are, not diminished by comparison with those of others.
Again, we had the distinct pleasure of meeting friends and fellow storm chasers during our chases (in no particular order): Sam Barricklow, Steve Hodanish, the original Twister Sisters (Linda Kitchen and Kathy Velasquez), Tim Samaras, David Fogel, Keith Brown, Carsten Peters, Jon Davies, Roger Hill, Charles Edwards, Carl Young, Jimmy Deguara, Curtis Alexander, Josh Wurman, Roger and Elke Edwards and Matt Crowther, as well as others I might have forgotten - and chased at various times with John Monteverdi, Scott Landolt, Kevin Scharfenberg, Matt Crowther, and Al Pietrycha (with his friend, Chris). Experiencing the plains and its storms with friends continues to be fun.
As always, I appreciate the wonderful pages maintained by Greg Thompson (NCAR/RAP) and Matt Powers et al. (College of Dupage), as well as those of the SPC (special thanks to John Hart and all others who work to maintain the SPC site). My very special thanks to these folks, and I hope every chaser who uses their pages will take the time to give them a word or two of appreciation for their hard work. Thanks again, folks!!
Thanks to R. Scott FitzGerald for allowing me to use his 09 June images to make the comparison between viewpoints. When you see the same storm from different angles, the visual appearance of the storm can be radically different. Especially when the view is either frontlit (a white tornado) or backlit (a dark tornado). See also the views by Roger Hill of the same tornadoes.
Despite the hefty upfront price tag, ThreatNet is a great system for relieving most of the "afternoon angst" that has continually plagued my chasing over the years. There's no issue with cell phone coverage, either - its major limitation is the odd gap in radar coverage (e.g., southeastern Montana) - that's not the fault of the system, but rather of the radar network. When a radar is down (e.g., Cannon AFB in NM), it creates a gap, as well. It doesn't make you a perfect chaser, but it definitely helps out, a lot. This is not a paid endorsement, either.
I was in 8 states this year: OK, TX, KS, NE, CO, NM, SD, ND - the basic Great and High Plains tour. We narrowly missed MT and MN - tiptoed right up to those borders but didn't cross them.
Bonus images:
---
Food and Lodging Recommendations
These have been updated and consolidated into a single new page, here.