Chuck Doswell's
Storm Chase Log - 2002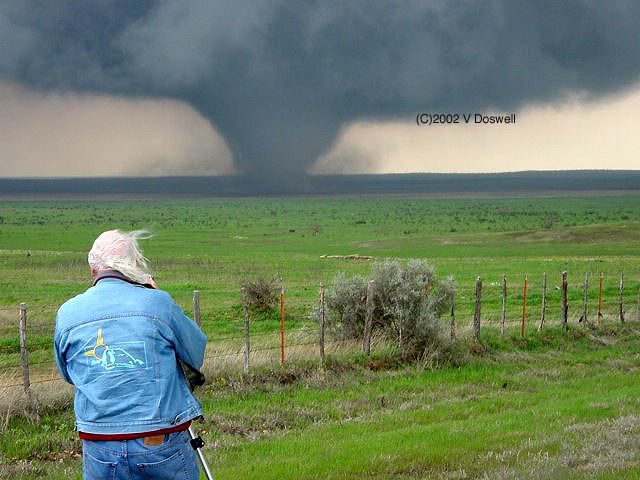 ---
Posted: 09 April 2002 Newest update: 07 August 2005: added a tornado shot by Vickie for 11 June.

NOTICE .. Any duplication, electronic or otherwise, of the images at this Website without my expressed permission is a copyright violation, and I will treat it as such. Do us both a favor and ask me for permission before using any of the images herein ... you can e-mail me at cdoswell@earthlink.net.

NOTICE .. All images I show on my Web pages have been: scanned from original transparencies, shot with a digital camera, or captured from video, with some digital enhancement (touch-ups of dirt on the transparencies when scanned, and some modifications of the scanned images and frame captures to make them look more like the originals or to enhance the image quality). I do not alter my images digitally to put in things that were not originally in the image or remove things that were originally in the image, and I do not make digital composites. I am personally opposed to such image manipulations unless they are admitted to clearly and obviously.

Route notation: "USXX" denotes US highway XX, "I-xx" denotes Interstate highway xx, "SSxxx" denotes state (SS) highway xxx, "FMXX" in TX denotes farm-to-market highway XX. Wherever possible, cities that are National Weather Service sites are identified with the appropriate 3-character identifier.
---
Chase #1 - spot chases w/Vickie
07 April 2002 (Sunday) - supercell / tornado
Route: OUN, OK9 to I-44, south to SPS, then southwest on US82/277 to Haskell, TX, east on US380 to FM266, north for about 5 miles, then back south to US380, east to 5 west of Throckmorton, TX ... east on US380 to Graham, TX, north on TX16 to US281, north to SPS, then to I-44 to OK9, back to OUN.
A "spot" chase with my wife, Vickie .... my first chase of 2002. Great day! Basically, we drove to my morning forecast area ... made it as far as Haskell, TX (not far north of ABI) ... just north of town, we stopped to look at a storm to the immediate west. It started pushing its precip hard to the east, so I blew it off .. and we drove on into Haskell. After turning east, we jogged north to look at another storm to the north, but it was gungy and moving rapidly into bad air. A new storm was developing to the east, so we turned around and got headed east again. The storm had a nice rear flank downdraft (RFD) already evident on the back side and a long rain-free base (RFB), with a broad, bowl-shaped lowering. As we were approaching the storm, it was apparent that a lot of "agitation" was going on at cloud base, from the earliest time we could see it. That is, the base cloud tags (which we could see only in silhouette, from our distance) were changing rapidly. This was a good sign to me, as was the long RFB and bowl-shaped lowering, but I couldn't tell from that distance whether or not was rotating. There was no blocky "wall cloud" but rather a broad, shallow lowering that became the "merry-go-round" (see below).
As we got closer, all of a sudden, it became clear that RAPID cloud base rotation and convergence was present south-southeast of us, and almost immediately, Vickie saw the first brief debris whirl (without a condensation funnel). It's not clear that the fast rotation began just before that time, or we were simply able to see it clearly (while we were moving) once we got close enough. The storm didn't have the appearance of a classic striated supercell from this angle, but we were seeing it from an angle I've seldom had ... in fact, I only recall ONE other successful tornado intercept from behind (see below) ... see below for a link to a site by a chaser who saw the storm from the east. There was a curious evolution from the first, nearly invisible, multivortex tornado, which produced sporadic debris whirls and subvortices, and then apparenly dissipated. Immediately, however, there was the formation of another rapid convergence/rotation center to the north of the old one, which eventually produced the big, stable tornado.
[I observe that the Pampa tornado of 8 Jun 95 followed a similar evolution .. a snakey thing dissipating and another rotation center developing very close nearby that turns into a stable tornado with a nice condensation funnel to the ground.]
My camcorder did some strange things on this chase and I don't have as complete a record of the event as I thought I had at the time ... it kept going to "standby" mode for some reason ... on, but not taping. Hence, I have no record of the wild cloud base motions and the occasional "snakes" during the tornadogenesis phase, when we were REALLY close. By that point, we couldn't see as much of the cloud backside, but later, as the tornado moved first north, then east, then southeast, more of the back of the storm became visible again, and by the time the vortex was a big cone (NOT a "wedge", imho), the clear slot was spectacularly evident (see below).
What was to be a relatively stable, vortex first touched down about 1/4 mile ahead of us, just north of the road, and we could hear the "waterfall" roar of the tornado. From there, it moved east-northeast and we let it get a bit ahead of us! Then, it put down another subvortex, ahead of us and the tornado evolved quickly into a cone funnel. From there, it became cylindrical, and soon broadened into a wide cone (not quite a "wedge"). At this point, it had moved far enough away, that we could see the backsde of the storm, with the "tornado cyclone" cylinder and its associated "merry-go-round" above the cone funnel at the center.
[I'm reminded of the view we had at one point of the Tulia tornadic storm in May of 1980 ... a deep cylinder of rotating cloud and a tornado beneath it (between 1/5th and 1/10th the diameter of the cloud cylinder.]
The funnel then narrowed at the bottom and again became roughly cylindrical, with some neat curly-cues in the debris cloud. Next, the funnel developed a "kink" which apparently was a signal for the beginning of the rope-out, which went on in spectacular fashion, with wild twisting and ripples along the funnel boundary (easily visible in the video but the stills don't do them justice) just before the funnel dissipated.
Another tornado then started to form, but never really got established before dissipating. From then, the storm was apparently through being tornadic, as it had moved into bad surface air. It appears that there was a very narrow "window" when tornadoes were possible, during their interaction with a thermal boundary. The timing of this storm was perfect, as it was already a strong storm during its interaction with the boundary. It appears that the right combination of temperature, moisture, and shear was in a narrow zone. By some luck, we were in the right place at the right time to see it all.
The tornado lasted about 20 min, but didn't hit any structures that we could see, fortunately ... only in open country. It probably will get an F-0 rating, based on damage, but I'd guess it was at least F-3. For another perspective on the storm, check out the chase account by Jonathan Garner and Brian Thalken.
Finally the film images are done, and selected examples are shown ... Vickie's 35 mm shots here and here ... and my medium format shots here and here.
16 April 2002 (Tuesday) - thunderstorm / bust
Route: OUN, Sooner Road to I-240, west and north to I-40, west to CSM, south on US183 to Davidson, OK, east on US70 to Waurika, OK, north on US81 to Chickasha, OK, east and north on OK9, back to OUN.
I made a good (if hasty) analysis of the situation, but developed my chase strategy based on that forecast badly ... an outflow boundary was set up south of the Red River and for some unknown reason, I decided to chase west rather than south!? I had some vague notion that storms would move northeastward away from the boundary, but retrospectively, it should have been obvious to have driven to the boundary, as we did on 7 April... hopefully, I will learn from it. Anyway, we finally saw big storms going up well south of us, but couldn't make up for the initial bad decision. We chose not to go south of the Red River when the choice needed to be made, but we were able to do some artsy stuff and we had some nice views of the storms to our south-southeast from Waurika. This chase at least finished the rolls from the Throckmorton chase so we could get them processed! We heard about the Fort Worth/Arlington tornadoes on the way home. We probably wouldn't have had much luck chasing in the DFW Metroplex, anyway.
05 May 2002 (Sunday) - supercell (big missed tornado opportunity #1)
Route: OUN,Sooner Road north to I-240, west and north to I-40, west to Shamrock, TX, then again west to FM2161, north to US60, northeast for about 3 miles, then southwest to the AMA NWS office, then back northeat on US60 to FM1912, south to US 287 to Claude, TX, then south on TX207 to FM 285 to about 3 mi northwest of Wayside, TX, then back on FM285 to TX207, north for about 2mi, then south on TX207 to Silverton, TX, then southeast, east, and northeast on US86 to US287, southeast to CDS, then north on US62/83, east on US62 to Lawton, OK, then northeast on I-44, to OK9, east to OUN.
Waffled the whole day, and in the end, it cost us, big time. Westward on I-40, we stopped in Shamrock ... finally decided to go westward. As we got to about exit #105, we saw the storm going up in the northern TX Panhandle, and made a move to get closer, but the TX 207 exit to Claude was closed! We had to go on west and then north, but I thought we were unlikely ever to catch the northern storms ... with storms behind us moving at us, we then decided to go back to the NWS office in AMA to look at radar. The storm to the north was too far away to catch, but the ones to the south looked good. By this time, it was too late to head west and south along I-27 to catch them (it would have put us in the cores), so we had to go east, then south ... costing us lots of valuable time. As it turned out, we missed the Happy, TX storm because of that ... we got as close as Wayside, but the hail wouldn't let us go farther west and had to backtrack. By the time we did so, we started running into teams that had seen the Happy storm. Lots of our friends did well, which is good news.
---
NOTE: Howie Bluestein's student chase crews partially blocked the road at one point by not pulling completely off the road, and one of those students just wandered into the middle of the road without even looking! Unbelievably careless!! We had to slam on the brakes (and the horn) to keep from hitting this student ... another one flipped us off as we pulled up and stopped to chew them out. I was so mad then, I was barely coherent, so we moved on without saying much.

Note added: 11 May. I received an e-mail on this topic from Jason Politte, a chaser from Conway, AR. He has given me permission to post the following e-mail exchange:
>I read your account concerning your encounter with Howie Bluestein's student
>chase crews partially blocking the road at one point during your 5/5/02 chase.  
>While repositioning, I also had a similar encounter with the same crews east
>of Happy on Ranch 1075.  However, the road was not partially blocked; it was
>entirely blocked.  This was the most ridiculous and unprofessional display
>of behavior I've ever seen.  
It seems that those who run these radar research programs feel that they have extra privileges that permit them to put others at risk. This is not the first such behavior I've seen ... Josh Wurman's crews with the so-called "Doppler on Wheels" have done comparable things. Ridiculous and unprofessional? You bet!
>This was a hazardous situation, and I was forced to drive in the grass to go
>around the roadblock.  I can easily imagine a scenario in which a frightened
>resident [chaser] slams into the radar truck while trying to outrun [get
>ahead of] the oncoming tornado and not focusing completely on the road
>ahead.  Fortunately, the above didn't happen, but the potential for disaster
>was there.
>
>Video captures:
>
>Bluestein's crew blocking the road:
>
>Driving in the grass to go around the roadblock:
Perhaps the way to minimize this sort of behavior is to call attention to it and make it clear that we believe it to be unacceptable. I am posting this as my way to seeking to do just that.
---
Anyway, after that, we tried to stay with the storm, but the sparse road network through the Palo Duro Canyon precluded that, when the storm cut us off. The only choice was to go south to Silverton, so the chase phase was esentially over. As the sun set, the storm had a nice anvil with "knuckles" and this eventually was lit up with alpenglow. We then headed home, quite depressed over missing out ...
06 May 2002 (Monday) - thunderstorm
Route: OUN, Sooner Road north to I-35, then north to Newton, KS, then north on KS15 to US56, east to Remington Rd, then north to 280th Road for 1 mi, then back west to Remington, Rd, south to US56, east to US77, south to Florence, KS, northeast on US50 to Strong City, KS, then south on KS177 to Cassoday, southwest and then south on I-35 to Sooner Road, back to OUN.
Basically, a bust. When the storms fired northwest of Newton, we thought we were in fat city, but when we got under the anvil and could see the base, the storms were disorganized and very much an ordinary multicellular mess. We stopped a few miles northeast of Pilsen, KS and took a few stills of some new storms to our west, got some video of the multicell storm to our north, and then bagged it, as it was getting late in the day. Took a short tour through Cottonwood Falls, KS and then home.
Footnote: my frustration with this bustola caused me not to chase again on 7 May, which therefore represents another big missed tornado opportunity! See here for what we missed, courtesy of Matt Crowther and Betsy Abrams.
24 May 2002 (Friday) - weak supercells / bust (missed tornado opportunity #2)
Route: OUN, OK9 to I-44, south to Lawton, OK, west on US62 to Hollis, OK, then east on US62 to OK5, south for about 10 miles, then back north to US62, west to Hollis, then back east to near Duke, OK, and on to Lawton, OK, then northeast on I-44 to OK9, east to OUN
A messy day, where we waffled but never got headed in the right directions to see the tornadic storms (near Cordell, OK and Vernon, TX). We were near where the first storms fired, but they clearly were disorganized and having trouble controlling their outflow. Too many storms started to fire, and the day turned messy. It looked as if a better storm might be going up south, so we started that way, then stopped, came back and waffled some more. We wound up west of LTS and east of Duke, OK, where we met John Monteverdi and his chase partner, Thom Trimble. We watched some new, rather disorganized convection that briefly looked supercellular but fizzled. After watching a wall cloud rotate furiously near LTS, it was also pretty serious undercut by cold outflow, so when it swallowed near-surface air, it dissipated. With that, we gave up, ate supper in LTS, and went on home.
27 May 2002 (Monday) - supercell
Route: OUN, OK9 to I-44, south to SPS, southwest to Seymour, TX, west on US82 to FM836, southeast to Spur, TX, then south and west on FM261 to FM651, north a few miles, then back south a few miles, then back north to US62/70, east to Paducah, TX, then north through CDS to US62, then east to Lawton, OK, then northeast to I-44 to OK9, east to OUN
A good chase day, with storms that seemed close to being tornadic, but couldn't control their precipitation / outlfow (an all-too-familiar theme). We saw a storm going up to our west and thought we might have seen a tornado from a distance (but probably not). By the time we got to it, the storm was clearly dominated by outflow, but another storm was going up on the boundary it laid down, so we went to that next storm. It really looked good, with a nice separatin betwen its mesocyclone / wall cloud and the precip cascade, but as we drew up on it, precip began to fall more or less from the middle of the meso. It produced some wild lowerings that might create bogus tornado reports, but the storm was doomed regarding tornadoes. A big chaser convergence near White River Lake ... we ran into (among others) John Monteverdi, Matt Crowther and Betsy Abrams, Mike Umscheid, etc. After some chit-chat, the group broke up. It was late and we still had to go home! However, a new storm developed to our west with some nice crepuscular rays. This occupied us for another 30 min or so. As the sun was setting, we followed behind the dissipating storms on the long ride home, getting back by about 2 a.m.
[image shot by John Monteverdi]
29 May 2002 (Wednesday) - nothing
Route: OUN, Sooner Rd. north to I-35, north to SLN, then north on US81 to Fairmont, NE, then west on US6 to HSI
Repositioning to the north, first day.
30 May 2002 (Thursday) - nothing
Route: HSI, US34/281 north to I-80, west to Ogallala, northwest on US26 to BFF.
Photos in Broadwater, NE. Met John Monteverdi in BFF.
31 May 2002 (Friday) - nothing
Route: BFF, US26 to Minitare, south to NE92, southeast to Broadwater, NE, US26 to Ogallala, NE, east on I-80 to LBF
Hoping for storms to break the cap east of the surface low (heat low) along the warm front, but no soap.
01 June 2002 (Saturday) - thunderstorms
Route: LBF, north on US83 to VTN, west on US20 to CDR, south on US385 to NE L7E, west to US2, west to Hemingford, southeast on US2 to Berea, southeast on US385 to AIA, southwest on US385 to NE L62a to US26, west to BFF
Generally, a bust. The cap held again, although some storms firing near BFF had a good look for a short time before they gusted out. Met Al Moller, Brian Curran, and Ed Calianese in BFF.
02 June 2002 (Sunday) - nothing
Route: BFF, southeast on US26 to Ogallala, NE, east on I-80 to GRI, north on US34/281 to US30, northeast to OLU, north on US81 to 8 north of OFK, back to OFK
Yet another bust with this system. Went to the boundary, but with nothing going, we bailed and went back to OFK.
03 June 2002 (Monday) - supercell
Route: OFK, south on US81 to OLU, southwest on US30 to GRI, south on US34/281 to I-80, west to US183, south to KS383, southwest to Colby, KS, west on I-70 to GLD, then west to near Arriba, CO, then east to Seibert, CO, south on US59 to Kit Carson, CO, south on US287 to LAA
We went a long way for not much chasing. Storms started early and we were rather out of position, so we got on the big one near LIC late, and it had become a large, outflow-dominated HP, which chased us. Heard that it was moving southeast so we went south off I-70, which turned out to be a mistake, as the storm actually was hauling to the east, so we wound up south of its action area, and being chased southward by the gust front from the rear flank downdraft. Found a small storm north of Eads but it dissipated, so we bagged it and went on to LAA. John Monteverdi had to go back home from DIA the next day, so he left us and drove to LIC for the night, seeing another supercell in 60 deg F. air, but no tornado.
04 June 2002 (Tuesday) - supercell
Route: LAA, south on US287 to Boise City, OK, south on US285 to TX FM1585 (south of Levelland), east to US87, northwest to LBB ... then east on FM835 to FM1729, north to FM40, east to FM789, to US62 east to Ralls, south on TX207 to Post, west on US380 to US87, north to LBB
Strange day ... rolled south to reach the boundary, but when we got there, the one good storm had moved northeastward away from LBB and was out of reach ... apparently it did produce a tornado that Al M. saw. The rest of the developments looked weak and multicellular, so we bagged it. Wound up in the Hub City Brewpub in LBB when a supercell moved over the city! It was a beauty, with the "waterfall" RFD, a nice wall cloud, and a "layer cake" RFD gust front, so we chased it northeastward out of LBB (with no cameras, which had been unloaded in the motel!), but it eventually lined out and so we evaded the hail and went back to LBB.
05 June 2002 (Wednesday) - nothing
Route: LBB, I-27 to I-40, east on I-40 to Loop 335, north to US60, northeast to Pampa, TX, north on TX70 to US83, north to Sublette, KS, northeast on US56 to DDC
Repositioning day. Did some roadside photography of flowers, old homes, and other misc. topics along the way. We enjoyed a pleasant evening with Jim Johnson and Ryan McCammon (and his wife) in DDC.
06 June 2002 (Thursday) - thunderstorms
Route, DDC, west on US50 to Granado, CO, north on US385 to Burlington, CO, east on I-70 to Colby, KS, north on KS25 to Atwood, KS, east on US36 to Oberlin, KS, north on US83 to LBF
More repositioning. Originally headed for BFF, but saw developing line of Cu to the northeast so went north, and then east. These finally developed into very high-based junk, but took some roadside photos anyway. Then did some more artsy stuff in the hills on the way to LBF. Saw bigger, obviously better storms distant northeast.
07 June 2002 (Friday) - nothing
Route: LBF, north on US83 to Mission, SD, east on US18 to Winner, SD, then east on SD44 to Parkston, SD, north on SD37 to MHE, west on I-90 to Plankinton, SD, then south on US281 to SD44, west to Winner, SD
I was terribly confused today, when mid-level garbage went up ahead of us (in SD). I thought I could maneuver east of it, but it was propagating way too fast, with cold, stable air beneath what looked like being under an anvil. Downloaded some data and decided to kiss off the surface-based storms in NE that were going up ahead of the dissipating mid-level crap, thinking the upper flow was too weak in NE. Wound our way back west, took some shots of an interesting abandoned home near Winner, SD ... met the owner and learned some of the story of the house. Did laundry after getting a motel in Winner ... discovered that big storms were ongoing in NE! I seem to be giving up too soon on these chase days ... not one of my best chase days.
08 June 2002 (Saturday) - supercell (weak)
Route: Winner, SD, west on US18 to US183, north to I-90, west on I-90 to Moorcroft, WY, northeast on US14 ... then WY24, past Devil's Tower ... then WY112 to Alzada, MT, then northwest on US212 to about 10 miles from Broadus, MT, then back southeast on US212 to Belle Fourche, SD
Frustrating day ... again, lots of cirrus and a strong cap. We finally got into relatively clear air in NErn WY, where we could see a developing storm to our north, which a satellite image showed to be just north of the WY-MT border, so we took after it. As we moved along, it got less and less interesting and was racing away from us. Major chaser convergence at Alzada, MT (a convenience store at an intersection)! Storms to the west looked halfway interesting, so we headed that way. I noticed a cloud line in front of the storms, which turned out to be the advancing cold front, so it turned out that the storms were already thoroughly undercut. One looked like an HP supercell for a time, but the tornado chances were nil ... roaring, cold north winds ahead of the storm spelled D-O-O-M for anything tornadic and the front was unable to get anything going along it. Met Greg Stumpf and his partner Ian, Matt Crowder, Jon Davies and some others in Belle Fourche.for supper ... Matt showed some terrific highlights from his chasing this year! I'm VERY jealous ... but we DO still have Throckmorton ...
09 June 2002 (Sunday) - busted
Route: Belle Fourche, SD, northeast on US212 to SD65, north to SD20, eastward to MBG, east on US12 to US83, north to ND11, east to US183, south to ABR
A day lost to the cap, with virtually nothing happening. A few roadside images of mediocre quality and a long drive for nothing.
10 June 2002 (Monday) - supercell
Route: ABR, south on US281 to HSI, then south to Lebanon, KS, then north to Red Cloud, NE, east on US136 to NE78, north to US6, east to NE 14, north about 5 miles, then south to US6, west to HSI
Good chase day. Went the long distance based mostly on a 48 forecasts (with updates). Checked into our motel in HSI and then hooked up with Al Pietrycha for a local chase. Went south looking for the "mesolow" convection, but decided the storm near the "triple point" looked best. As we went north, the storms behind us looked good, but the rule is that distant storms always look better than the one youi're under, so we stayed with our plan. As we neared HSI, there was a large storm that had first gone up at the triple point, and a flanking storm ... chose the flanking storm because it was closest. It developed a very nice wall cloud and looked like it would go tornadic at any minute as we roared east to get ahead of it. However, it then began to dump precip into its RFD and the tornado threat pretty much ended. Got a brief gustnado on its flank. Very pretty storm at several points. We also shot some lightning as the day (and the storm) waned. It didn't get going well until about 7 pm and by 9:30 pm, it was all but gone. A nice show, nevertheless. The original triple point storm probably went tornadic ... according to word passed on to the NWS by Al M., apparently (who seems to be having a pretty decent year).
11 June 2002 (Tuesday) - supercell, brief tornadoes (possibly)
Route: HSI, south on US281 to RSL, then east on I-70 to exit 189, south on unnumbered road to Susank, KS, east to past Hitschmann, KS, south to KS156, northeast to Ellsworth, KS, east on KS140 to KS141, south to KS4, east to I-135, south to exit 148 through Mounridge, KS, then west to KS305, then south to KS556, to KS 61, then southwest to HUT
Good chase day. Drove right to the developing storms near RSL, then had some road problems, forcing us to drive on country roads (paved) until we got on KS156, which took us into Ellsworth, KS as the HP beast of a storm was approaching. Along that road, major chaser convergence took place, as the storm was wrapping into a tornadic phase. Vickie saw what appeared to be a brief, dusty tornado just east of Ellsworth that rapidly turned into a gusty, dusty outlow by the time I could get ready to shoot. Then, farther east, there were some gustnadoes to our south just along the RFD nose. After that, we raced south just ahead of a green-black RFD blast, crossing a dam at Kanopolis Reservoir, with whitecaps whipped up by the outflow. After that, we stopped at an overlook point at which I might have tarried too long - it was an awesome sight with perhaps another tornado, but the storm got close again, and we had another mad dash south, this time along I-135 - we probably should have gone east from Lindsborg, but -. this time we spend a harrowing 10 min or so in blinding heavy rain and wind before we broke out. That experience put us off the chase, and we were unlikely ever to be able to catch the big storm again, so we set down in HUT.
12 June 2002 (Wednesday) - supercell, possible tornadoes
Route: HUT, west on US50 to US281, south to Pratt, KS, west on US54 to US183, south to KS1, south to OK34, to US64, east to Alva, OK, north on US281 to P28, east on US160 to KS14, south to K3179, south to OK132, south to OK11, west to Alva, OK, south on US281 to OK45, east to OK8, south to US60/412, east to OK132, south to Drummond, OK, east on unnumbered road to Waukomis, south on US81 to OK51, east to OK74, south to OK33, east to I-35, south to I-40 east, then to Sooner Road, south to OUN
A third good chase day in a row. After much fooling around, we finally got on the major storm developing near Alva. It was clearly even more outflow-dominated than the storm the day before, and we encountered various spin-ups along the outflow, including some things that might be "gustnadoes" and some that were more ambiguous, perhaps even tornadoes. During its cycles up and down, it apparently had only a weak mesocyclone at times and at other times, it had at least the visual appearance of a supercell, so we'll consider it a supercell. Had some lightning opportunities again, and as the sun went down, the storm turned into a true "guster" but with a "stack of plates" appearance along its outflow boundaries. The storm chased us home, and we arrived as the rain was getting serious so we only partially unpacked the car, leaving the rest for the morning. We are done with this part of Chase 2002, with my trip with Tempest Tours still to come.
23 June 2002 (Sunday) - travel day
[This was a huge missed tornado opportunity but our tour started the next day. See here for what we missed.]
24 June 2002 (Monday) - thunderstorms, lightning
Route: DIA, northeast on I-76 to I-80, east to LBF, north on US83 to Murdo, SD, east on I-90 to US81, north to SD34, east to Madison, SD, south on US19 to Franklin, SD, west on unnumbered county rd to unnumbered county road (3 mi east of US81), north to SD34, west to Howard, SD, north on SD25 a few miles, then back south to SD34 west to SD25, south to SD38, west to MHE
Long, hard drive from DIA to southeastern SD. With high temperatures and moderate dewupoints, there was large buoyancy with relatively high LCLs, and not very good shear. Hence, the storms weren't very good, with relatively poor organization, too many storms, and short lifetimes. We had a fair lightning show northeast of MHE. With my video, I actually caught the stepped leader on one frame, with the return flash on the next frame!
25 June 2002 (Tuesday) - supercell, tornado, lightning
Route: MHE, I-90 east to MN23, north to MN10, west to I-29, north to SD28, east to MN1, north to MN19, east to US75, north to Canby, MN, west on MN68 to SD22, west to Clear Lake, SD, north on SD15 to MN20, one mile north, then back south to SD20, east to MN40, east and south on various roads, including MN2 east to US75, south to MN67, east to MN11, south to St. Leo, east on MN3 to US59, south to MN10, east to MN23, south to MN19, west to Marshall, MN
Excellent chase day, but including lots of frustration with lame storms and storms dying as we approached. After much waffling about which storms to chase, and seeing everything we approach curl up and die while we watched, we finally chose to go after a "last chance" storm that turned out to be a supercell in eastern SD, initially without seeing much low-level rotation in the lowerings. As the storm moved southeastward in MN, it began to make a transition from a more classic form to an HP beast, and it was accelerating southeastward, eventually going about 40-45 mph, and we were unable ever to turn the corner and get a look back into the notch. Near the small town of St. Leo, we gave up trying to get ahead of the storm. Unfortunately. at that time, we didn't see that there was a tornado in progress! Our excuse is that it was wrapped in rain from our angle (looking through the RFD precipitation), but the video camera "saw" what we didn't notice at the time. This image is a video frame capture, and this one is digitally enhanced to bring out the tornado image. Here and here are two more enhanced images showing the evolution of the tornado while we ignored it and instead experienced the outflow winds, sustained well behind the storm at about 40-50 knots. Apparently, the peak winds from the outflow were 80 mph and there was damage from them in the small town of Hanley Falls, MN, among other places. The storm was also electrically quite active, and it was an exciting chase as the storm went HP and raced southeastward at 40+ mph! The rapidly disappearing storm shrank and dissipated as the sun set. A glorious sunset near Cottonwood, MN, with towers along the flanking line before our storm dissipated.
26 June 2002 (Wednesday) - nothing
Route: Marshall, MN, southwest on MN23 to I-90, west to Kadoka, SD
Chose to blow off storms in IA, so naturally, supercells apparently developed there. Instead, we drove to the SD Badlands.
27 June 2002 (Thursday) - thunderstorms, lightning
Route: Kadoka, SD, west on I-90 to US85, north to Belle Fourche, SD, northwest on US212 to Broadus, MT, north on MT59 to Jordan, MT, west on MT200 to LWT
Weak,, high-plains thunderstorms developed late in the day and produced occasional nice CGs near dark. A long haul, without much of a payoff.
28 June 2002 (Friday) - thunderstorms, lightning
Route: LWT east on MT200 to Giltedge Rd, north to Giltedge, MT (Ghost Town), then back south to MT200, east to Grass Range, then esat to MT24, north to GGW
Decent day ... storms were late firing, as expected. We spent much of the day in the LWT library (nice folks!). A "guster" came at us at sunset, as we were eating supper in a local establishment, with lots of CG lightning. After we struggled to get and stay ahead of the rapidly-propagating line of storms for awhile, in order to get some lightning shots, we gave up and ended the day with a looong drive to LWT that got us in at 2 am.
Here are my versions of our group picture, taken at Giltedge, MT during the late afternoon ... one with me in it, and one with Bill in it.
29 June 2002 (Saturday) - thunderstorms
Route: GGW, east on US2 to US85, north to US2, east to Ray, ND, back west to US85, north to the US border north of Fortuna, ND, back south to ISN
Tiptoed up to the Canadian border but the outflow/front came through while we were waiting to get through Canadian customs, so we turned around and went back. Although the storms looked better in Canada, apparently they were "just" windstorms in Canada, as well. Instead, we experienced an awesome windstorm without thunder, with gusts certainly over 50 knots! We waited for the squall line in MT to reach us, but it was slow and was still west of us at sunset. Hordes of mosquitoes!
30 June 2002 (Sunday) - nothing
Route: ISN, south on US85 to Lusk, WY, then west on US18/20 to WY270, south to Guernsey, WY, west on US26 to I-25, south to DIA
A long travel day, back to DIA, with little or no chance of storms, but lots of nice scenery. Fires in the Black Hills and the Laramie Mountains created lots of smoke..
01 July 2002 (Monday) - Travel day
---

Ups and Downs:
This year, once again, good chasing opportunities were hard to come by. The caps often held, the cold fronts surged southward, pushing instability well away from the shear, upper tropospheric cyclones dominated the southern latitudes, keeping deep moisture from getting into the systems, etc. Tornadoes and tornadic supercells seemed to be "accidents" ... fortunately, we had Throckmorton on our first chase! We missed some big tornado opportunities again this year, but I have to console myself with the knowledge that "that's chasing!" No one gets them all!
However, there always are a few nice storms, and the plains always beckons, with its quiet beauty and mostly friendly people. Chasing with friends [John Monteverdi, Al Pietrycha, Brian Curran, Ed Calianese, Bill Reid, Dean Cosgrove, et al.] is always enjoyable, as is meetings with friends near good storms ... I never mind "chaser convergence" with good friends The hordes of chasers continue to increase yearly, but at least we had no repeat of the debacle in Texas on 29 May last year. As always, a few chasers (including OFs and newbies) are thoughtless and irresponsible. Some seem to be more concerned with the social side of chasing rather than the storms ... I prefer to keep the "chit-chat" confined mostly to after the chase is over. Some people were overtly respectiful of that preference with me and Vickie this year, and I appreciate that a lot ... thank you!
I also appreciate the generosity of those who contributed real-time updates to Vickie and me this year. I'm very thankful to Greg Thompson of NCAR for his page and to the folks at College of Dupage for theirs ... these sites make possible the kind of chasing we are now doing, so I hope everyone who uses and appreciates those pages will take the time to express their thanks for this valuable service to us all.
Some Impressions:
We were in 10 states this year: OK, TX, KS, NE, CO, WY, SD, MT, ND, MN. We found nice places in all of them. Eastern and central Montana is far more diverse and interesting than I imagined!
Bonus images:
---
Food and Lodging Recommendations
These have been updated and consolidated into a single new page, here.