Thoughts on a Storm Chaser: Eric Nguyen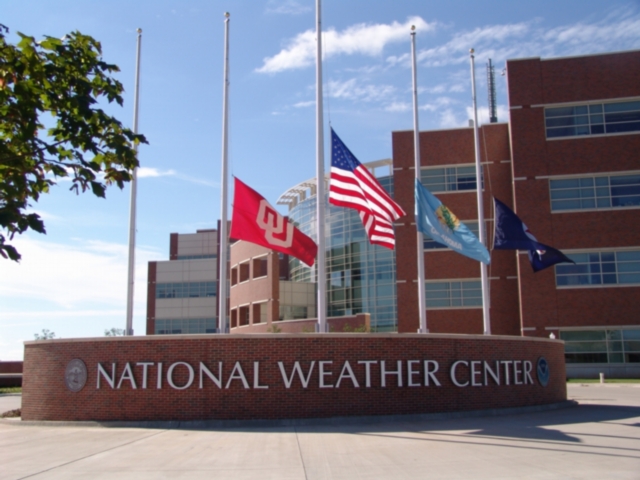 The flags at the NWC flying at half-mast. This image was taken on 11 September 2007 and the occasion was, of course, for the national tragedy on 11 September 2001. However, the image also symbolizes the way many people here at the NWC feel about the loss of one of our own from the School of Meteorology and the chase community. It's my hope that one day soon, the flags will be lowered specifically for Eric.
Posted 9 September 2007 Updated: 11 September 2007: Added the flag image, an update from Amos, and some more minor changes
Early in the morning of 09 September 2007, the chasing community was deeply shocked and saddened by the passing of Eric Nguyen. He was 29 years old and leaves behind his wife Nina and two sons, Chris and Sean, as well as a large group of admirers amongst the chasers and some very good friends.
I wasn't close to Eric on a personal level, but I'd watched his development as a storm chaser from a distance - the "storm chaser grapevine" brings many chasers to the attention of the group as a whole. I'm certain Eric and I passed close to one another on many chase days, but circumstances never brought us into close contact. In my life, I regret only a few things I've actually done. The things I regret most deeply are things not done. With Eric's passing, I'm reminded of this - I regret not getting to know Eric better as a person than I did. For things not done in your life, a time comes when the opportunity is gone forever. This is such a time, sadly.
One thing that pleases me now is my participation in a book about chasing that Eric was working on with chaser Mike Hollingshead. I was invited to do so via the publisher, but I think Eric and Mike asked the publishers to ask me to work with them - an honor for me! Knowing both as chasers whose work I admire, I agreed. Among other things, I was asked to write a short introduction - which now surely will need updating. In my Introduction, I said:
I first heard about Mike and Eric a few years back, and when I began to see their images online, I was immediately struck by how good their photography skills were. From my experience, anyone can get lucky and capture a spectacular shot. But what I began to see from both Mike and Eric was that chase after chase, they both had a real knack for being in the right place at the right time. Obviously, they have gained the knowledge and mastered the art of chase forecasting, they consistently make good chase decisions, and they seem to know how to be in position for the spectacular shot. In my experience, this capability is never just a series of lucky accidents. These two are really good! ... It's evident to me also that Mike and Eric are responsible chasers, so I know that their work is going to reflect credit on us all. As a long-time chaser, I've been pleased to welcome them into the loosely-knit community of storm chasers. ... Mike and Eric seem to have taken the art of storm photography to new heights with their images – the subject matter, the composition, the exposures, the sharpness – all hallmarks of outstanding photographers. They obviously both share my excitement over more aspects of the storm than just the tornado. Many of the photographs in this book are not of tornadoes, but they nevertheless have produced images that speak eloquently about the grandeur and beauty of storms that many people never will see for themselves.
A shared passion for the weather joins all of us chasers, and Eric clearly had that passion. But he also showed me much more than that. He was manifestly a responsible chaser, doing all the things that a responsible chaser can and should do. And his storm photography skills grew rapidly as I watched, to a level second to none among us. Perhaps I'm prejudiced when it comes to that opinion, of course, but Eric seemed to capture the images I would've wanted to obtain from most of his chases. On some chase days when we chased the same storms, he came away with shots that made me wonder why I wasn't chasing with him!
I make no claim to understand why things happen in this life the way they do. It's normal to ask why someone with such a bright future as Eric's is taken from us prematurely. I'll not discuss the circumstances of it here, but Eric's death surely seems senseless and tragic when seen through the eyes of his friends and family left behind. I believe that events in life have a reason. I'm not a formally religious person, but I believe that we all have a purpose in life - and in death, which is a part of life. We inevitably affect people around us, and the only question about that is the nature of how we affect others. Was the world a better place for our having been in it? Or not? I can say that Eric's life among us made our world a better place, beyond any reasonable doubt. One result of Eric's untimely and tragic death, within a host of other results I likely will never know about or understand, is the reminder that all opportunities in life have a finite existence. Don't let the time for those opportunities run outwithout doing something with them. Another positive result has been the outpouring of emotion regarding Eric - his untimely death has united the chaser "community" more effectively than anything I've seen in 35 years of chasing.
Eric evidently embraced his opportunities and did marvelous things with them. His close friends are part of his legacy to the world. May we all have friends who are as committed to us when we're in need as Eric's chase partner and friend, Amos Magliocco. Anyone with friends that devoted has been richly blessed in their life. Be sure to appreciate your friends and let them know they're appreciated. You might make a big difference ...
We will mourn the loss of Eric for some time to come, but in the end, I believe we should celebrate Eric's time with us and the legacy he left behind rather than dwell overlong about our loss. The following eloquent statement is one of the most beautiful things I've ever read about the human condition ...
As much as I knew about Eric and how much he accomplished in chasing, as a forecaster, tactician, programmer, photographer, and in other areas, what I didn't realize was the depth of affection for him from so many, surely his finest achievement. For me, it's like Eric's closest friends were standing around a campfire, in the full glow of the firelight. But we didn't know how far behind us the illumination stretched, nor did we see the play of light and shadow on those who were there. When the fire went out, we turned and saw hundreds of people standing with us. I knew a lot about my friend---his pepporoni pizzas with light sauce and his dependable one-liners---but I didn't know the reach of his personality and the resonance of his art. This I'm certain is the hallmark of greatness; and what I know for a fact is how lucky I was to have been his friend.

- Amos Magliocco
---
An update from Amos ...
Three important pieces of information follow in this post: the scholarship being created in Eric's name, the date/time/location for the chaser gathering, and a website that will serve as a central information source for all these things.
First, an endowed scholarship in Eric's name is being created at the University of Oklahoma, a place perhaps more special to Eric than any. The fund being set up for Eric is intended to be used for an Endowed Scholarship, meaning that the earnings from investments made with the money will sustain the scholarship well into the future. This means that after all of the donations are made, we will have a scholarship in Eric's name that will go on and on. Each year, his name and short biography will be distributed amongst faculty, staff, and students at the University of Oklahoma's School of Meteorology, in addition to helping students with interests similar to Eric's.
HOW TO DONATE
An account has been set up to receive funds at the University of Oklahoma Foundation. To make a donation online, you may use this link, making sure to add the statement "I would like my funds deposited into account #30918 (the Meteorology Scholarship Fund) in honor of Eric Nguyen" in the comments box in the "Gift Information" section. The rest of the Gift Information Section should be left alone.
To mail a donation, make checks payable to the "University of Oklahoma Foundation, Inc.", add a memo "For Acct #30918", and send to:
University of Oklahoma Foundation, Inc..
100 Timberdell Road
Norman, OK 73019-0685
Please also print off THIS page, fill in your dollar amount, and send it with the check to make sure the funds get to the right account.
CHASER GATHERING
Please join us in honoring our friend and fellow chaser Eric Nguyen on Saturday, September 22nd from 5:00 PM to 9:00 PM at the National Weather Center in Norman, Oklahoma. This will be a relatively informal event, but because the NWC is a federal facility, and is secured as such, it's necessary for each person attending to RSVP so that name tags can be created.
Your RSVP can be made very easily on this webpage:
http://www.ericnguyengathering.com/rsvp.php
The event will be catered free of charge. We don't have any formal program planned (Eric would bristle at the idea), but we'll likely show some pictures, video, maybe a few slides nobody has seen before, and generally mill around and talk. No dress code beyond what you would ordinarily have to wear to get into a government building. It's important that people RSVP so we know how much food to buy and because it's not clear how we could admit those who aren't on the list or who don't have a nametag waiting. Again, the University of Oklahoma has donated this space free of charge and we want to respect their few conditions.
After the event, we'll likely migrate somewhere else, as chasers tend to do. We can talk about that later.
WEBPAGE FOR UPDATES
Last, we've created a webpage with all this information and where we'll post updates. Please refer to this page for information on the scholarship fund or the gathering in Eric's honor. We will update this page first and I can't guarantee that updates to ST.org or other online forums will be as timely. Please feel free to direct questions to me. Bob Fritchie and Rachael Sigler did all the work for this and they already have very busy lives; so I'm happy to follow up with questions the page might not answer.
http://www.ericnguyengathering.com/
Again, please thank Bob and Rachael who have moved mountains in the midst of a terrible loss.