Venture Crew 778
2001 Philmont Kanik Adventure
December 27-31 2001
---
Created:
22 January 2002
; Updated
: 24 Jan 2002:
added images supplied by Don and Audre Carter
This Web page is my unofficial compilation of thoughts, photographs, and other items related to the Kanik adventure we had at Philmont Scout Ranch. A few of the photos were taken by my good friends Hal Belknap and Rick Fry ... their images are specifically identified as such. The rest are mine. Almost all have been digitally enhanced some, to improve contrast and color over the original scans. All images are copyrighted by the image authors (myself, Hal Belknap, Rick Fry, Don and Audre Carter), so contact me to inquire about any use of these images, other than personal use viewing. Any feedback will be appreciated ... e-mail me at: cdoswell@earthlink.net
---
Troop 777 has done several Kanik adventures at Philmont Scout Ranch in the past. This year was to be the first one that I could attend, so I was ecstatic about finally being able to participate. Philmont's Kanik experience is all about learning how to camp in cold weather and have fun. In the past, 777's Kanik crews have not had much snow to work with. I felt that having a meteorologist along was what they needed! I was confident that the Carter family's Venture Crew 778 (a Troop 777 "affiliate") was going to get what they've wanted and never before gotten! My forecast for the trip, made a week earlier, included the best chances for snow on late Saturday and Sunday morning. [I'm not right that often, so I like to crow when it occasionally happens!!] Since my son, Chad, was going to be home from graduate school - he was an enthusiastic participant, as well. This was going to be a great adventure for all of us!
---
Participating in this Kanik Adventure were two "krewes":
Krewe #1:
Sarah Carter
Don Carter, Co-Advisor forVenture Crew 778
Audre Carter, Co-Advisor forVenture Crew 778
Meredith Elwell
Stewart St. John
Miles Harris, Krewe #1 Crew Leader
Michael Porter
Dan Tobin
Matt Fry
Rick Fry
Krewe #2:
Jared Broceus
Dr. Hal Belknap, Troop 777 Scoutmaster extraordinaire
Chad Doswell
Chuck Doswell
Patrick Ahern
Alan Jarboe , Krewe #2 Crew Leader
Adam Mathis
Edward St. John
Bryan Porter
Rich Ice
---
Crew photograph - Sunday, at Cathedral Rock: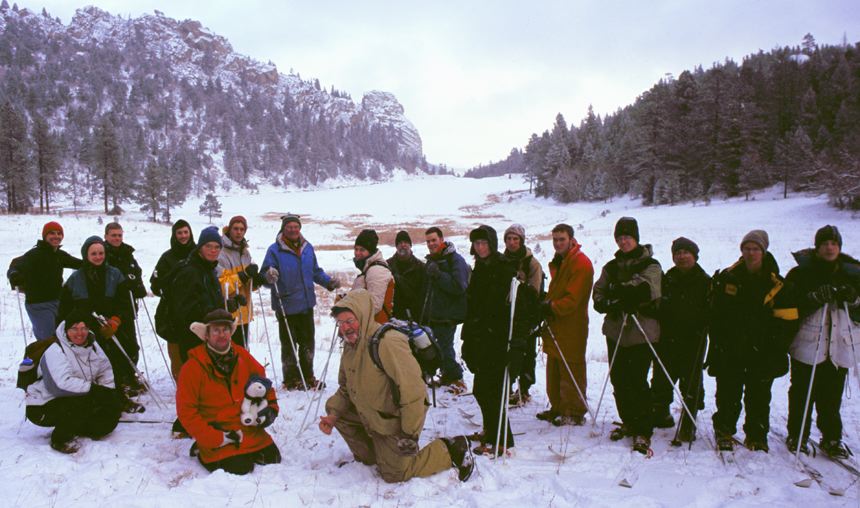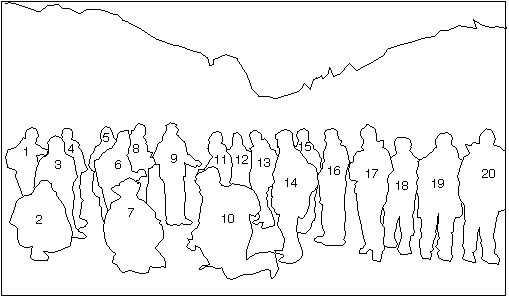 Key: 1 - Chad Doswell, 2 - Audre Carter, 3 - Meredith Elwell, 4 - Bryan Porter, 5 - Patrick Ahern, 6 - Stewart St. John, 7 - Don Carter, 8 - Jared Broceus, 9 - Dr. Hal Belknap, 10 - Chuck Doswell, 11 - Sarah Carter, 12 - Rick Fry, 13 - Dan Tobin, 14 - Edward St. John, 15 - Matt Fry, 16 - Miles Harris, 17 - Michael Porter, 18 - Rich Ice, 19 - Alan Jarboe, 20 - Adam Mathis [photo taken with my camera by Josh]
---
27 December - Thursday
This day began at the usual "crack of dawn" hour that characterizes Dr. Belknap's trips. Chad and I had to be up at 3:30 a.m., in order to be ready to go by 4:45 a.m. Rich Ice agreed to pick us up, and much to our surprise, we were ready to go when he came by! Shortly after we arrived at the Belknap home, everyone was ready to go and we were on our way by about 5:20 a.m. The trip (with a sack lunch on the way) was generally uneventful ... out westward along I-40 to Amarillo, then north on US287 to Dumas, TX, and west on US87 to Hartley, TX, then northwest to Clayton, NM, then US56 to Springer, NM, north briefly on I-25 and then west on NM 58 to Cimmaron, NM, south on NM 21 to Philmont Scout Ranch. No tent city awaits campers at this time of year. Rather, we were given rooms in the Philmont "dorm" ... we had arrived early in the afternoon, before the recommended time (see Appendix, below), so we had time to kill. That evening, we prepared supper for our two crews in our "dorm" (Belknap photo) and then attended the Kanik training meeting, put on by the guides, where we had our physical re-checks and learned a lot of material about winter camping in a short time. Two other crews, both from Texas, were going with us .. their boys seemed rather younger than our Venture Crew, and there was a lot less Philmont experience in their crews. Certain things were emphasized as "B-A-D bad" like getting wet, or not eating and drinking enough, etc. Following that, guides checked our personal gear and made recommendations about what we would need to be properly prepared for what was to come. Then to bed. Chad and I had to room with some adults from a different Kanik crew, two of whom snored rather loud ... it was like a night spent in a sawmill, but we survived and there were good, friendly guys, otherwise.
28 December - Friday
We began the day with a hearty breakfast at the Villa Philmonte, with a walk in the brisk air to and fro. Deer were wandering about in a leisurely fashion on the lawn (Carter photo), as we returned to our rooms. Then, we met our crew's Kanik guides, Josh McNary and Mary Ziegler, and we began the task of being issued our crew gear and the personal gear we needed for the Kanik adventure. This involved, among other things, being instructed by the guides (Carter photo) and being issued sleds to carry the gear (Belknap photo) for each tent ... 2 persons to each tent ... since Chad and I would be sharing a tent, Chad took on the task of packing our sled (Belknap photo), with only marginal help from me, since I seemed to be struggling to figure out how to do things. After this well-organized exercise of getting ready, we loaded the gear and ourselves onto various vehicles and left base camp for our destination ... the area around Hunting Lodge. Following the drop-off of us and our gear (Carter photo), our guide Josh instructed (Carter photo) us in how to set up our camp, and we got about getting things together. The campsite was more or less set up by midday, and it was proposed that the group could use the afternoon to have a short trek. The crew decided to go off to Window Rock (Carter photo), which they did . Dr. Belknap (Fry photo) got this nice group picture (Belknap photo) while there. At some point, it seems, Dr. Belknap was overwhelmed with all the excitement (Carter photo). Being out of shape and overweight, I chose discretion over valor and stayed back in camp, basking in the afternoon sun and doing some reading, along with Rich Ice.
Once the crew returned from their short trek, we all set about getting supper ready (Dr. Belknap captured tthe process underway for our crew), with each of our two crews (Carter photo) responsible for themselves. This involved getting water heated, since our main meals were MREs ("Meals Ready to Eat") that only needed heating in hot water. Lots of warm drinks were also welcome, plus we chowed down on the usual Philmont fare ... squeeze cheese, peanut butter and jelly in squeeze packages, crackers, meat sticks, various snack bars, etc. In winter camp, you generally go to bed when the sun goes down, because it cools off quickly. Whereas afternoon temperatures were in the 50s, the thermometer falls quickly when the sun went down (the sun at hunting lodge "sets" behind a mountain very early, even though it stays light well after you're in shadow), and the warm sleeping bag inside the tent is a good deal more comfortable than staying outside. We had a full moon, which meant that the night sky was bright all night.
29 December - Saturday
Morning temperatures were well below freezing, but it had been a loooonnng night, so everyone was up and going relatively early. Skies were mostly cloudy early in the day, with only occasional breaks. Thus, it didn't warm up so rapidly as it had the day before. Breakfast including another round of water boiling for oatmeal and warm drinks of various sorts. It's amazing how much warmer you feel after you eat and drink, although I think most of us couldn't come close to eating the 5000+ calories worth of trail food that the guides recommended in a day. [We wound up with a lot of leftover food.]
Anyway, after breakfast, the crew decided to trek to nearby Cimaroncito camp, to do some rock climbing things there ... Dr. Belknap got this shot of the rock climbing gym activities. They trudged off with the intention of staying there for lunch (a Dr. Belknap shot of that here). I stayed back in camp, again, along with a few others. The sun came out after late morning and things looked like they were going to clear off. I spent the morning catnapping and reading as I basked in the sun (yes, that's my boot in the lower left). Very enjoyable. Our guide, Mary, along with George (guide for another crew) took us "camp critters" for a short afternoon hike down to Cathedral Rock and the Cimarron city reservoir, and to check out a rock cave just below the dam, under a rockpile (Carter photo). It was a tight fit to enter the cave and the older members of the group chose not to go in, but the younger ones (like Sarah Carter) went in and explored the tight confines. A leisurely hike back, taking some photos of the frozen reservoir, completed our afternoon activities. The rest of the crew returned and we all set about making supper. Unlike the day before, however, on this night the guides had arranged for us to jam into Hunting Lodge for a night of entertainment ... story telling, singing, and general wackiness ("Make me a cheese sandwich!") on the part of the guides, notably the irrepressible Kanik Guide Bob (affectionately known as KGB). A very nice experience and my first time ever inside Hunting Lodge. A pot-bellied stove plus all the bodies crammed inside made for a warm evening's entertainment. These festivities continued well past dark, so we returned to our campsite with bright moonlight and scattered clouds. It seemed, with the clearing skies, that the chances for snow had all but disappeared. However, during the night, I woke to a strange sound ... like rain. But it was too cold for rain, so as I huddled in my sleeping bag, I wondered what was going on. I wasn't about to get out of my bag to see though ... it's warm in the bag and cold outside!
30 December - Sunday
Sunday morning dawned and ... HOORAY! ... about 3-4 inches of snow had fallen, and more was coming (Carter photo)!! The snow fell lightly almost all day, but petered out sometime during the afternoon. Not much accumulation after lunch. Anyway, the Norman, OK Kanik crew at last (after years of trying) had a significant snowfall, so we could have the whole Kanik experience. After the usual breakfast (Carter photo), complicated by the snowfall, the guides brought us our "saucer sleds" and a nearby hillside was put to good use sledding down the hill. Another happy camper is seen here (Carter photo). A great time was had by all the sledders (I sat this one out, too ... my excuse was my photography). At the base of the steep hill, there was a sharp dropoff to the 4wd drive road, so a lot of sledders got a hard "thump" at the end of their rides, going "airborne" just at the end and then a hard landing on the road. Only one minor "injury" resulted from this wild riding (that's Dr. B. attending to the "victim" - Chad inadvertently "joined" the group at the end of another sled ride down the hill) .... and it was just some minor discomfort. Josh didn't realize that Meredith had a prosthetic leg, so at one point she went down the hill with her leg off ... Josh was freaked ... he figured he'd be fired for sure after such a grisly accident! However, the leg came down on its own saucer sled, and was reunited (Carter photo) with Meredith at the "foot" of the hill. Even Josh got into the fun, though, as did some of the advisors from another crew. One saucer sled was a victim during the fun, however.
After the sledding, the cross-country skis and poles we had been fitted for were brought into camp by the Philmont staff. Some impromptu cross-country skiing lessons were given right there across the road from our sledding hill. The lessons began with how to fall, and how to get up after falling, how to stop, how to turn, and finally how to go. With the completion of the lessons, the skiers set out down the road to Cathedral Rock, now transformed by the snow. Much valuable practice was gained from this, and once the clearing was reached (with a fairyland of new powder snow on the trees), some downhill ventures were underway with the younger crew members, after we gathered everyone for the crew's group photo (see above). Josh also requested we capture this odd pose with him and our two crew leaders, Alan (left) and Miles (right) ... don't ask me what it means! The skiing went on for quite a while, and then it was getting late in the afternoon. Only one set of skis and one set of poles were broken .. the skiers on the crew took to it rather well, given the limited experience and brief (but valuable!) lesson. No doubt many new skiers were created from Oklahoma flatlanders! My friend, Rick Fry, took this photo of Dr. Belknap as a skier. Again, Josh was both a participant and a first-timer ... he's apparently a talented athlete, among his numerous other virtues! After the short trek back to camp, the skis were shed and supper begun. Once again, an early bedime followed after supper, as we planned to commence striking camp before sunrise, in order to be on our way home as soon as possible on the next day.
31 December - Monday
With light winds, clearing skies, and snow on the ground, temperatures fell during the night ... down to around -5 deg F or so by morning. A brisk way to break camp. Everything went reasonably smoothly for all of us (thank goodness for Chad .. he was a big help to me!), so we were totally ready to go by the time the Philmont staff arrived to take us back to base camp. What a gorgous ride it was, as the morning sun turned the scene into a limitless expanse of glittering diamonds everywhere. The sunrise coming out of the high country onto the plain north of Tooth of Time Ridge was sensational! Unfortunately, my camera was packed away, and everyone was eager to get back to base camp, so stopping was probably too much to request. Once back in base camp, check-in of our Philmont gear went smoothly ... except for items we had misplaced, that took some searching to find. The Philmont staff was well-organized once again. After everything was checked in, we could get a very welcome hot shower in our "dorm" rooms and they opened the Trading Post for last-minute purchases. Then, we had a brief ceremony with Josh and Mary, who awarded us our coveted Kanik patches (see below). With that done, and sad goodbyes and thankyous offered to the guides and the Philmont staff, we packed up our vehicles and commenced the trip back. The idea is to get home before the drunks hit the streets on New Year's eve ... we retraced our path back home to the Belknap house. With some cell phone calls, most everyone's ride back home was waiting when we arrived, and the crowd of happy campers exchanged our goodbyes, and went back to our own homes, with some great memories. My friend, Rich Ice, graciously returned us to our home.
My impression of the crew was that, as usual, I was proud to be a part of such a great group! The young members of the crew are amazingly fun to be around, and I continue to be grateful to my son for getting me into Scouting. The adults in Scouting are among my best friends and doing things with them is inevitably a lot of fun.
My impression of this experience is that I recommend it for serious campers. Philmont staff is great and they go way out of their way to make this a fun experience. I am attaching, as an Appendix, the current information sheet regarding Kanik, so you can consider what you need to do to have a similar fun Kanik Adventure ...
Yours in Scouting ... Chuck Doswell
---

Appendix - Kanik Information Sheet
(as of winter of 2001/2002)
PHILMONT SCOUT RANCH -- BOY SCOUTS OF AMERICA
KAN I K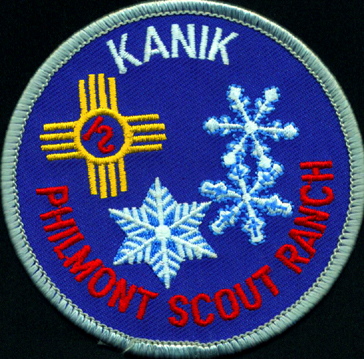 PHILMONT'S COLD WEATHER
CAMPING PROGRAM
HAVE FUN! ENJOY PHILMONT'S BEAUTY IN WINTER
LEARN WINTER CAMPING BASICS
CAMP COMFORTABLY IN COLD WEATHER
Location: Philmont Scout Ranch is located near Cimarron, New Mexico. Camping Headquarters is 4.6 miles south of Cimarron on Highway 21.
Who May Participate? Any individual who is at least 14 years of age by January 1 or in the eighth grade at the time of participation - without exception! All participants must be registered members of the BSA. There are no gender restrictions for adult leadership at National High Adventure bases, except that each coed crew must have coed adult advisors.
Each crew must have at least two registered adult advisors. For Scout units, one of the advisors must be at least 21 years of age or older; the second advisor must be at least 18 years of age. For coed Venturing crews, there must be a male and a female advisor, both at least 21 years of age or older. Every crew is required to have a majority of youth participants.

Every leader and participant is required to have a current (within the past 12 months) medical examination and have a Philmont or BSA Class 3 medical record filled out by their physician. Each leader and participant must be in good physical condition. These standards are for your safety, as well as ours.
Crew Size: The Kanik (Inuit for "snowflake") program is best accomplished with a crew of 6 to 10 people accompanied by a Kanik guide. Each crew should elect a youth member as crew leader before arrival at Philmont. The Kanik guide should be used as an information resource and will work through the crew leader to provide instruction to the crew. In order to adequately prepare for each crew's arrival, crew size cannot be increased after 14 day prior to your crew's arrival.
Fees: $90/person/weekend; $35 for each additional day. The fee includes meals, snacks, instruction, staff and the use of specialized outdoor equipment (see page 3), sleeping bags and outer clothing as needed. Additional fees are assessed if Kanik equipment is lost or misused.
Reservations: Reservations are confirmed upon receipt of your non-refundable deposit ($50/person) and completed reservation form. Reservations are accepted on a first come, first served basis beginning May 1 of the year prior to attending. Space is limited to 45 participants per session and fills quickly. The balance of fees is due upon arrival.
Period of Attendance: Sessions are available from December 27 through March 31. Conditions may vary; if there is inadequate snow for cross-country skiing, there is an opportunity to see more backcountry by hiking. Weekend stays are available, however, to be fully trained and fully participate in winter activities, it is recommended that each group plan to attend for 3 to 4 days, as the first night is spent in Base Camp.
Arrival/Departure: Crews should arrive at the Camping Headquarters office on their scheduled date between 5:00 - 5:30 pm. Plan to eat supper before arriving at Philmont as no meals are planned until breakfast the next morning. Expect to depart after 1:30 pm on your scheduled check-out day.
Food: Your first meal provided by Philmont is usually breakfast on the morning after your arrival day, however, dinner on Friday evening at 5:00 pm is an available option ($4/per person additional cost) by advance notification. Subsequent meals will be 24 hour meal packs specially prepared by Philmont staff. Please inform Kanik Staff regarding special dietary needs (food allergies, diabetes, etc.) at least 14 days prior to arrival at Philmont.
Program Options: On the night of your arrival, you will be housed indoors. Subsequent nights will be spent in the backcountry in tents (or snow shelter if conditions permit). After an initial period of training, several program options are available to each group depending upon its interest, the weather and snow conditions. Options include: ski touring, snow shelter building, snow camping, winter ecology, hiking, use of winter tools and equipment. Groups that come to Kanik for just a weekend will have limited time for these activities.
Cold weather camping is the ultimate test of your ability to camp and travel in the backcountry and learn to live in harmony with the environment. Training in winter camping will prepare you to safely enjoy many winter adventures and to teach others to enjoy these unique experiences.
Be Aware of Potential Risks: Philmont offers winter camping and cross-country skiing in relatively inaccessible mountainous terrain. Parents, advisors and youth participants should be alert to the potential for injury. Philmont strives to minimize risks to participants and advisors by emphasizing proper safety precautions. Philmont staff members will instruct you regarding safety measures to be followed. Each crew is expected to follow these safety measures and to accept responsibility for the health and safety of each of its members. Prior physical training is encouraged as elevations range from 6,500 to well over 12,000 ft. above sea level.
Awards: Each participant who completes training will be awarded a distinctive patch as a remembrance of Philmont Kanik. Much like the Arrowhead patch, a Kanik patch can only be earned.
Tour Permit: Obtain a tour permit (National if over 500 miles, Local if less than 500 miles) application from your Scout service center and submit it for approval at least one month in advance. Bring your approved tour permit with you to Philmont. Refer to BSA publication No. 33735 Tours and Expeditions and the tour permit application for complete information.
Transportation: Prepare your vehicles for cold weather BEFORE you leave home. AAA and state agencies will recommend emergency supplies you should carry. Drive slowly on snow and ice and stay in control at all times. Albuquerque and Colorado Springs are the closest airports; vehicle rental agencies are available at each location. Amtrak provides service to Raton, New Mexico; TNM&O provides bus service to Raton and Cimarron. Arrangements can be made with Philmont for transportation between the bus or train station and Philmont.
Clothing and Equipment: In the winter, Philmont is a great place to "field test" your winter gear. Supplemental clothing and equipment are available, however, Philmont cannot provide participants with hats, polypropylene underwear, glove liners or socks. When packing for Kanik, consider protection for each part of your body. Whenever possible, wear wool, polar fleece or polypropylene. Even when wet, these fabrics retain insulative value. Check your clothing labels to determine the fabric content; do not bring cotton clothing for winter camping. When wet, cotton loses almost all insulative value. Think in terms of multiple layers of comfortable clothing.
Each participant should bring or plan to buy the following: (items marked with an * can be purchased at the Tooth of Time Traders).
| | |
| --- | --- |
| Your Personal Equipment | |
| Head: | Other Required Items |
| 1 Stocking cap* | Sunglasses* (100% UV Protection) |
| 1 facemask (balaclava)* | Insulated cup* |
| | Spoon* (plastic) |
| Hands: | (soap/toothbrush/towel/etc.)* |
| 2 pr mittens (preferably wool)* | Toilet articles |
| 1 pr glove liners (polypropylene)* | Sunscreen* (SP15 or better) |
| 1 pr windproof glove shells* | Lip Balm |
| | 1-2 One qt. water bottles* or canteen |
| Upper Body: | Sleeping bag (0º rating or lower &endash; preferably not down fill) |
| 2 wool or polar fleece sweaters*/jackets* | Full length insulated sleeping pad |
| windproof jacket*, preferably hooded | Completed Philmont Health & Medical Record form - signed by a doctor within the past 12 months (should be given to advisor) |
| 2 pr polypropylene underwear* tops | |
| | Other Recommended Items: |
| Lower Body: | Insulated vest* |
| 2 pr polypropylene underwear bottoms* | Bandana* |
| 1 pr wool or fleece pants | Pack boots (Sorels or galoshes with removable liners) |
| blue jeans or carharts are not acceptable winter camping clothing. | $40 spending money per person (approx) |
| | |
| Feet: | TAPE/CD PLAYERS WILL BE LEFT IN BASE CAMP |
| 2-3 pr wool socks* | |
| 2-3 pr polyproylene liner socks | |
| 1 pr hiking boots | |
Philmont provides the following equipment as crew gear:
8 qt. Pots w/lids
Coffee Pots w/lids
PEAK I Stoves
Fuel Bottles
Fire Paste
Match Cases w/matches
Hot Pot Tongs
Cooking Pads
3 - Gal. Water Jugs
Campsuds biodegradable soap
Condiment Kit (salt, pepper, etc)
Polar Pure water purification crystals
Trash Bags
Tents w/stakes & flukes
Sleds for pulling gear
Saucer Sleds
Cross Country Skies and Poles
Tarps
Maps & Compasses
Philmont has a limited supply of the following personal gear available for loan:
0º Sleeping Bags
Closed Cell Foam Pads
Backpacks & Frames
Fleece Sleeping Bag Liners
Water Flasks w/Covers
Suspenders
Fleece Nose Warmers
Wool Mittens
Windproof Overmitts
Wool Shirts
Polarplus Shirts
Military Issue Jacket Liners
Windproof Anoraks
Wind Pants
Wool Pants
Military Issue Pant Liners
Waterproof Overshoes
Foot Wraps & Liners