Troop 777 Shiloh/Vicksburg
Civil War Battlefield Hikes
Spring 1999
---
Created:
22 August 1999
This Web page is my unofficial compilation of thoughts, photographs, and other items related to the hikes we took at Shiloh and Vicksburg. Many of the photos were taken by my good friend, Don Carter ... his images all have URLs ending in "_DCXX", where the XX refers to a numbering system of no relevance here. The rest are mine. Almost all have been digitally enhanced some, to improve contrast and color over the original scans. Any feedback will be appreciated ... e-mail me at: cdoswell@earthlink.net
---
This trek owes its roots in the fact that Don Carter and I are Civil War buffs and had been thinking about doing something like this with the Scouts for some time. Finally, Don and I decided just to do it ... and Don most definitely did the lion's share of the work in making it all happen. With the enthusiastic support of the Belknaps, some Scouts from the Troop expressed interest in going on this historical learning adventure and we commenced with the planning. With the participation of Scouts, we developed an itinerary and made decisions about how we might make it all work. Don used the Internet to help explore the possibilities and it all started coming together. When we reached an advanced stage in the planning, we had a final planning session, highlighted with videotapes from the PBS series on the Civil War, using excerpts relevant to both Shiloh and Vicksburg. We also looked at some maps and tried to give the boys a sense of the history they were soon to experience. Finally, we made up a pack list:
---
Red Scout polo shirt (for travel, going and returning)
Blue Troop 777 T-shirt (for hiking)
BSA-type shorts (for hiking)
Hiking boots,well-broken in
Hat with a brim
At least 2 water bottles, one qt. each
Compass
1 large "Ziplock" bag (for hiking map and guidebook)
Ballpoint pen (for the questionnaires)
Rain gear (we will hike regardless of the weather [Little did we know how important this was!])
Camera and film
Sweatshirt, jacket, or sweater
Sleeping bag
Ground cloth
Sleep pad
Camp chair
Tent
Mess kit (bowl, cup, plate, eating utensils)
Personal toilet items
Flashlight
Extra clothing
Day pack
---
Participating in the trek were:
Boys:
Ryan Schmitz
Everett Schmitz
Wyatt Schmitz
Will McManus, Crew Leader
Ben Williams-Kupec
Emery Swenson
Clifford Marshall
David Dickerman
Adults:
Hal Belknap, Scoutmaster
JoAnn Belknap
Don Carter
Chuck Doswell
---
Group photograph, at the start of the Shiloh trek: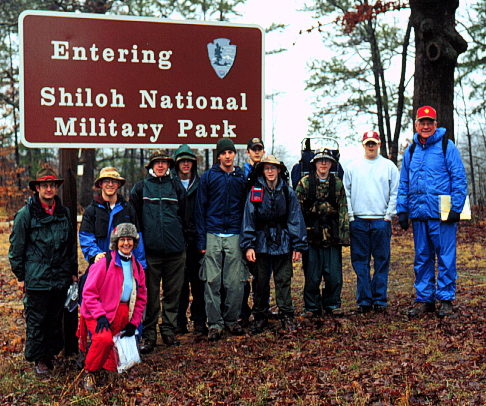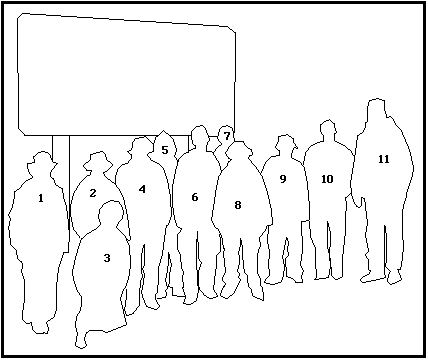 Key: 1 - Don Carter, 2 - Ryan Schmitz, 3 - JoAnn Belknap, 4 - Ben Williams-Kupec, 5 - Everett Schmitz, 6 - Will McManus, 7 - Clifford Marshall, 8 - Emery Swenson, 9 - Wyatt Schmitz, 10 - David Dickerman, 11 - Hal Belknap. Not pictured: Chuck Doswell (photographer)
---
Thanks to the considerable advance work by Don Carter, a full adventure had been planned. Our visits had been coordinated with the battlefield park staff, and if we completed the hikes successfully, we would get achievement awards from each (an embroidered patch or a "medal"), commemorating our participation. Part of a successful completion for each hike included a set of questions that we had to answer about the battlefield, that could only be answered by actually hiking the trail and reading the various plaques, monuments, and signs set up at various key points along the trails. Thus, we would have to write down our answers on sheets provided. This would not only prove we had actually hiked the whole trail, but would serve to make sure the boys (and adults) learned something from the experience.
13 March
At last, the big day of our departure arrived. Our expedition left Norman from the Belknap home at about 6:30 a.m. on 13 March (Saturday) - the Belknaps driving their heavily loaded Suburban, including five Scout passengers plus a trailer with all our packs and extra gear, Don driving his mini-pickup packed with more gear and with one Scout passenger, and me driving my regular car with two Scout passengers (plus some CDs to keep me awake and happy during the trip). The drive to Shiloh was long, but uneventful ... we arrived on a drizzly, foggy evening, set up camp at a commercial campground just outside the park, and did our usual car-camping thing that evening. We used the vehicles and some staves to set up a makeshift shelter for cooking and eating ... which turned out to be very useful. The grounds were mostly wet, the water heater in the showers didn't work, but we were excited about the upcoming day. During the evening, the campground owners came by and collected their fees, while apologizing for the non-working water heater (Don Carter told them what was wrong with it, but they fooled around with it til late in the night, with no success).
14 March
Sunday morning ... it was still drizzly and wet, but we set out with lots of enthusiasm right after breakfast (grits, bacon, coffee/hot cocoa). Our starting point was just a short walk across the road from our campground. We were following the Shiloh Military Trail!
Don had made up some pack lunches for us during the trek, which is nominally about 12 miles: hardtack (flour, water, and salt ... baked), peanuts in the shells, beef jerky, cheese, dried fruit). These were intended to be roughly comparable to what the Civil War soldiers might have to eat in their daily rations.
The hike began in earnest, close to where the first shots were fired ... Fraley Field. Then on to Woods Field, along Reconnoitering Road; to Seay Field; then to the Peabody Monument; the Gladden Mortuary Monument; to the Headquarters of Gen. Prentiss; the Louisiana Monument; down Federal Road to a battlefield tent hospital; the Ohio Zouaves Monument; then on to the General A.S. Johnston Monument; down Johnston Road by the Illinois Battery "A" Light Artillery Monument; continuing along Johnston Road to the Peach Orchard, the Bloody Pond, and the Sunken Road; the Missouri Monument; the Alabama Monument; the Headquarters of Gen. Hurlbut; then east across Cloud Field and down Riverside Drive to the Kentucky Monument, the Indian Mounds, and Dill Creek (with a plaque regarding Union gunboats), toward the Tennessee River Overlook; along the Nature Trail to Pittsburg Landing; up the iron steps to the National Cemetery. From there, it was a short hike to the Visitor Center, where we tried on some Civil War Uniforms and had some lunch before we watched the required movie. We were about halfway done ... whew! The rain and cold were worsening as we set out.
We began again, along Confederate Drive, at the Iowa Monument; the Headquarters of Gen. Wallace, some Indiana unit monuments; Grant's Last Line; the Michigan Monument; the U.D.C Confederate Monument; from there to the Prentiss Surrender Site in the woods; past Hornet's Nest Road to the General Wallace Monument; then back to Hornet's Nest Road to the Wisconsin Monument and the Center of the Hornet's Nest; the Arkansas Monument, the Putnam Stump; then northeast along Hornet's Nest Road to the Minnesota Monument; then along the Sunken Road to Confederate Drive and Ruggles' Batteries facing the Hornet's Nest; then along Federal Road past the Park Superintendent's Residence, by the Pennslvania Monument; to the Illinois Monument; eastward on Confederate Drive again to Gen. McClernand's Headquarters; to the Ohio Monument; then into the woods to the Confederate Burial Trench; back to McClernand Road to Water Oaks Pond; south to the Raith Monument; along a path to Gen. Sherman's Headquarters; back to Confederate Drive and then south to Shiloh Church and the Tennessee Monument; then onto Confederate Drive again, and along Beauregard Road to the First Confederate Artillery Line; crossing back to Fraley Field, back to the start.
After the hike, we were pretty thoroughly soaked ... the fields had been wet and it had rained on and off (mostly on) during the day. As we neared the end, I could tell that a cold front had passed ... the temperature started dropping. Back at the campsite, it turned out the showers had been fixed during the day, and we had HOT WATER! This was quite popular that evening. As we made supper [a stew that Don had pre-prepared and frozen, that we simply had to heat, plus "johnny cakes" (corn meal, salt, and boiling water, fried in hot oil ... also called "hot water cornbread"), peach cobbler], it actually began to snow! It snowed, then it rained, then it snowed some more ... and it was C-O-L-D! The hot johnny cakes were a big hit, as was the stew! It rained and snowed most of the night, occasionally heavily.
15 March
Monday morning, we woke to crystal clear skies of a deep blue, and frost all over everything! After a quick breakfast, we broke camp and drove over to the Visitor Center again, to buy books and souveniers. Then it was off to Vicksburg, via the historic Natchez Trace, which we finally found after some navigating misadventures in Tupelo, MS. We stopped for lunch somewhere along the drive and arrived in Vicksburg in the evening. Don had made some arrangements for us to camp at a place called the "Cultural Center" in downtown Vicksburg, and we wanted to connect with the person with whom Don had made arrangements. Plus I had to buy propane for our stoves and we needed some supplies from the store. All this got done ... the "Cultural Center" turned out to be what used to be a Catholic school. We were going to stay in what had been the basement cafeteria, beneath the gymnasium (which was still in use by a local basketball team). Our original plan had been to camp overnight in the park, but we abandoned that plan after our miserable previous night ... we needed to get our clothes dry ... and stayed the rest of our time in Vicksburg in our basement quarters. We laid our stuff on the floor, set up for supper, and got our clothes on lines to dry. Then to bed.
16 March
Tuesday morning, we ate breakfast (biscuits w/gravy, eggs, sausage, coffee, and juice). Since the basement opened up on the street level, and had a little alcove doorway, we used the doorway for our Dutch oven cooking. Passersby gave us some interesting double-takes!
Then we set out on the hike, starting with the Visitor Center. At the Visitor Center, we ended up on a trail along the road, in spite of our original intention to follow an off-road trail ... a bit of errant communication with the Center ranger. After Shiloh, we decided to break the hike into two parts, because things had seemed too rushed at Shiloh, just to finish the hike in one day. Hence, we set out expecting to return to the Visitor Center that evening ... but after we'd walked past the 2nd Texas Lunette,% it dawned on us that we'd not ferried a vehicle to our halfway point and so had no way to get back. Well ... being optimists, we pressed on, trusting to good fortune to get us back to the Visitor Center that evening ...
The trail starts on Confederate Avenue, stopping at Confederate sites. It loops around the Visitor Center, past the 2nd Texas Lunette, the Mississippi Monument, and the Louisiana Monument to the Great Redoubt;* past the Arkansas Monument to Stockade Redan;# then a long rolling hike past Tennessee Circle to Fort Hill, then to the National Cemetery and the USS Cairo Museum. This was the halfway point.
After allowing for some exploration time at both the cemetery and the Cairo Museum, we met (totally by accident) a man who had not too long ago been with Last Frontier Council and there were numerous shared acquaintances. This might be just the luck we needed! I began to negotiate with him, to see if he could take me back to the Visitor Center so I could return with Hal's Suburban. After some unspoken but visible reluctance, he agreed. However, this turned out not to be so simple. He was travelling with his parents, and they still had some of the driving tour to finish, which included the south loop as well as returning along the path we had just walked! After completing their tour in what was probably abbreviated time for my benefit, my gracious benefactor (whose name I don't remember, unfortunately) turned me loose at the Visitor Center, and I returned with the vehicle needed to get us all back.
Back to the "Cultural Center" ... supper was prepared by the Scouts: a fine "Hobo Stew" cooked in Dutch ovens, salad, and bread, that was enjoyed by all. We did some group singing, then let the boys play for awhile in the deserted gym while we adults hit the showers, then the boys showered, and it was lights out and bed.
17 March
Wednesday morning ... another day. After our usual hearty breakfast (Grits, bacon, biscuits, coffee, and juice), it was time to finish the hike, which we set about doing with the proper procedures by ferrying everyone to the starting point, and then bringing one vehicle back to the Visitor Center, so we could return for our other vehicle at the end of the day. This time we wouldn't have to trust to luck!
Thus, after the ferrying arrangements were completed, the trail began at the Cairo Museum parking lot, again. A short uphill hike and we were atop the bluffs overlooking what had been the Mississippi River (which has moved away from Vicksburg but has been replaced by the Yazoo Canal). Now, we were walking along Union Avenue, and stopping at various Union sites. Thus, we moved along to Battery Selfridge, Thayer's Approach, past a tunnel dug by some Union sappers, onto Grant Avenue, past an Ohio Monument to Grant's Headquarters. There, we rested and snacked awhile, with some clean-up that was overseen by Mrs. B. Then it was back onto Union Avenue to the Stockade Redan Attack point, the Wisconsin Monument (where I took a silly picture ... the Scouts tolerated this quite well), to Ransom's Gun Path, continuing along to Shirley House, then along a side road past the Illinois Monument (which was open on at the top, and had very interesting acoustics) to the 3rd Louisiana Redan, down to Battery De Golyer. At this point, the road was closed and we had to detour back along Pemberton Ave, past the Surrender Site, and along the now-familiar road back to the Visitor Center.
After we retrieved the vehicle we left at the Cairo Museum parking lot, I then convinced the team to drive around the southern loop, as I had done with my reluctant benefactor the day before, so we could stop at two spectacular state monuments: the Texas Monument, where a certain "Texas Rose" posed, and the Iowa Monument. We also shopped for items briefly at the Visitor Center.
Thus, we were done with our hiking for the trip. Back to the "Cultural Center" for supper, Don outdid himself: hamhocks and black-eyed peas, rice, Johnny cakes, and Indian pudding. It was outstanding! After, some more group singing, a bit of play time for the boys, showers all around, and then the pre-departure preparations. We packed a lot of gear out to our vehicles that evening, so we wouldn't have too much to do in the morning.
18 March
Thursday morning ... the start of the trip home. I think all of us felt a little sad that the experience was over. Notwithstanding all the adventures and misadventures, it was a lot of fun. Some of us had a few more adventures ahead of us, though ...
After a relatively short trip, we stopped briefly at the office/home of some friends of Don, for a coffee/bathroom break. Then, it was off to Shreveport, where Don was going to pick up his wife Audre, who had been staying with family while we were off on our big adventure. We were supposed to meet Audre in the city square, but we didn't see her right away and were circling the square in hopes of finding her, when I noticed a police car following us. I got on the CB radio and said. "Be careful guys, we have one of New Orleans' finest right behind us!" [I'd called it New Orleans by mistake.] Well, he had a scanner and heard my warning, responding in mock gruffness, "This here is Caddo Parish, boy! Ya'll better be careful!" I mumbled something in my surprise and embarassment by way of a reply, and he passed on about his business, probably thinking I must be a stupid Yankee, or whatever. I know he was amused! Shortly thereafter, we found Audre and were on our way again.
Then, as we approached Dallas from the east, we saw we were driving into some thunderstorms. Great. We were in pretty heavy traffic, trying to keep a 4-car caravan (Audre was driving her own car, with daughter Sarah and a friend) together, in the rain, spray, and poor visibility. It got a little dicey, but we made it (including a supper stop) and drove out of the rain on the north side of Dallas. The rest of the trip was more or less uneventful, although Don had measured the need for fuel pretty closely, and we were all running close to "E" when we got to Norman. At the Belknaps, everyone disembarked, with the parents of our Scouts having been pre-alerted (thanks to the marvel of cell phones) about our arrival time. The tired but happy crew dispersed after a fun adventure.
Everything went well because of the outstanding spirit of cooperation shown by the Scouts ... which was true for the entire trip, by the way!! I must say that this was a most excellent group of young men, and I want to thank their parents for sharing their sons with us for this trip. I couldn't ask for a more well-behaved, cooperative, adventuresome, and interesting group of Scouts.
________________________________
*Redoubt: A square or rectangular earthwork
#Redan: a triangular earthwork used to cover a point in its rear, such as a bridge or river ford
%Lunette: a crescent-shaped earthwork
---
Appendix
Some Questions and Answers
about Shiloh and Vicksburg

---
What clash of 100,000 men is often termed the first great modern battle?
Shiloh, April 6-7,1862
Where was the first Civil War Monument erected?
Shiloh Battleground, late in 1863.
What Tennessean enlisted as a private, became a brigadier after Shiloh, and had six horses killed under him?
William B. Bate
What kind of attire did men of the 9th Mississippi wear at the Battle of Shiloh?
Their own civilian clothes.
Removed from combat duty after blunders at Shiloh, what inept soldier became a famous novelist?
Maj. Gen. Lew Wallace, Yankee, author of Ben Hur
What did the Union Troops call the Battle of Shiloh?
Battle of Pittsburg Landing.
What Yankee General did Ohio Governor David Todd want court-martialed after Shiloh?
U. S. Grant
What US Army officer was the first to reject an offer to become commanding general of the US Army?
Col. Robert E. Lee
Shiloh is a Hebrew word that means?
Place of Peace
Near the Hornet's nest and the Bloody Pond was the Peach Orchard whose blossoms, cut by bullets, fell like pink snow onto what battle site?
Shiloh.
At Shiloh, what did members of the C.S.A. Orleans Guard do to their blue uniforms?
They turned them inside out to avoid "friendly fire".
The death of what distinguished full general at Shiloh was a great blow to the Confederate command?
Albert Sidney Johnston.
Famous as the "Defender of Vicksburg," what lieutenant general demoted himself to colonel of artillery?
John Clifford Pemberton
Who called duty "the most sublime word in the English language," disliked secession and slavery, but fought like a tiger against overwhelming odds?
Gen. Robert E. Lee.
What major general and former congressman from Abraham Lincoln's home district was removed from command at Vicksburg when General Grant assumed personal command?
Maj. Gen. John A. McClernand.
Jefferson Davis regarded what site in his home state as the "Gibralter of the West"?
Vicksburg.
In what year did the city of Vicksburg, Mississippi, first celebrate the Fourth of July after it fell to General Grant on July 4 1863?
1945, with a larger celebration in 1947 attended by Gen. Dwight D. Eisenhower.
Where was U.S. Grant's first big failure in the campaign to open the Mississippi River?
Vicksburg, Mississippi, in 1862
How long did the siege of Vicksburg last?
Six weeks.
What three cities did Lincoln call "the brain, the heart, and the bowels of the rebellion"?
Richmond, Virginia; Chattanooga, Tennessee; Vicksburg, Mississippi
Ordered to reduce Vicksburg, David G. Farragut bombarded the city with Federal naval guns for how long?
Sixty-seven days, with no success. Summer of 1862
What national hero was ousted from his post as Governor of Texas because he refused to back secession for his state?
Sam Houston.