My thoughts from the
2006 NCAA Division 1 Wrestling Championship Tournament
Ford Center, Oklahoma City, OK
16-18 March 2006
by
Chuck Doswell
---
As always, this is my own opinion, protected by the right of free speech, and guaranteed by the U.S. Constitution. So there. All text and images are copyright protected - ©2006 C. Doswell - any use without my expressed permission is prohibited by US and international copyright law.
Posted: 21 March 2006 Updated: Whenever
---
Introduction
For those of you who enjoy amateur wrestling as a spectator sport, this review should strike a familiar tone and you can skip over most of the first part. If you don't know anything about the sport, then perhaps I can encourage you to attend some matches, perhaps at your local high school. If possible, go with a friend who can help you to learn how to be a spectator. It's not that hard to understand – far easier than baseball, for instance.
When I was in high school, I was a manager for the wrestling team through my junior year. My math teacher was the coach and he asked if someone would be willing to help out, so I volunteered. Although I have issues with him as a math teacher, I'm grateful that he put on to a sport that I've enjoyed watching ever since. Given that the 2006 Tournament was being held in Oklahoma City, it was a no-brainer to plan to go.
Why I like amateur wrestling
What I really like about wrestling is that it's both an individual and a team sport. On the mat, it's one-on-one. There's no place to hide, no one to blame if you lose, no one who can help you win, and a very well-defined set of rules - go here to download the 2006 NCAA Rulebook - that you have to follow. Although wrestlers compete as individuals, the team includes competitors at 10 different weight classes (in college, at least). Victories in the individual matches earn points for the team, and at the end of the competition, highest team score wins – ties are possible for the teams, but individual matches can't end in a tie anymore (that used to be a possibility, at least in high school when I was a manager, but the rules are different now, at least in NCAA collegiate wrestling). Rules change as a result of decisions by the sport's rules committees. The weight limits in each class can change from year to year and are different in different age groups as youngsters turn into adults.
The level of athletic preparation it takes to be a wrestler, successful or not, is as high or higher than in any other sport. It takes strength, quickness, balance, cardiovascular conditioning, flexibility, and intelligence to even compete, let alone be successful. Your athletic preparation will always be obvious out on the mat – especially if you're not prepared! Since it takes a number of attributes to be successful, all of these must be balanced and taken to the highest possible level. If you're strong as an ox but slow, you probably won't be as successful as someone slightly less strong but much quicker. You can overcome some deficiencies by your strategy and tactics, but a major deficiency in any of these characteristics will be a significant disadvantage. Wrestlers are simply outstanding athletes when compared to most other sports.
You're always matched with someone roughly your equal in weight, but there's no body type that's universally advantageous. You can be tall and skinny for your weight, or short and blocky for your weight, or anywhere in between. The one thing you shouldn't be is fat (except perhaps in the heavyweight class) – excess body fat is usually a major disadvantage. It's a sport that's open to youth of any size, save the extremely small or the extremely large – you don't have to be some sort of giant to be a wrestler. Almost anyone can do it if they want to.
Like any sport where you compete as an individual, an important aspect of it is mental preparation, as well as athletic training. Part of being a consistent winner is to think like a winner, which involves having confidence that you can win. Confidence is always tricky because you gain confidence by winning, but it takes confidence to win. How one deals with losing is an important issue - most wrestlers will lose matches, and I also enjoy seeing how they respond in their next match.
Attitude is clearly an important factor in winning. Some individuals are more afraid of losing than they are focused on winning, with a typical outcome being that they will lose. In many cases, a wrestler is beaten in a particular match before he even sets foot on the mat, because of his attitude and lack of confidence.
Scoring - a short summary
The goal of wrestling is to pin the opponent (win by a fall), but falls are relatively infrequent, overall. Therefore, most matches are won by earning points. Each match has 3 periods. In the first period (3 min), both wrestlers begin on their feet. In the second and third periods (2 min each), under current NCAA rules, each wrestler in turn is given the choice to begin a period either standing or on the mat. If he chooses to begin the period on the mat, he picks whether he wants to start in the advantage position (also called the offensive position or "up") or in the disadvantage position (defensive position or "down") on the mat. A takedown, worth 2 points, is awarded to the wrestler who gains the advantage position (or "control" - see the NCAA Rule Book for details about how the advantage position is defined - it can be somewhat complicated) on the mat over the opponent from the standing position. If a wrestler is initially in the disadvantage position, he's awarded an escape, worth 1 point, if he can return to the free standing position.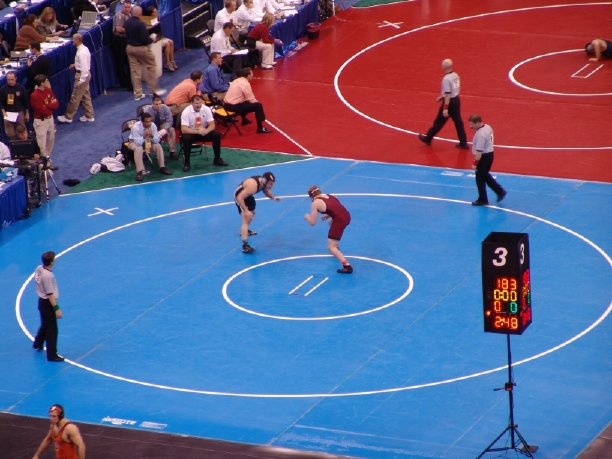 Wrestlers in the free standing position, from which takedowns are the goal.
If a wrestler goes from being controlled directly into the advantage position without first escaping to a standing position, he's awarded 2 points for a reversal. There are warnings for rule violations, including "stalling" - after a first warning, penalty points are awarded to the opponent when a rule violation is repeated after a warning. Repeated offenses bring more penalty points and ultimately can result in disqualification. A great deal of controversy exists about stalling – suffice it to say that partisan fans never believe their own team wrestlers are ever stalling, and always believe that the opposing team wrestlers stall all the time. It's a referee's decision, nevertheless. A few rule violations are grounds for immediate disqualification of the violator - these are generally related to physical safety during the match.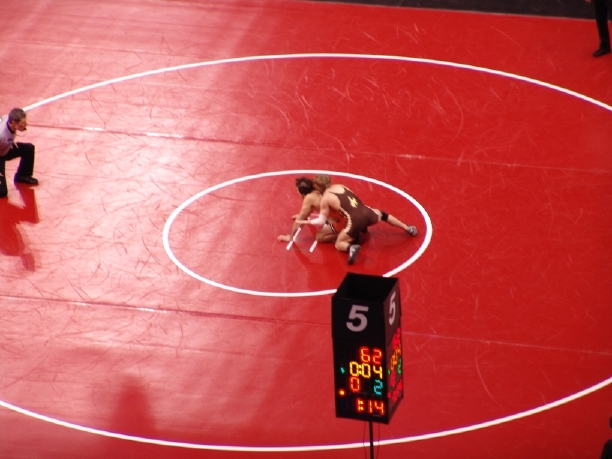 A start position on the mat. The wrestler in the orange uniform is in the "down" / defensive / disadvantage position, while the other is in the "up" / offensive / advantage position
Points are also awarded for "back points" – by putting an opponent in a so-called near fall position. It can be 2 to 4 points depending on the details. Wrestlers generally are given back points when they are in the advantage position, but it's possible to be pinned even though a wrestler is the advantage position at the time. A fall is awarded when a wrestler's shoulder blades are held to the mat for one full second.
When a wrestler starts in the advantage position or gains control by a takedown or a reversal, a timer is started that keeps track of his so-called riding time, which continues to increase so long as he's in the advantage position. It stops when the disadvantaged wrestler escapes, or reverses. A riding time advantage by a wrestler over that of his opponent of 1 minute or more earns him 1 point, awarded at the end of the match. In close matches, riding time can be a key factor in deciding the match.
A match that ends in a tie after 3 periods goes into tiebreaker mode. The rules for tiebreaking are somewhat complicated and have changed several times over the years. Refer to the NCAA Rule Book for the current tiebreaker rules.
Some wrestlers work consistently aggressively to pin their opponent. Others are adept at winning on points and are not generally aggressive. When a wrestler is working hard for a fall or a takedown, he's taking some risk of being reversed and perhaps pinned himself. Aggressive wrestling makes wrestling enjoyable to watch, and the rules are designed to prevent egregious stalling, but wrestlers are trying to win, not to entertain the audience. Hence, it's strategically advantageous for individual wrestlers to do just enough to win a simple decision, worth 3 team points in a dual meet. However, the team benefits when wrestlers are aggressive. The following applies during a wrestling dual meet. If a wrestler wins by 8 or more points, it's called a major decision and the team is awarded 4 points. If the wrestler is winning by 15 or more points, the match is stopped when the wrestler is awarded the points that put his scoring lead to 15 or more points (excluding any riding time point, which is only awarded at the end of the match) – it's considered to be a technical fall (sort of like amateur baseball's "run rule") and the team is awarded 4 or 5 points (5 if the wrestler scored a near fall during the match, 4 if not). Finally, if a wrestler pins his opponent, his team is awarded 6 points. Should an injury to one wrestler occur during the course of the match and he has to default, the opposing team is awarded 6 points. The same happens if for some reason, a team has no wrestler available to compete in a particular weight class at a dual meet and has to forfeit that match. The disqualification of a wrestler is scored as a fall by his opponent.
In tournaments, team points are awarded when their wrestlers advance (0.5 or 1, depending on the situation), and bonus team points are awarded for major decisions (1), technical falls (1.5), and falls (2), as well as defaults (2), disqualifications (2), and forfeits (2). Aggressive wrestling is primarily an advantage for the team and many fans (including me) like it very much. I think it says good things about them and their self-confidence, as well as their team spirit, but it's not necessarily to their individual advantage. Sometimes fans need to keep that in mind.
A short tutorial on the NCAA tournament
The NCAA tournament is a sort of double elimination tournament. Basically, you have to lose twice to be out of the tournament, so everyone who loses is given a second chance before their tournament is over. Placing 8th or higher earns the wrestler All-American status. The team's chances for high team score depends not just on having its individual wrestlers win their matches, but also on them having the confidence to win after they've lost a first match. It's often the case that wrestlers paired against each other in the tournament have met before at least once. The winner of earlier matches has an advantage in terms of confidence, but if the loser still has confidence, the outcome of the tournament match need not be the same as before. The individual pairings for wrestlers who have met before are fascinating because of the history that these two wrestlers share. In some cases, individuals may meet as often as 3 or more times during the year and if they entered college at the same time, they may do that repeatedly over a 4 year period, so they might know each other very well as seniors. There are times when some wrestler just cannot beat a particular individual, even though that individual may not have a better record in that weight class. It's a matter of how they match up in terms of their overall abilities and tactics. On the other hand, in the NCAA tournament, it's also likely that a wrestler will face at least one individual he's not met before.
On the basis of performance, there are national and conference rankings for wrestlers. A newcomer will not be ranked, but after they begin to compete, wrestlers can become ranked and move up and down in the rankings on the basis of their performance. Teams are also ranked, but their rankings as a team depend on the type of competition - dual meets (one team competing against another) or tournaments (individual wrestlers from many teams competing). A team can be successful in duals but not very competitive in a tournament and vice-versa, so the team rankings for duals and tournaments can be quite different. Generally speaking, the outcome of dual matches depends heavily on the individual matchups in each weight class, but a successful dual team must have relatively successful wrestlers at most of the weights. A team can be competitive in the tournament with several weight classes where they have no competitive individuals, if the team has highly successful individual wrestlers in a few weight classes. It's quite possible for a team to be nearly equally competitive in duals and tournaments.
In the NCAA national tournaments, there are roughly 330 individuals invited to participate from all the eligible university teams in that division. At the end, there are 10 individual champions - one in each weight class. Including both the winner's bracket and the "wrestleback" matches for those with one loss, there's a lot of individual matches!
The tournament begins with matches on eight mats simultaneously. The first day of competition also includes the so-called "pigtail" matches that are added to the 32 wrestlers in some brackets at the discretion of the tournament competition committee. Some weight classes may have only the standard 32 competitors, whereas others may have one or two pigtail matches before the first round begins.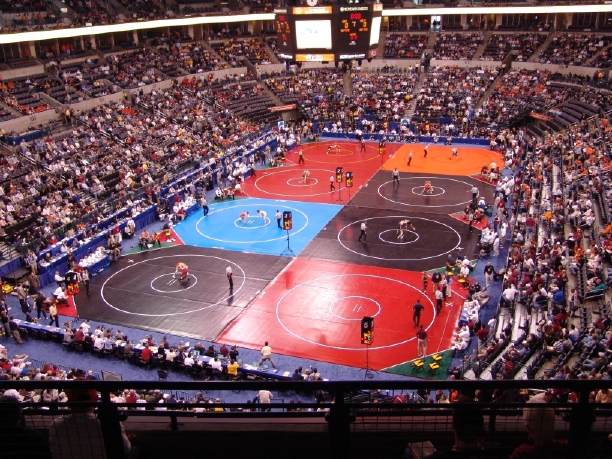 The opening matches at the beginning of the NCAA Division 1 tournament, on all eight mats.
It's not teams, per se, but individuals who are invited to the tournament on the basis of their performance during the wrestling season and also during the conference championships held before the national tournament, so any particular team can send anywhere from none of its members to the whole team. The decision of whom to invite in each weight class is made by the NCAA tournament competition committee. Clearly, a team with only one competitor in the tournament will not win the team title, but any individual can compete for and possibly win the tournament championship title in his weight class, despite being his team's only representation in the tournament. Teams can win the team title, and have done so, with no individual champions in any weight class. Individual rankings are used to seed the weight class brackets, with the idea being that ideally, the #1 and #2 ranked wrestlers will meet in the championship match. This ideal sometimes is met, but often does not because individuals must win their matches according to their rankings for that to happen – and "upsets" occur with regularity. Outcomes are determined on the mat, not according to the rankings. This is another aspect of the tournament that makes it fun to watch as a spectator sport.
The 2006 tournament results
For the record, the tournament team championship was won by Oklahoma State University - their 4th consecutive team championship and the 34th in the long, storied history of their program, by far the most team championships for any school in the nation. My Oklahoma Sooners finished 3rd, after being in 2nd place for most of the tournament - theylost 2nd place at the last match in the finals, which had given Minnesota 4 team points. The team scoring was as follows:
| | | |
| --- | --- | --- |
| Rank | School | Points |
| 1 | Oklahoma State | 122.5 |
| 2 | Minnesota | 84 |
| 3 | Oklahoma | 80.5 |
| 4 | Iowa | 70 |
| 5 | Cornell | 62 |
| 6 | Arizona State | 61.5 |
| 7 | Michigan | 57.5 |
| 8 | Edinboro | 56 |
| 9 | Lehigh | 53.5 |
| 9 | Penn State | 53.5 |
| 11 | Hofstra | 52.5 |
| 12 | Penn | 51 |
| 13 | Iowa State | 48.5 |
| 13 | Northwestern | 48.5 |
| 15 | Missouri | 45 |
| 16 | Nebraska | 40.5 |
| 17 | American | 40 |
| 18 | Indiana | 35 |
| 18 | Michigan State | 35 |
| 20 | Purdue | 34 |
| 21 | Wisconsin | 33.5 |
| 22 | Oregon | 33 |
| 23 | Cal Poly | 32 |
| 24 | Boise State | 31.5 |
| 25 | Illinois | 29 |
| 26 | Central Michigan | 26 |
| 27 | West Virginia | 23 |
| 28 | Northern Iowa | 20.5 |
| 29 | Virginia Tech | 18.5 |
| 30 | Tennessee - Chattanooga | 15 |
| 31 | Harvard | 14 |
| 31 | North Carolina - Greensboro | 14 |
| 33 | The Citadel | 13 |
| 34 | Navy | 12 |
| 35 | Pittsburgh | 10 |
| 36 | Northern Illinois | 9 |
| 37 | Stanford | 8.5 |
| 37 | Wyoming | 8.5 |
| 39 | Kent State | 8 |
| 40 | California - Davis | 7 |
| 41 | Army | 6.5 |
| 41 | Cal State - Fullerton | 6.5 |
| 41 | Oregon State | 6.5 |
| 44 | Columbia | 6 |
| 45 | Ohio State | 5.5 |
| 46 | Buffalo | 5 |
| 47 | Cal State - Bakersfield | 4.5 |
| 49 | North Carolina | 4.5 |
| 49 | Bloomsburg | 4 |
| 49 | Cleveland State | 4 |
| 49 | Eastern Illinois | 4 |
| 49 | Lock Haven | 4 |
| 49 | Slippery Rock | 4 |
| 54 | Fresno State | 3 |
| 55 | Gartner-Webb | 2.5 |
| 55 | Old Dominion | 2.5 |
| 55 | Duquesne | 2.5 |
| 58 | Drexel | 2 |
| 58 | Eastern Michigan | 2 |
| 58 | North Carolina State | 2 |
| 61 | Maryland | 1 |
| 61 | Rider | 1 |
| 63 | Sacred Heart | 0.5 |
| 64 | Air Force | 0 |
| 64 | Millersville | 0 |
| 64 | Brown | 0 |
| 64 | George Mason | 0 |
| 64 | James Madison | 0 |
The individual champions in each weight class were:
Weight class

Championship Match (Champion in boldface)

125 lbs

Joe Dubuque, Indiana DEC Troy Nickerson, Cornell, 8-3

133 lbs

Matthew Valenti, Penn DEC Christopher Fleeger, Purdue, 3-2

141 lbs

Nate Gallick, Iowa State DEC Teyon Ware,

Oklahoma

, 3-2

149 lbs

Dustin Schlatter, Minnesota DEC Tyler Eustice, Iowa, 4-0

157 lbs

Ben Cherrington, Boise State DEC Brian Stith, Arizona State, 7-3

165 lbs

Johny Hendricks,

Oklahoma State

DEC Brian Churella, Michigan, 9-8

174 lbs

Ben Askren, Missouri MAJOR Jake Herbert, Northwestern, 14-2

184 lbs

Shane Webster, Oregon, DEC Roger Kish, Minnesota, 3-2

197 lbs

Jacob Rosholt,

Oklahoma State

DEC Phil Davis, Penn State, 10-3

285 lbs

Cole Konrad, Minnesota DEC Steve Mocco,

Oklahoma State

, 5-2; TB2
The meet's outstanding wrestler: Ben Askren, Missouri
Oklahoma State All-Americans:
Coleman Scott (125 lbs) - 5th place (6th seed);
Nathan Morgan (133 lbs) - 6th place (2nd seed);
Johny Hendricks (165 lbs) - 1st place (2nd seed);
Jacob Rosholt (197 lbs) - 1st place (4th seed);
Steve Mocco (285 lbs) - 2nd place (2nd seed) .
Oklahoma

All-Americans:
Sam Hazewinkel (125 lbs) - 3rd place (2nd seed);
Teyon Ware (141 lbs) - 2nd place (2nd seed) ;
Matthew Storniolo (149 lbs) - 4th place (4th seed);
Joel Flaggert (197 lbs) - 5th place (5th seed),
Jacob Hager (285 lbs) - 7th place (7th seed).
More complete results can be found here - at least until replaced by newer news.
My tournament impressions
On the

Oklahoma State

team performance
This was a great win by the Cowboys - a rival hated by Sooner fans, but a team with a huge tradition of winning. Their coach, John Smith was quoted in an interview after the tournament:
On OSU wrestlers in the consolation bracket:
"We set out to win and, when that is no longer the option, it is easy. When that is no longer available to you, it is easy to let down. Your world comes to an end pretty quick. "

On the effort of the team this week:
"This was the toughest seed we have ever faced. It is the toughest quarterfinals I ever remember us having. I felt like that in a couple of weight classes we really didn't get the respect that I thought we deserved. We had to go through the tough way to win this championship. In the end, it was our student-athletes that bonded together and got us the win. On Friday morning we hit it hard. It allowed us to gain some momentum that I think it carried over to tonight."
The early rounds by OkSU (to distinguish them from the other two "OSUs" in the tournament - Oregon State and Ohio State) were awesome. Including the consolations, I think they picked up 4 falls or technical falls on Thursday, and 5 falls or technical falls on Friday. They had the team title sewed up by the end of Friday night's consolation matches. Actually, it was when Oklahoma's Jacob Hager lost his match late that evening that the Cowboys clinched the team title, as OU's was the only team left with enough potential points to challenge for the team title. OkSU wrestlers were aggressive in virtually every match. Coleman Scott picked up 3 falls in the consolation rounds after losing his first match of the tournament, earning his team 6 bonus points on his way to a 5th place finish, while he was seeded 6th. The finals match by Johny Hendricks, a wrestler other team fans love to hate since he puts on an emotional show when he wins a crucial match, was one for the ages. He was trailing 7-4 going into he 3rd period because he gave up some back points late in the 2nd period and came very close to being pinned in the process, but in the 3rd period, he made key takedowns on the edge of the mat to pull out the victory, including the last with 3 seconds left in the match, and then went into the stands to hug his mother. He was quoted:
On the third period:
"I gave him the escape because I had to. He's good on bottom and I'm not that good of a rider. I'm more of a on my feet person. I knew that the more time I had on my feet, the better my odds were. I busted him down a couple of times, but I could feel him getting out of my moves. I knew that I had to do it on my feet. Win or lose, my focus was staying on my feet."

On if the crowd loves him or hates him:
"There seems to be a lot more hate. I've got 13,000 hating me and 3,000 loving me. But, you know, I don't know why. Whenever I go out there, I'm having fun, I'm wrestling my hardest. I go harder than anybody, I feel like. It's a show out there. That's the way I've been wrestling a long time going back to high school. I'm here for a show. If they hate me just because I'm working hard, I'm taunting them - let 'em. It makes me enjoy it even more. Of course, it adds a lot of pressure on me as well; because once I lose I've got 13,000 fans going, 'yeah!' Every time I win they 'boo' me bad. I'd rather hear 'boos' than 'yeahs.'"

On the last takedown:
"As soon as I grabbed his foot, I looked up and thought I had two. I looked up and saw three seconds left and I went to my crowd after that. I knew it was over because I didn't have any stalling calls on me and I knew that I was strong enough to grab onto his ankle and hold on for three seconds."
Their tournament victory came about because the wrestlers were consistently aggressive and helped the team as well as themselves by doing so. As much as I hate the Cowboys as a rival, I have great respect for their athletes and their coaches. They're entertaining wrestlers, who give the fans a show and honor the sport by the way they wrestle.
On the

Oklahoma

team performance
By finishing 3rd in this tournament, the team gave a darned good accounting of themselves. For the most part, they lived up to their seeding, for those team participants who were seeded. Sam Hazewinkel was seeded second, and finished 3rd for the third straight year, but he lost a close match to the eventual champion in the semifinals and had to win two more matches to finish 3rd in the consolations. In the early rounds, he had a fall and a technical fall to win important bonus team points. Joel Hager had a major decision and a fall on his way to 7th place. Matt Storniolo had a major decision and a fall during his run to 4th place. Even their unseeded wrestlers gained some advancement points. Overall, while the OU team (which brought 8 to the tournament) didn't have an exceptional tournament, it was more than was expected of them. And more than I expected. I was proud of them and, for the most part, proud of their individual efforts. Teyon Ware was unable to defeat his arch-rival, Nate Gallick of Iowa State in the finals. Teyon is not especially aggressive, although he has 2 NCAA individual titles, is a 4-time All-American and 3 NCAA finals appearances to his credit during his four years at OU. An impressive set of credentials, methinks. He beat Gallick only once in 9 tries - in the NCAA finals in 2005. Gallick is also not very aggressive and their matches were always tough struggles with more strategy than excitement for the fans.
On the fans at the tournament
Wrestling fans tend to be obnoxious and loud - all of them believe they're qualified to be referees, and usually take serious issue with referee calls that go against them. They think all their team's opponents are stalling all the time, standing or top or bottom. This sort of partisanship is normal and some wrestlers actually feed off baiting their opponent's fans - as Johny Hendricks of OkSU (see above). OSU had by far the most fans at the tournament. Decades of success at the very apex of the sport has created a large fan base for OSU, and they're loud and proud. Other teams hate them, naturally. Although the competition between OU and OkSU has been totally dominated by OkSU - it's been years since OU last won a "Bedlam" dual with OkSU - OU has continued to do reasonably well over the years in tournament competition. They last won the NCAA tournament in 1974, but typically finish somewhere the top 10 at the NCAA tournament in most years. Recent finishes by OU in the tournament:
2006 - 3rd
2005 - 3rd
2004 - 4th
2003 - 3rd
These are not shabby results! The state of Oklahoma seems to have two very competitive teams year after year, but the OU fan base seems pretty weak, especially in comparison to OkSU. I don't understand why OU can't seem to generate much excitement amongst the OU fans about their very competitive wrestling program. It's an embarrassment for the OU students and alumni, frankly. There ought to be much more support than there is. The OU wrestling team deserves better. If they can put 80,000 fans into the football stadium, surely they can find at least 3000 fans (which is what OkSU drew) to come to the NCAA tournament when it's held in their own backyard. I doubt it there were as many as 1000 OU fans there. Shameful.
Although Minnesota is relatively new to a high level of success in the NCAA tournament - they won their first ever title in 2001 - they brought a fairly large contingent of fans to the 2006 tournament, perhaps anticipating a team title. Their team did not have an exceptional tournament, with some of their seeded wrestlers losing key matches. But their fans were at their loudest cheering against the wrestlers of other teams, especially the OkSU wrestlers. That, at least, is understandable. They were at their worst, however, when their 4th seeded wrestler at 133 lbs, Mack Reiter, injured Purdue's 5th seeded Christopher Fleeger with an illegal throw in the quarterfinals (I wasn't watching that match at the time, and so didn't see what happened). Fleeger had to default, and since the reason was an illegal move by Reiter, the match victory was awarded to Fleeger. The Minnesota fans booed him every time he wrestled thereafter but Fleeger made it to the finals anyway, before losing. Reiter went on to place 4th, matching his seeding.
It bothers me to see young athletes booed by the fans - it's bad sportsmanship. It's not the young man's fault that the referee made a call against their wrestler. Why take their anger out on the athlete? Generally, I didn't like the Minnesota fans - they often said classless things. We had several around us and of the ones I could hear distinctly, several fitted this ugly mold.
Selected stories about individual wrestlers
Ben Askren - The most outstanding wrestler (OW) of the tournament was also the first NCAA national champion at any weight class for the University of Missouri. He's a somewhat unorthodox wrestler and seems to scramble about a lot but he's relentless in his drive to gain control and aggressive in any position. He's an effective mat wrestler and is also good on his feet (i.e, at takedowns). He was seeded #1, but along his path to the championship, he beat the #8, #5, and #2 seeds - it was not an easy tournament for him. Being the #1 seed is no guarantee - only 5 out of 10 #1 seeds made it to the finals, but 4 out of the 5 won their finals match. Along the way, he had two technical falls (in the quarterfinals and the semifinals!) and a major decision in the final. He sports long hair in an Afro style and so is a colorful character. My friend and I agreed he probably was the meet's OW before it was actually announced. He finished the season undefeated.
Ben Cherrington - He's only the second ever NCAA champion from Boise State, and was seeded #5. Along his path to the finals, however, the #1, #2, #4, and #4 seeds were all upset before he would have met them. In fact, he was the highest seeded wrestler in the semifinals, which besides him, included the #9, #10, and #11 seeds. His opponent in the finals was the #10 seed. Thus, despite the fact that he had wrestled well in his matches, he was not going to be a viable candidate for the meet's OW. He had an undefeated season.
Jacob Rosholt - A 3-time NCAA champion, he had a major decision and two falls on his way to the finals. Beginning as a #4 seed, however, the #1, #2, and #3 seeds were all upset before he would have wrestled them. Again, he was not going to be a viable candidate for the meet's OW, but he obviously was a huge contributor to his team winning its 34th team title.
Daniel Thompson - An unseeded wrestler at 165 lbs from the Citadel, I believe he's that school's first ever All-American (If someone knows otherwise, please let me know.), finishing a respectable 7th place. In his quarterfinal match, he lost a tough 9-6 decision to the eventual champion, Johny Hendricks of OkSU.
Edinboro competitors - The team from Edinboro University gave a very good accounting of themselves in the tournament. They placed 8th place as a team - they brought 9 qualifiers and finished with 3 All-Americans: Shawn Bunch (133 lbs) - 3rd (#1 seed); Gregor Gillespie (149 lbs) - 7th (#7 seed); and Deonte Penn (165 lbs) - 4th (unseeded!). Plus, they had good performances from some of their unseeded wrestlers, who fell short of All-American status.
Some final thoughts about collegiate wrestling
Over the years I've been following the sport, some things have become fairly obvious. Amateur wrestling has some things going against it. Unlike football, the professional version of wrestling is totally about entertainment - although some professional wrestlers may be athletes, their sport is theater, not competition. This means that at the end of a wrestler's collegiate career, there's no meaningful path to continued competition via a professional level in the sport. The absence of meaningful professional competition means that TV isn't likely to be very interested. Without TV exposure, with all its hype, many young men are not exposed to the sport soon enough to become interested.
Curiously, wrestling is alive and thriving at lower levels, In many Oklahoma schools, for example, it's possible to be introduced to the sport before a young man is even 10 years old, and high school wrestling seems to attract enough young men (and now, even a few women!) that it has a local fan following among parents and friends of these young men. Of course, that varies from school to school, as it does in college. Where I went to high school, wrestling meets were generally poorly attended, but we went to schools that would fill their gymnasiums and even had cheerleaders! I would like to see more schools develop that sort of support for their wrestling teams, but that high variability among schools is not likely to go away just because I want it to.
Given the absence of a viable professional path for a wrestler after college, the only way to keep wrestling is to go for the Olympic versions of wrestling: international "freestyle" wrestling and Greco-Roman wrestling. These versions of the sport differ substantially in style from US collegiate-style amateur wrestling - they put a heavy emphasis on takedowns and "throws" from the standing position, with a corresponding de-emphasis on mat wrestling. Personally, I prefer to watch US collegiate-style, because I like the fact that a wrestler must be versatile. Since many of the better collegiate wrestlers intend to go on to freestyle or Greco-Roman wrestling after college, there's a tendency for coaches to drift toward emphasizing takedowns and throws from the standing position. In this tournament, however, I observed that many of the more successful wrestlers were those who had the very mat wrestling skills I enjoy watching: riding, escapes and reversals, pinning combinations leading to back points and falls. Perhaps it was just my bias, but it seemed to me that OkSU was particularly successful at mat wrestling and so was able to pull out a team victory in a very dramatic fashion - earning bonus points from major decisions, technical falls, and falls. Personally, I'd like to see more coaches encourage their teams to hone their mat skills and to develop more aggressive wrestling. I'd like to see the rules changed to discourage stalling more effectively than they now do. There's nothing boring about takedowns - far from it - but if that's all there is, then I'm not going to be such an enthusiastic fan as I am of collegiate-style wrestling.
Aggressive wrestling from either a standing position or on the mat is entertaining wrestling. You need not be such a devotee of the sport to enjoy watching it if the action is more continuous and evident, when back points and falls are more frequent, and stalling is more actively discouraged. An increase in the entertainment value of amateur wrestling would, I believe, help enhance the fan base for the sport.
Many schools have dropped wrestling these days. This has been claimed to be the result of Title IX (see here, here, and here for some diverse opinions about this controversy) and its interpretation by university administrations in terms of the economics of sport. For whatever reason, in the so-called Big 12 Conference, we're down to only 5 schools that are competing in collegiate wrestling, none in the states of Kansas or Texas, despite widespread successful high school wrestling programs in both states. This is a real shame if for no other reason than it forces high school wrestlers to go out of state to participate in their sport at the collegiate level. It would be good for wrestling to have more competition, not less.