Chuck Doswell's
Storm Chase Log - 2009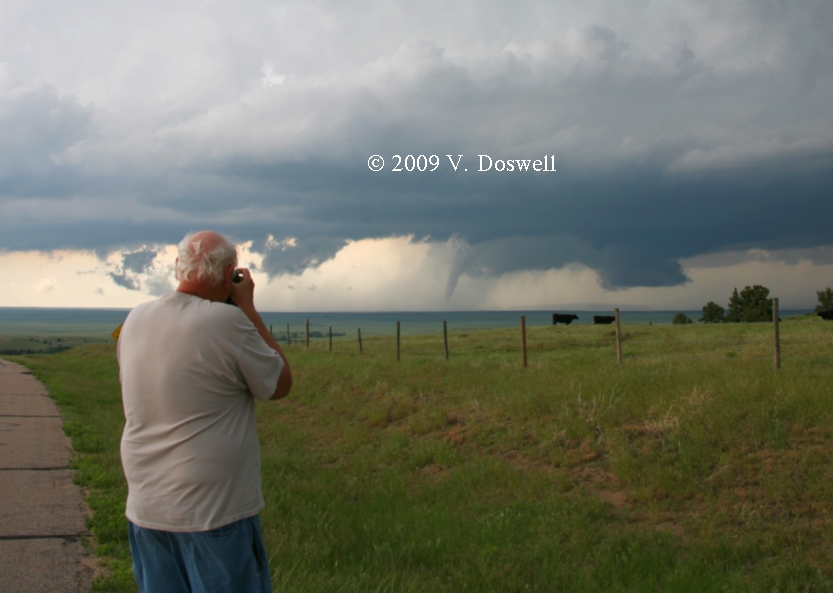 Chuck photographing the Goshen County, WY, tornado - photo by Vickie Doswell
---
Posted:
26 April 2009
Newest update:
07 July 2009:
Added a bonus image that I inadvertently left out.
NOTICE - Any duplication, electronic or otherwise, of the images at this Website without my expressed permission is a copyright violation, and I will treat it as such. Do us both a favor and ask me for permission before using any of the images herein ... you can e-mail me at cdoswell@earthlink.net.
NOTICE - All images on this page have been shot with a digital camera, or captured from digital video, with some enhancement (to make them look more like reality or to enhance the image quality). I do not alter my images to put in things that were not originally in the image and I do not make digital composites to make scenes that I did not actually see. I might, at times, remove clutter like power lines, however.
Route notation: "USXX" denotes US highway XX, "I-xx" denotes Interstate highway xx, "SSxxx" denotes state (SS) highway xxx, "FMXX" in TX denotes farm-to-market highway XX. "CRxx" denotes county road xx. Wherever possible, cities that are National Weather Service sites are identified with the appropriate 3-character identifier.
The abbreviation MTN stands for "Mobile Threat Net" - mention of a commercial product does not imply an endorsement.
---
Part 1 - Spot Chases
(w/my wife, Vickie)
25 April 2009 (Saturday) - supercells
Route: OUN, north on 24th St, to I-240, west to I-40, west to Sayre, OK, west and then northwest on OK152, then west to Wheeler,TX, north-northwest to FM1046, east to FM592, then south to TX/OK152, east to I-40, east to OK44, south to Sentinel, OK, west about 12 miles, then back to OK44, north to OK152, east to US183, north to I-40, east to I-44, south and east to I-35, south to OUN
This was a decent start of the chase year. I considered this to be a "tune-up" chase, as we had some new things to check out and some old chasing tools to bring up to speed. We more or less drove right to the first storm in our target area, which turned out to be a weakly rotating, high-based supercell near Wheeler, TX. We followed it moving northeastward for a while but then some road issues came up and I thought some storms that developed to the south might crash into it, so I broke off. That storm proceeded to improve considerably, but apparently failed to do very much. After getting petrol in Elk City, we pushed on despite concerned looks back at the storm we left. Near sunset, we intercepted more storms developing and moving toward Elk, City, OK. The first was a compact supercell just west of Sentinel, OK. This had some visually interesting precip shafts moving into it. These merged with the main precip area and as they continued on, revealed a lowering behind the rain which evolved into a blocky "wall cloud" under a flanking line of towers, but didn't produce a tornado. We watched it for a while longer and then pushed a bit farther west to catch the next (and last) supercell coming up the line. It was pretty evident that it wasn't likely to be tornadic (still high-based) but gave us a good look in the sunset light and was still rotating well after sunset (this is about a 3-second exposure), when we broke off and started the journey home. We also found some things we need to fix before we're ready for chasing
---

Part 2: Chase vacation (with my wife, Vickie)
31 May 2009 (Sunday) - nothing
Route: OUN, west on Rock Creek to I-35, north to I-135, north to I-70, to SLN
Basically, a positioning day and little else. Thought there might be a slim chance in northern KS, but nothing much developed.
01 June 2009 (Monday) – severe thunderstorms, tornadoes (?)
Route: SLN, north on US81 to US136, east to BIE, south on US77 for about 8 miles, back north to US136, west to NE15, north about 9 miles, then continued north to NE74, west to Tobias, NE, south on a country road to NE4, west to NE53, south to US136, west to US81, south to ICT
Chasing with CFDG Sheriff Landolt + his friends Dan Porter and Cameron Redwine. We went to BIE and had lunch, watching as storms developed after lunch on a boundary to our south - we were hoping that they would develop on the front to our north, where LCLs might be lower. However, it soon became evident that the storms south would be our show, for better or for worse. They gradually cycled up, with some weak embedded mesocyclones in a few storms along the line. Got a very mediocre daytime lightning shot from south of BIE (not worth showing). After some modest meandering, we wound up in Fairbury, just as a northward-propagating squall line came out of the mess. It chased us north of town for about 8-10 miles, when what appeared to be a very strong gustnado appeared suddenly just west of Highway 15 and moved across the road from west to east about ¼ mile ahead of us, undergoing several cycles of intensification and weakening as it continued eastward. There was arguably some circulation overhead at cloud base and what might have been a ragged funnel. Then another developed in about the same location and did the same thing, moving eastward with episodic intensifications. There were several others more distant to our east and the shelf cloud suggested an LEWP structure with the line. MTN had a whole string of "wheelies" indicated in our vicinity at the time. This process wound down as the gust front overran us and we shot a gap in the line headed south for storms coming toward us from the west but they fizzled before we got to them so we bagged it for the day.
We accidentally ran into many of the Vortex-2 (V2) team at the Chili's in SLN: Tim Marshall, Don Burgess, etc. Don told me that V2 had good data on our storm, so perhaps some of the questions about these vortices on the gust front eventually can be resolved.
I'm going to describe what we saw north of Fairbury as weak tornadoes, provisionally. There were times when Vickie and Scott saw a translucent tube that appeared to extend well upward to cloud base, and there were embedded subvortices in the debris whirls at the surface. My photos don't reveal any hint of a translucent tube and I admit I wasn't paying much attention to cloud base at the time. I never saw a translucent tube. However, the existence of the "string of pearls" shear couplet signatures on MTN surely indicates circulations (or at least regions of relatively strong shear) at or above cloud base associated with these surface vortices. I believe they qualify as weak QLCS tornadoes.
02 June 2009 (Tuesday) - severe thunderstorms
Route: ICT, south on I-135 to I-35, south to I-44, southwest to SPS, southwest on US277 to US183/283, south on US183 to Cisco, TX, to I-20, west on I-20 to ABI
Still chasing with young'uns Scott, Cameron, and Dan - after a sluggish start out of ICT, we decided to dive into SW OK, but as the trip proceeded, it was evident that we would need to go a LOT farther south. We watched helplessly on GRlevel/MTN as two supercells developed near Jayton and ABI about 150 miles ahead of us, and moving slowly southward. We finally got to the ABI storm - too late. By that time it was transitioning into a linear mess, although it was producing a nice roll cloud ahead of its outflow. For a while the storm was raining CG flashes, but naturally, by the time we found a place to stop and set up, the CGs all but quit - wish I had a dollar for every time that's happened. I could retire and live off the interest! The guys had to push on for the trip back to their respective home bases, so we're on our own again.
03 June 2009 (Wednesday) - nothing
Route: ABI, north on US 83 to GCK, east on US50 to DDC
Basically, another repositioning day. Had supper in DDC with Jim Johnson
04 June 2009 (Thursday) - busted
Route: US50 west to GCK, north on US83 to I-70, west to GLD
The hoped-for events on the high plains failed to pan out as storms coming off the mountains generally fizzled. Wound up spending the evening very pleasantly with Al Pietrycha and his friend, Pam Varney.
05 June 2009 (Friday) - supercells, tornado
Route: GLD, north on KS27 to US34, west to CO71, north to I-80, west to WY215, north to 2.5 miles north of Albin, then back south to Nebraska county roads – 46/44/48 to NE71, north to a mile north of NE88, then back south and east on NE88, south on CR57 to CR14, then west to NE71, south to I-80, east to exit for Bownson, NE, southeast on US30 to SNY, north on US385 to 2 miles south of Dalton, NE, then south to CR46, east to CR139, south to CR40, east to CR145, south to CR34, east to CR147, south to US30 east to I-80, east to Ogallala, NE
A very gratifying chase day! We were able to get to the right storm at the right time to see the full life cycle of a major league tornado and get most of it on stills and tripoded video, from a vantage point where we could see the storm structure as well as the tornado itself. That was precisely what I'd hoped to be able to do this year. It was a pretty straightforward intercept - after a lunch in Brush, CO, the storms initiated north of CYS, near Wheatland, WY, so we blasted north and west to get there. A few preliminary storms developed but the biggie began to move to the right pretty soon and became the obvious target early. After being somewhat frustrated by rolling terrain that limited our ability to see under the lowerings, suddenly north of Albin, WY by about 2.5 miles, we had a magnificent view of the developing tornado about 8-10 miles away under the spectacular supercell. It rapidly widened into a large, cone tornado, then became wrapped in rain, eventually obscuring it until the weakening began. The rain eventually fell away and gave us a clear view of the shrinking and rope-out stages in the life cycle, which was a drawn-out affair. We then followed the storm east-southeastward and had several nice views of the storm again. Dropping south and east, we decided to get in close again as the storm neared Dalton, NE - it rewarded us with a spectacular view, and produced a very low wall cloud that at one point resembled a large wedge tornado, but likely was not what it appeared to be. We saw nothing to suggest rapid rotation with this dramatic feature. We then bagged it and headed to a motel, secure that our chase year had just been made in one day - anything else would be icing from here (to quote my former chase partner, Al Moller)!
This was a big success for V2, as well - my congratulations to them! The NWS used the V2 data to upgrade the tornado to EF2.
06 June 2009 (Saturday) - busted
Route: Ogallala, NE, east on I-80 to NE44, south to US34 east to NE10, south to KS8, continuing south to US36, west to US183, south to I-80, east to SLN
Chances were slim and when we moved toward the target, late in the afternoon a couple of multicell storms went up briefly southwest of SLN, but just as promptly croaked. Some moderate storms came through after dark. We should have chased western NE ...
07 June 2009 (Sunday) - supercells
Route: SLN, north on US81 to KS9, east to KS15, north to US36, east to KS99, north to 1 mi north of Summerfield, NE, then south again to Indian Rd, east to KS119, south to US36, east to KS63, north to NE9, east to US75, north to US73, east about 8 miles, then back US75, one mile north, then back south t0 US73, east and then south to Hiawatha, KS
Something of a frustrating day. We stayed patient as the cap held for a time, but when the first storms went up northwest of Marysville, KS, we were within 20 miles of the first developments. We picked the largest, most persistent storm, which turned out to be a fateful choice. It became supercellular fairly quickly, showing us some good looks along the way, despite poor visibility. We followed it but had to detour around a road gap to re-acquire the storm, along with about a zillion chasers. (Thanks to Roger Edwards for helping us out with traffic when our view of oncoming traffic was blocked by chasers parked on the roadside.) Ran into Danny Cheresnik there and what appeared to be a Discovery Channel crew, while the storm had a nice RFD gust front but no lowerings. The supercell storm was competing with another storm to its southeast, which was multicellular - until it got close to our storm, whereupon our storm began a rapid collapse, whereas the other became supercellular and made a hard right turn, headed for MO north of STJ. We abandoned our storm but there was no way to get in position for the new big storm of the day.
So we set down in Hiawatha, KS for the night, with the big storm disappearing to our east. Then, after 10 pm, a supercell entering Brown county triggered a tornado warning that freaked out a lot of the pipeline workers staying at our motel, but the storm passed north of town with nothing severe. Kinda neat to see the storm structure illuminated by lightning flashes in the dark.
08 June 2009 (Monday) - busted
Route: Hiawatha, KS, west on US36 to US75, south to I-70, west to LIC
Chased the really exciting progged soundings for eastern CO, but the sky was overspread with cirrus. We'll never know what might have happened without the cirrus, but it was worth a try. And there's still tomorrow ...
09 June 2009 (Tuesday) - weak supercells
Route: LIC, east on I-70 to SLN, south on I-135 to 101st St, east to East Lake Rd, south to 85th St, east to Butler Rd, south to US400, east to Chelsea Rd, south to US160/KS15, following KS, east then south through Dexter, KS, then east and south again to OK 18, continuing south to OK11, west to US77, south to US60, west to I-35, south to Indian Hills Rd., east to Broadway, south to Franklin Rd, east to 24th Ave. East, south to OUN
Following a loooong drive from LIC, we arrived near ICT in time to see the initiation of storms east and southeast of ICT, but each successive storm merged with other storms and the whole area was a mess of storms. We dropped south ahead of a storm in Kay County, OK that was looking fairly stout, but no sooner than we chose it as a target, than it calved off two left-movers and the right-mover began to shrivel like a raisin in the California sun. By the time we got to it, the right-mover was a goner. We then drove through some clearly nonsupercellular storms approaching PNC, stopping once (unsucessfully) for lightning. When we got through the storms, we were in clear air and took some shots (see bonus images). Then we chose to drive home - to save motel fares - on the way, a new storm developed on the south flank of the OFB from the earlier storms and it might have beeen weakly supercellular, so we stopped for some images and then again for the "sky on fire" sunset. Too many storms developed in SE KS for a good show and the hodographs clearly favored persistent left movers - even the "storm of the day", the isolated DDC supercell (depicted by MTN) emerged from a split. At the end of the day, we were close enough to home that we chose to save the cash and go home.
10 June 2009 (Wednesday) – no chase
Route: n/a
Stayed home - did vehicle maintenance and various other chores
11 June 2009 (Thursday) – busted
Route: OUN, north on I-35 to I-40, west to TX70, south to US82, west to LBB Loop, north to I-27, north to PVW
The basic gamble was to have something develop in west TX. We saw turkey towers developing along the dryline east and north of LBB, but nothing ever developed from them and the ABI area storms were well out of reach, so we bagged it for the day. However, the dryline had a very interesting signature. Note that a couple of weak storms developed north of our position near the apex of the bulge in the dryline. We passed them on our way south because they seemed high-based and struggling, hoping for something better to develop along the dryline. What makes that interesting is that they formed over the Palo Duro Canyon, which historically has been the source of a lot of tornadic supercells.
Curiously, there were essentially no motel rooms in LBB that night so we had to push on to PVW.
12 June 2009 (Friday) – thunderstorms
Route: PVW, north on I-27 to I-40 east to US281, south to Hinton, OK, then back to I-40, back west to US 183, north about 17 miles, then back south to I-40, west to Elk City, OK
Once again, mostly busted. The cap held in western OK while supercell storms went up southeast of ABI and again on the Palmer divide. Late in the evening, a pathetic thing developed in western OK that persisted as a weak storm for a while and then croaked. At one point, it produced a nice illustration of a weak multicell storm, and I took some video as well. It turned out that after dark, a supercell went up and produced a tornado in east Norman!
13 June 2009 (Saturday) – supercells
Route: Elk City, OK, south on OK6 to TX6, continuing south to US82, west about 6 miles, then back to US6, south to FM2229, southwest and south to FM617, south to US380, west about 7 miles, then back to Rule, TX, south and southeast on TX6 to FM2702, west about 2 miles, then back to TX6, southeast to US180, west to FM600, south to ABI
For various reasons, we lingered overlong in LTS, then raced southward to get ahead of the supercell that formed southwest of CDS. On the way, MTN showed a whole string of left-movers that began to interact with the initially discrete supercell. Also, several storms formed west of the original big storm. All of these apparently disrupted the storm which would then have to reorganize and start over, only to be slammed by other storms. It may well have produced one or more tornadoes before all the storm interactions began. The interactions resulted in strong southward propagation, with southeastward overall movement. We had to keep dropping south to have any chance at eventually getting to the action area before being rolled over by the storm. We finally wound up near Rule, TX, where we found a very dusty HP-type mess, with a major RFD push to its southwest. Even though the fields were wet, some of them seemed to produce vast dust clouds that were roaring into the storm, at first. Once we got close to the action area, the RFD gust front was pushing the dust outward. We stayed with it for a while, down to about Stamford, TX, but it was clear that if there were any tornadoes wrapped up in the mess, we'd never be able to see them. Tornadoes indeed were determined to have been present that hit Rule and Aspermont following RFD gust front passage, within the dark, menacing HP wrap-up. We finally gave it up and pushed on to ABI for the night. It was a tough, frustrating chase with little to show for it. There were so many storms, and so much inflow/outflow dust that even a distant view would go unrewarded.
Was this what it was like down here around ABI the previous two days? It clearly was the beast of the day for most of the afternoon, with the PH going late (following the pattern from the two days before). Unfortunately, if it produced a photogenic tornado, it likely would have been early in its life, when we still were a long ways from the action. Chaser Amos Magliocco was on the storm early near Matador, TX, and didn't see any tornadoes. Lots of large shear indicators on MTN, with up to 161 mph over 10 mile widths, so it's hard to know what might have been buried in the storm and hard to see.
Next morning, we stopped for gas in Aspermont, and this house across from the only gas station in town appeared to have been heading downhill for some time well before the storm, but the wind had apparently produced some shingle damage. We didn't see any damage that looked tornadic, but we were just passing through ...
14 June 2009 (Sunday) – supercell, tornado
Route: ABI, north on US83 to US60, northeast to TX305, north to TX15 west to TX23, north to US270/412, west to US83, north to KS51, west to KS25, north to CR19, east to CR8, south to CR22, east to US56 northeast to KS190, south and east to US83, south to US160, east to US183, south to US270, southeast to Woodward, OK
After a long drive north from ABI, we targeted a complex of storms coming out of southeastern CO. One storm finally made a right turn and we drove right up into its RFD area as it appeared to be intensifying almost on top of Ulysses, KS, shortly after which it produced a tornado we couldn't see, but others did. We got several nice looks at the storm (for example, here near Ulysses from behind the RFD, and here near Meade from ahead of the RFD outflow) as we followed it eastward across KS. At one point east of Meade, KS, there appeared to be a tornado about 6-8 miles due north of our position, but we can't be entirely sure what it was because the base was obscured - possibly by its debris cloud? Shortly after this image, scud and precip wrapped around it, obscuring it from view. It certainly appears to be a tornado and was seen by several other chasers (including Brian Morganti). We finally broke off the storm north of Sitka, KS, even as it continued cycling up and down as it traversed KS - apparently, it produced at least one more tornado near the KS-OK border. This was a long-track supercell, but never seemed capable of a major tornado, at least during the time we followed it. It was a fun way to end our chase.
15 June 2009 (Monday) – no chase
Route: Woodward, OK, southeast on US270 to OK34, south to I-40, west to US283, wandered about, then I-40 east to I-44, south and east to I-35, south to Tecumseh Road, east to OUN
An end-of-the-chase day. Spent midday photographing wildflowers along and close to I-40, then went home so Vickie could go to work. I'm content with that despite our absence from the chase during the GRI vicinity storms on 17 June.
19 June 2009 (Friday) - nothing
Route: OUN, north on 12th St. NE to Tecumseh Rd, west to I-35, north to I-135, north to I-70, west to Tower Rd, north to DIA
Just a travel day, unless something develops along the way - as luck would have it, nothing did.

20 June 2009 (Saturday) - thunderstorms
Route: DIA, ..., to CDR (Route information w/Tempest is not available this year)
The guests arrived but we had a relatively late start, so we chose not to try for possible storms in KS, preferring to get into position for a day tomorrow in SD or thereabouts. We watched some mountain storms north of CYS for a while and savored the wilds of WY, had supper and headed for the motel.
21 June 2009 (Sunday) - weak supercells
Route: CDR, ..., MBG
An excellent chase day. Out of the first developments, two supercells developed in northwestern SD. We chased the northern one for a while but it seemed to be going downhill as the southern storm seemed to be dominating. We had to punch through the "core" of the southern storm to get to it, but it contained no hail and no potentially tornadic shear. When we got to the action area, though, the storm had declined considerably. The storm cycled up a couple more times before beginning its final dissipation. On its way to oblivion, it showed us a nice partial rainbow and some interesting cloud evolutions before croaking.
22 June 2009 (Monday) - weak supercells, funnel/possible tornado
Route, MBG, ..., PIR
We meandered into northwestern SD, near the ND line and got on some storms developing there - one an already strong storm and others developing southeast of it. We followed the first strong storm for a while and it exhibited some signs of being a weakly rotating supercell. Then it began to go downhill so we followed the southernmost of the storms that developed to its southeast for a while, until it began to weaken and finally dissipated. Then we went after a storm to our north, near Linton, ND. As we were dealing with the MO River, we got caught in a one-lane road situation (at US83 junction east of MBG). From there, apparently about 25 miles distant, we could see what was evidently a strong storm (hard towers forming a vertical wall) with a relatively high base that we watched in stationary impotence, waiting for the pilot car, when it produced what appeared to be a cone-shaped funnel that extended roughly 1/3 to ½ of the way to ground. It only lasted a few minutes but might have had a brief touchdown. As we finally were able to push north after the storm, it promptly began to soften and then fizzle (Murphy's Law!), so by the time we neared the ND border, it was a dead duck. That's chasing ...
Ran into Mike Umscheid on the road back to PIR after supper – he was staying at the Super-8 with us!
23 June 2009 (Tuesday) - supercell, probable tornado
Route: PIR, ..., Lexington, NE
An exciting chase day, finally. We saw a portentous situation developing in western NE so we took off southward at a relatively easy pace. Late in the afternoon, storms began to go up so we headed toward them. The southwesternmost storm generated a tornado warning and appeared to be promising, but as soon as we got reasonably close, it shriveled up and died. A storm to its northeast calved off a left-mover and then began to dive south-southeastward - a strong supercell. We heard of a tornado report from it as we were getting into Stapleton, NE, about 11 miles north of Stapleton, so we pushed north. No tornado was visible as we approached the updraft base, but a tremendous supercell base and a developing RFD "cut" and cyclonic wrap-around developed as we watched. A simultaneous anticyclonic swirl was nearly overhead (shot with a wide angle lens). A funnel developed to our east but the RFD precip chased us back south so we couldn't stay to watch it develop. We stopped again east of Stapleton, and could barely make out what appeared to be a tornado but by the time we stopped and got out of the vans, the wrap-around RFD precip had all but obscured it (see enhanced image here). Here's another look, as well as an enhanced version - sure looks like there was a big tornado wrapped up in there. The RFD winds were blowing at around 50 knots+ (I was having trouble standing) but for a few seconds, the winds abated and from inside the dark RFD area of the storm we could hear the "waterfall" sound of a tornado. Spotters from the area reported a large tornado but we couldn't ever get a clear view of it. We followed the storm southeastward through Custer County and got a nice look into the meso as it wrapped up close to us - but no funnel or tornado. We noticed a very evident heat burst within the storm's RFD at one point as we watched it from there. As we continued southeastward with the storm, it rapidly became undercut with outflow and the interesting phase of the storm was done.
24 June 2009 (Wednesday) – supercell, tornado
Route: Lexington, NE ..., MHE
What a chase day! The highs and lows of emotions rolled into a single chase. We set out to SD and proceeded to wait for hours for anything to go, apparently in vain. We were hanging around PIR when some weak cells began to appear southwest of PIR and east, towards HON. Against my judgment - I figured that if storms hadn't fired by 6:30 pm, we were toast – relentless Bill wisely chose to press east toward better dewpoints and backed surface winds. A pile of ragged congestus was all that was left of the weak cells to our east-southeast as we pressed on, but it slowly cycled up into a storm, and then exploded into a dramatic supercell. We began to hear TOR reports near Virgil, SD (near HON) so we began the painfully slow processes of trying to "turn the corner" on a storm that first was nearly stationary but then began to drop southeastward at a good clip. We finally were able to do what we wanted, and got in tight to the meso, but everything appeared to be rain-wrapped (again?!), with some wild things happening. The storm chased us south, and we finally stopped about 13 miles north of MHE at dusk with the storm showing a wall cloud to our east, when Bill noticed a funnel that quickly became a tornado! It only lasted about 3-4 minutes but was very nice. My shots are a bit blurry - even at 1600 ISO, the exposures were 1/2 second, hand-held. We were elated but hung around long enough to let the storm continue away from us and were treated to a great view of the storms illuminated from within by frequent IC lightning. Then, a short drive to MHE for the night.
25 June 2009 (Thursday) - thunderstorm
Route: MHE, ..., CDR
Basically, a busted day - the supercells we hoped to see never materialized. We managed to see a multicell storm produce a downburst (and rain foot) west of the Badlands NP, and then had a great evening with sunset light in the park before heading to the motel.
26 June 2009 (Friday) - supercell
Route: CDR, ..., DIA
Went south and storms developed fairly early. After lunch we had two storms - a close one that had an LP look, but soon shriveled and died, and a somewhat more impressive storm that evolved into a substantial classic supercell, which we intercepted near Big Springs, NE (the I-76/I-80 intersection). It had a good look when we first got on it but appeared unable to produce a tornado and soon began to dump outflow and precip behind the wall cloud, indicating an HP-supercell transition. We continued to follow it and it produced a couple of stubby funnels (here and here) that didn't proceed to the hoped-for next level. We stayed with the storm for a while and had one last good look at it. But other storms, including a string of left-movers moving into our storm from the south, were blowing up all around - the cap was apparently too weak and soon there were too many storms to show any tornado potential, so we gave it up and headed toward DIA - the end of the tour.
27 June 2009 (Saturday) - thunderstorms
Route: DIA, south on Tower Rd to I-70, east to I-135, south to I-35, continuing south to Tecumseh Rd, east to 24th St. NW, south to OUN
Pretty much a boring travel day. Photographed some cirrus formations on the way across KS, and punched through some high-based, weak storms on the way south, just south of the KS-OK border. Not much to them but some brief showers of heavy rain, so I didn't stop.
---
Ups and Downs
Despite having a horrible start because of the lousy synoptic weather pattern, causing us to "blow off" the first week of our chase, this year turned out rather well for me (and Vickie). My goal to obtain storm structure rather than being in close to the meso all the time really worked out. Plus I had my usual fun with wildflowers, abandoned homes, barns, old vehicles, etc.
I admit to still being bummed out by chaser convergence. A lot of younger folks are out there who apparently have no clue about chaser responsibility and behave as if they're clueless about storms as well. Are these just locals out to join the "fun" or are they trying to be serious storm chasers? I can't tell - it was particularly bad on 07 June in KS. It seems I have to accept the growth in storm chasing, including its attraction for those who want to use it for glory, for self-promotion, or as a sort of death-defying trash sport. Storm chase pioneer Dave Hoadley was right way back in the mid-1970s when he predicted this very possibility - I didn't believe it would happen, but Dave was spot on with this forecast.
Perhaps we've been influenced by the media, but it seems to me that a lot of people on the plains are suffering economically. These are definitely tough times in the heartland - some towns (like Crowell, TX) are dominated by boarded-up storefronts, abandoned homes, and are close to being ghost towns. The demise of these small towns is quite sad for me to see - we noticed it last year, especially in Wakita, OK, but the trend seems to be continuing downward. Al Moller and I used to find great local cafes in these small towns, with really hearty food and friendly people. Many of the smaller towns are all but dead, now.
This year's chase brought us into Texas, where I used to spend most of my chase vacations with Al Moller. Of late, TX usually has not been the storm chase Mecca it used to be in the 1970 into the 1990s. Will the good storms return to TX? If this is what global warming has done to our storm season, I for one am saddened by not being able to chase often in the Panhandle and south to around Lubbock, where the flat, mostly treeless Caprock agricultural area has a great road network (created by paved farm-to-market roads) that's ideal chase country and was visited frequently during their season by frequent great storms in the past. Those days seem mostly over, although west TX still can put together a good show now and then. This year's chase around ABI on 13 June was marred by dreadful clouds of dust, despite the area receiving a fair amount of rain on previous days. Although KS, CO, SD, and NE have become the place for tornadoes of late, and we've had our share of successful intercepts there in our recent past, their road networks leave a lot to be desired, for the most part.
Early spring rains made for a good year for wildflowers again in some of my favorite old places, and I've found some nice new ones. It was good to see one of my all-time favorites again carpeted by Indian Blanket, with some Winecup Mallow and Evening Primrose thrown in.
I was reminded on several occasions again this year what a great, relentless storm chaser Bill Reid is. When I was unhappy with the storms (or the lack thereof), Bill kept us going and at times pulled the rabbit out of a hat well after I would have given up for the day. I very much admire his chasing spirit and his considerable chasing capabilities. It's a pleasure to chase with him and the Tempest team (including Rob Petitt and Doug Raflik this year). I'm proud to be associated with this team. And we had a great group of guests with us, so it was good to be able to give them a show.
---

Bonus images:
---
Food and Lodging Recommendations
These have been updated and can be found here.