Chuck Doswell's
Storm Chase Log - 2010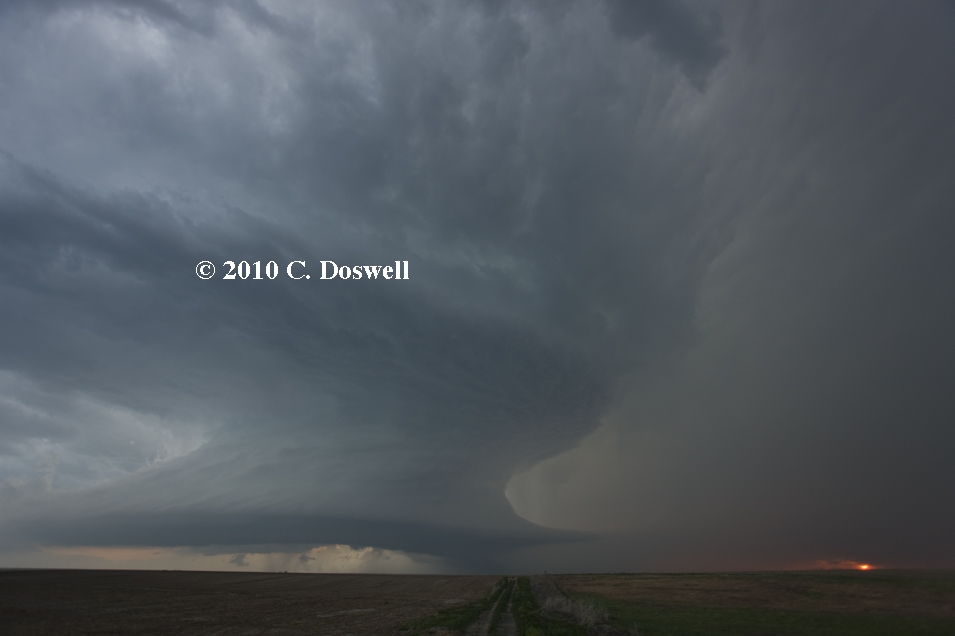 The beautiful Last Chance Supercell (10 June) at sunset
---
Posted:
04 July 2010
Newest update:
whenever
...
NOTICE - Any duplication, electronic or otherwise, of the images at this Website without my expressed permission is a copyright violation, and I will treat it as such. Do us both a favor and ask me for permission before using any of the images herein ... you can e-mail me at cdoswell@earthlink.net.
NOTICE - All images on this page have been shot with a digital camera, or captured from digital video, with some enhancement (to make them look more like reality or to enhance the image quality). I do not alter my images to put in things that were not originally in the image and I do not make digital composites to make scenes that I did not actually see. I might, at times, remove clutter like power lines, however.
Route notation: "USXX" denotes US highway XX, "I-xx" denotes Interstate highway xx, "SSxxx" denotes state (SS) highway xxx, "FMXX" in TX denotes farm-to-market highway XX. "CRxx" denotes county road xx. Wherever possible, cities that are National Weather Service sites are identified with the appropriate 3-character identifier.
The abbreviation MTN stands for "Mobile Threat Net" - mention of a commercial product does not imply an endorsement.
---
Part 1 - Chase Vacation
(w/my wife, Vickie)
28 May 2010 (Friday) - travel day
Route: OUN, NE12th to OK9, west to I-44, southwest to OK49, west to Wichita Mtns NWR, then back to US62, North to OK9, west to US183, north to US160, west to US283, north to DDC
Just a positioning day, after celebrating the wedding of Gene and Heather Rhoden. Had supper with Jim and Carolyn Johnson in DDC
29 May 2010 (Saturday) - thunderstorms
Route: DDC, west on US50 to KS23, north to KS4, west to US83, north to 25 miles north of LBF, back to I-80, west to NE25, then back east to LBF
A day with some hopes for the development of a "sweet spot" - which never materialized. Met up with VOF John Monteverdi and YF Cameron Redwine. We thought about trying for storms in Cherry County, NE, but then thought better of it and tried for storms developing SW of LBF, which died when we got close to them near dark. So much for hopes of a sweet spot!
30 May 2010 (Sunday) - nothing
Route: LBF, south on US83 to KS24, west to I-70, west to GLD
A down day. Visited with Linda Kitchen and Kathy Velasquez, Mike Foster, and Scott Landolt while dawdling in LBF. Saw some interesting cirrus in MCK where we stopped for lunch. Then a leisurely drive to GLD. Went to see Shrek 4 (in 3-d) in GLD - to my surprise, I actually enjoyed it.
31 May 2010 (Monday) - busted (missed tornado opportunity)
Route: GLD, south on KS27 to US50/400 east to KS156, east to US183, north to HYS
Not a happy day, which began with getting the sad news of the untimely death of my friend Nikolai Dotzek. I'll have more to say on that elsewhere. Then we stuck by our forecast for action in northeastern CO, northwestern KS even as we saw a developing supercell in southeastern CO around 1 pm. Contrary to our expectations (owing to forecasts of relatively weak flow aloft down there), the storm became a supercell and produced a fabulous show. We couldn't stand it anymore by 3 pm, so we began heading south after it, but by that time, the chance to see much had evaporated, so we changed our minds, heading north and east instead, to be in better position for the next day.
01 June 2010 (Tuesday) - severe thunderstorms
Route: HYS, north on US183 to US6/34 northeast to NE10, north to I-80, east to US81, north to US34, east to NE15, south to I-80, west to US281, north to GRI
A disappointing day. Started out with considerable potential, but an MCS-induced outflow boundary in northern Nebraska surged southward and undercut every supercell it initiated. Plus the storms were really moving eastward at a good clip and we never manged to get ahead of them. Saw the VORTEX2 (V2) armada on I-80 as we headed westward.
02 June 2010 (Wednesday) - supercell
Route: GRI, south on US281 to I-80, west to US83, north to US30, west to Roscoe, NE, south on country road to I-80, east to NE 25, south to NE23, east to US83, south to MCK
We were just drifting when we stopped for a leisurely lunch in LBF. Storms were developing to our west and it became clear that one had become a supercell, as it had a lowering and made a hard right turn. We intercepted it near Rosco, NE (continuous thunder and a fair green color). It produced a nice wall cloud, but we had to dive east and then south to stay ahead of it. That took more than 30 min, and by the time we completed that maneuver, the storm was beginning to crap out, becoming outflow-dominated, unfortunately. But I did manage my first storm photos of the trip and it was a nice storm, albeit briefly. We bagged it early.
03 June 2010 (Thursday) - weak supercell
Route: MCK, east on US6/34 to US283, north to I-80, east to US281, north to about 8 miles north of Ravinia, SD, then east on US18 to near Delmont, SD, then back west to country road, south to Wagner, SD, west on SD46 to US281, south to about 18 miles south of ONL, then back to about 5 miles north of ONL, then south to US20, east to ONL.
Our analysis suggested we should target ONL. We looked at data and decided the best wind profiles were in southeastern SD. After we wandered into a construction mess on US281 on the segment running north out of Ravinia, SD and another on SD18 headed east near Delmont, we found a way to backtrack southward after we decided the storm that fired southwest of us in the Sandhills was a left-moving POS. On our way south, we encountered the V2 armada headed north!! As we drove south toward ONL, I noticed a storm going up on the OFB left behind by the left-mover. Nevertheless, we continued south to about 18 miles south of ONL, when it became pretty clear that the tornado potential of the storms south of us wasn't high enough to warrant another long drive. So we backtracked again, to about 5 miles north of ONL, and found a nice spot to watch the storm that we had driven past earlier - it was a beautiful, stair-step multicell storm that may have been weakly supercellular at times, giving me a great chance for some really cool time-lapsing [time-lapse animations will be added to this summary page, later]. As the storm passed over/near Spencer, NE the storm showed some weak shear on MTN, but never enough to pop a 'wheelie of fortune' (a shear signature). Our viewing location was calm, peaceful, with no chasers in sight. This was a great day for a storm chase!! I really enjoyed the way the day ended.
04 June 2010 (Friday) - busted
Route: ONL, south on US281 to US6/34, west to US83, south to US24, west to Colby, KS
Thought something would develop near the KS/NE border, but copious cirrus appeared to be responsible for putting that possibility to rest.
05 June 2010 (Saturday) - thunderstorms
Route: Colby, KS, west on KKS96 to CO96, west to US287, south to LAA, east on US50/400 for about 5 mles, then back west to US287, north to CO59, north to 2 miles north of Kit Carson, then back south to US287, south to LAA
Not much of a storm day, which matched my low expectations, but we had fun anyway - in Tribune, KS at the Chatterbox café (locals Patty and Bill providing entertainment), at the Sand Creek Massacre National Historical Site (very good presentation by the park ranger), and at the Plains Art Gallery in Eads, CO. Saw a cumulonimbus patheticus late and then bagged it for the day.
06 June 2010 (Sunday) - supercell
Route: LAA, north on US287 to CO59, north to US36, west to CO63, north to US34, west to CO71, north to NE71, north to I-80, east to SNY, then back to NE71, south for about 2 miles, then back north to I-80, east to exit 95, south to US385, south to Wray, CO
A frustrating day. We made it north to see storms begin to fire just north of I-80 - took some time-lapse of the easternmost complex as we watched from near SNY. I decided they weren't very promising, so we went west to wait for better storms to come at us from the Cheyenne Ridge, which never happened. Meanwhile a supercell developed out of the first storms we saw (and abandoned). The supercell looked very exciting for about an hour as we tried to overtake it (see here for what we missed!). There was a trailing cell that prevented us from seeing clearly what was going on with the storm in southwestern NE. The trailing storm apparently produced outflow that hurt the supercell as we were finally beginning to get a good view of it. A necessary gas stop killed our chances to intercept the supercell, which was headed downhill anyway. Another storm was approaching from the west that passed over Sterling, CO, but a left mover from yet another storm to its south ran into it and killed it. All in all, it appeared that the wind profile was tilted slightly in favor of left-movers today and it was hard for right-movers to organize and persist. We missed our chance at the lone exception ...
07 June 2010 (Monday) - tornadic supercells (missed the tornadoes)
Route: Wray, CO, north on US385 to Julesburg, CO, west on I-80 to Kimball, NE, north on NE71 to US26, east to about 18 miles east of Minitare, NE, then back west to BFF, then back east on US26 to US385, then south to SNY
An exciting and good chase day. We managed to intercept two supercells in the vicinity of BFF. We chased the first supercell east for a time, but it began to decline, so we went back to BFF to intercept the second. A left-mover hit it, but seemed to have little deleterious effect, and we continued southeastward with it, paralleling its track as it wound up again, producing an intense mesocyclone, with some funnel clouds, but we never saw a tornado. After we let the storm get ahead of us, there was quite a bit of lightning in the precip (but no CGs in the clear). We got fairly close to a 126 mph MTN 'wheelie' (shear marker) at Bridgeport, NE but then bailed southward late in the evening. Ran into David Fogel, Keith Brown, Tim Marshall, Charles Edwards, George Kouronis, et al. in SNY. Bagged it for the night.
08 June 2009 (Tuesday) - distant thunderstorms
Route: SNY, south on NE19 to CO113, south to CO14, west to country road to Keota, CO, continuing on country road to Pawnee Buttes, west on country road to Hereford, CO, east and then north on country roads to I-80, east to Kimball, NE
Not a chase day at all. We wandered about, shooting some time lapse of wave clouds near New Raymer, CO. Then meandered to Pawnee Buttes for some photography, then on eventually to our destination for the day, to wait for tomorrow's storms (we hope). Some storms formed over CO late in the day, which we could see in the distance from the motel.
09 June 2010 (Wednesday) - supercell
Route: Kimball, NE, north on NE71 to US26, northwest to TOR, then back southeast to NE92, southeast to US26, southeast to OGA
All in all, another good chase day. Storms began early in the day and we ventured briefly into WY, but saw a line of developing storms behind us, so we turned around and pursued them. We got on a 'tail-end Charlie' storm at the end of a short squall line that had a suspicious lowering early. It quickly evolved into an HP supercell, which we stayed ahead of until it died. At one point, I could see some interesting things going on, but it became clear after a few minutes that I was seeing scud bombs. As the storm gradually wound down, it produced some gustnadoes. Got some potentially excellent time lapse, anyway. If there were any tornadoes, we didn't see them. We quit early after visiting for a while with Charles Edwards and George Kouronis of Cloud-9 Tours. Therefore, we missed good storms that developed back west in WY (see here).
10 June 2010 (Thursday) - supercells
Route: OGA, west on I-80 to Kimball, NE, north on NE71 about 2 miles, then back south to CO71, south to CO14, east to county road to Willard, CO east to Atwood, CO, south on CO63 to US36, west to CO71, south to LIC
A fabulous chase day. We waited in SNY for a while, then went west to Kimball and waited some more. Finally, a storm developed in northern CO, so we dropped south and watched (while time lapsing) as it came to us. It was weakly supercellular and for a time was quite interesting. Unfortunately, it apparently ingested bad air and began to go downhill. Once it got the "layer cake" look, I realized it was time to leave. Perhaps we should have left about 30 min earlier - in any case we began heading southward. We began to see some interesting things as we approached, which included a flared-out, bell-shaped base. Stopping north of Anton, CO, we clearly had intercepted an incredible supercell that had been tornadic earlier (see here). The storm did produce some gustnadoes late. The structure was fantastic and we obtained more time lapse that should be sensational! At dusk, we bagged it and headed to LIC for the night. Saw Charles E. and George K. again, as well as Anton Siemon and his lady (Tracy?).
11 June 2010 (Friday) - supercells
Route: LIC, north on CO71 to US36, west to I-80, southeast to CO86, west to country road south to Simla, CO, northeast on US24 to I-80, east to Genoa, CO, south about 2 miles, then back north, east on I-80 to Arriba, CO, north about 2 miles, then back south, east along country road to Flagler, I-80 west to LIC
Yet another nontornadic supercell day for us. Got some time lapse a short way south of Genoa, CO. Mostly we stayed well ahead of the storms, so our views of RFD gust fronts, inflow bands, wall clouds, etc. were somewhat murky, but we still had some interesting structure views. Off to the distant east, we saw a storm develop in KS that apparently produced several tornadoes and very heavy rain. Ran into various chasers in LIC after the chase, including Ted Keller, Warren Faidley, and Adam Houston.
12 June 2010 (Saturday) - supercell
Route: LIC, east on I-80 to KS27, south to US160, east to KS25, south to KS51, east to US83, south to US270, west about 7 miles then back to US83, south to TX70, south to US60, southwest to FM294, north toTX152, northwest to about 10 miles west of Stinnett, TX, then back east to TX207, north and northeast to about 10 miles northeast of Stinnett, then back to TX152, west to DUX
It appeared by late afternoon that this was a day likely to be pretty disappointing. Storms in the TX Panhandle and into the OK Panhandle had been lame and showed little signs of any improvement. We went to Pampa and visited the 1995 tornado success for a while and were about to go to AMA for the night when a storm showed up on MTN near DUX with a "wheelie" and a good radar appearance. Could this be a supercell? I chose to go after it and we intercepted it west of Stinnett, TX. A supercell, indeed, with ground-scraping inflow bands and a wild lightning display (which I didn't capture well)! We also encountered something of a 'chaser convergence' (including J.R. Henley). We stayed with it until the storm showed definite signs of winding down northeast of Stinnett, so we bagged it for the day.
13 June 2010 (Sunday) – supercells, tornado
Route: DUX, east on TX152 to PPA, then north on TX70 to US83, north to TX15, then northeast and east to FM2248, north to OK-NS151 Rd, continuing north to US412/270, east to Slapout, OK, north on OK-NS162 Rd to OK-EW21 Rd, east to US283, south to US412/270, south and east to I-40, east to I-35, south to Indian Hills Rd, east and south to OUN

The last chase day for Vickie turned out to be a memorable one. We merged with the V2 armada plus assorted meso chasers near Perryton, TX, and stayed in close for a supercell that began southwest of there and moved northeastward. This first supercell looked promising but then rapidly died. Another came up behind it and it produced a decent funnel and then wound down. Yet a third supercell trailing behind it took over, so we stayed with it as it moved into the OK Panhandle. We stopped at an abandoned farmstead and were treated to a great view of the storm as it came closer to becoming tornadic, including this panorama, which shows the developing tornado (on the left). It finally produced a rain-wrapped tornado, near Slapout, OK, while we were driving, unfortunately. By the time we stopped for photos, it was obscured by precip again. Anyway, we had to break off the chase after that, because of Vickie's early morning appearance the next day for Federal District Court jury duty. It was very sweet finally to see a tornado during what amounts to the final hour of our 17-day chase vacation!

For a group photo (with names) of our 2010 Tour 8 guests, see here, and for another with the guests and the staff together, see here.
19 June 2010 (Saturday) - travel day
Route: Tecumseh Rd west to I-35, north to I-135, north to I-70, west to Tower Rd, north to DIA
A travel day. I had hoped for storms to develop farther west than they did. Saw them firing in my rear view mirror, a long ways east. I chose not to go for them. However, I was treated to a spectacular sunset that evening, which faded to more muted colors and then just a remnant of color on the edges of the clouds to the west.

20 June 2010 (Sunday) - supercells, tornado(es)
Route: DIA, north on US85 to WY313, west to about 6-7 east of Chugwater, WY, then back east to US85, south to WY215, east and south to I-80, east to Kimball, NE
According to Tour Director Bill Reid:
Our group managed to get up north in time for the tornado southeast of Chugwater, WY, after a quick tour orientation at noon in Denver.

The first supercell from Chugwater moved east and perished/became elevated above the fog and low clouds near Torrington. The follow cell became somewhat stationary near Chugwater as we approached from the east along 313. As we entered Platte County, a large and low base came into view, and soon a brief tornado (or funnel just above the surface) quickly came and went. The cell started to move southeast, and large hail forced us back farther east along 313. Soon after stopping again, a tornado touched down to our southeast some 4 or 5 miles away, with excellent contrast. It lasted maybe a minute. After another few minutes a longer-lasting cone tornado developed in the same area. About halfway through its 5-minute-ish lifespan, giant hail began to pepper our location along 313. Two of our vehicles now require new windshields. The sparse road network and the southeast movement of the cell really put us in a bad spot in terms of hail, but a great spot to view the tornado. Some of the stones were easily 3 - 4 inches, about the largest I have ever seen. Not fun. "We got about 20 miles southeast of the cell and watched other wall cloud activity, but apparently the tornado phase was over and done with as the cell was reaching the cool and foggy air in Goshen County.
A wonderful gift on Father's Day!! Depending on how one counts things, the tornado count could be from 1 to 3. Our initial target storm became supercellular but moved into cold, stable air under stratus clouds left behind by the previous night's activity, and died. Another storm developed behind it, which became our new target. It intensified rapidly and became a second supercell, with a dramatic mesocyclone on its flank. This produced a brief tornado, captured by one of the tour clients through the windshield as we were driving (one of our drivers confirms the existence of debris at the surface, for a few seconds). We stopped and watched the storm for a while. We were north of the mesocyclone, and south of the precip from the storm, which proved to be a problem! We watched the precip advancing toward us and then found ourselves amidst large hailstones, so we left and went back eastward to get away from the hail. Coming to another stop, we watched the storm develop - intense rotation began, eventually producing a condensation funnel to near the surface, which then dissipated rapidly. But from the same general area, another vortex developed and produced condensation to very near the surface. This funnel was not producing debris at first. Although the funnel lifted, it began to produce some debris at the surface, which began to increase, as shown in this wider view. Unfortunately, large hail again began to fall in our vicinity, so we immediately left, but not before one of the vans in our team lost its windshield and sustained several hail dents.
By racing east, we avoided further hail damage and wound up with a great view of the storm, although its tornadic phase was over.
All in all, a very satisfying and exciting way to start the tour – a shame about the windshields, though. Saw Danny Cheresnik, Roger and Elke Edwards, and some other chasers, including Silver Lining Tours.
21 June 2010 (Monday) - supercells, probable tornado
Route: Kimball, NE, south on US71 to Brush, CO, east on US34 to Wray, CO, south on US385 to US36, east to KS27, south about 5 miles, then back north to US36, east to KS161, north to NE61, north to IML
Quite an exciting and enjoyable chase day. Photographed an abandoned home in southwestern NE (south of Kimball, NE), then waited on some developing storms in northeastern CO, near Brush, that slowly became a high-based supercell, with apparent mid-level rotation but nothing at cloud base. As the storms we were watching slowly continue to increase in intensity, another supercell storm to the southwest pretty much took over and became an HP behemoth, so we went east and then south to intercept it. This was taken while moving, as we were racing to get ahead of the beast. While waiting for the 'pilot car', the storm kept on coming at us. [Our TT driver, Chad Cowan, got a dynamite photo with his 10 mm wide angle camera.] We got caught in the construction delay south of Wray, CO on US385, so the storm rolled over us, but we had managed to get south of the action area and were hit mostly by strong RFD winds and "atomized rain" but no large hail. Then, as the RFD gust front surged east and south of us, we were pretty certain that a large, rain-wrapped tornado could be barely made out to our north - once we got past the construction, while we were just east of Idalia, CO, here was our view to the north (here is an enhanced image) from behind the RFD gust front. It looks like a large tornado with spray near its base. Here is another view as the storm tracked eastward (with an enhanced image here). A tornado was indeed reported about where we were looking - the 161 mph shear signatures on MTN were pretty convincing, too. As our storm continued eastward, we could see another storm developing to the south. Behind us was a dramatic 'rain foot'. We stayed with the storm a bit more, getting into northwestern KS, but we were not going to catch it, so we dropped southward, toward another small but beautiful supercell (not an LP!) southwest of Wheeler, KS, rolling up behind the big beast. A couple of times, this storm kicked up dust but didn't seem inclined to become tornadic. Got some time lapse that should be interesting and, as the evening light waned slowly, we shot intracloud lightning shots from the storm (here and here). As it was by then quite late, we punched northward through the dissipating storms and managed only a late night convenience store "meal" before going on to our rooms for the night in IML.
22 June 2010 (Tuesday) - busted
Route: IML, north on NE61 to I-80, east to I-680, north and east to I-80, east to exit 34, back west to I-29, north to Missouri Valley, IA, then west on US30 to N91, west to US77, north to NE32, west to West Point, NE
Basically, we had two choices for storms, western NE and eastern NE. We chose the east option, and it pretty much busted. No decent storms developed and those that did weren't any good. Something was wrong with the wind profile, and perhaps the cap was just too strong.
23 June 2010 (Wednesday) - nothing
Route: West Point, NE, US275 to US20, west and north to US83, north to Murdo, SD
Basically, a re-location day. Celebrated a successful intercept of the 25th tornado for Tempest Tours in 2010 with our great group of clients. Plus some extracurricular celebrations.
24 June 2010 (Thursday) - supercells, possible tornado
Route: Murdo, SD, west on I-90 to west entrance to Badlands, round the park, leaving from Cedar Flat entrance, east on I-90 to SD73, north to US12, east to SD65, north to ND31, north to ND6, east and north to Bismarck Expressway, east to ND1284, south and east to US83, south to SD13, east about 8 miles, then back west to UD83, south to US12, west to MBG
A very interesting chase day. In the words of Bill Reid:
Our group lucked out to some extent and managed to get on the Bismarck storm just before it became tornado warned, about ten miles southeast of Bismarck. We approached via Faith, Lemmon, and Mandan, so we were lucky that the thing moved very slowly and that the river logistics were not a huge issue. The supercell had a good cinnamon-swirl updraft base and some occasional funnel clouds, but we never observed a tornado. The RFD cut was prominent for a long while, and when it looked as if a tornado was not going to occur, we backed up a bit for structure at sunset, about eight miles east of Linton, ND. The isolated cell in the fading ND light was quite the treat! Lightning was frequent enough for some lightning photography, too. Between about 11:05 and 11:15 we had dropped south of Linton some (on the way to the motel in Mobridge), but were forced to stop again as the cell perked up considerably and TN showed a 115 mph MTN 'wheelie'. Our view beneath the cell wasn't the greatest, but a lowering persisted that we thought might be a tornado. Someone else hopefully had a better view. Lightning in the storm had become continuous---my 8Gb card was not large enough for this evening's very pretty storm.
Bill did a great job anticipating this event and we managed to do some abbreviated sightseeing, as well as travel a considerable distance to be in position for this developing storm. Since one of our guests lived in the BIS area, we negotiated the city using his driving directions. The river crossings are at BIS and at MBG, so storms near the river can be problematic to chase. Bill made the right decision. As we were attempting to get in closer to the meso, we saw some funnel clouds but no tornado. We finally got close to the mesocyclone - it didn't appear likely to be tornadic, though, so we stayed with it and were rewarded with this great panoramic view [see "Bonus images" below for Roger Hill's view of the storm at about this time]. Sunset was approaching and we hoped for some more dramatic structure shots late in the day, but a patch of stratocumulus clouds appeared and our maneuvers to get out from under those clouds failed to get us the anticipated sunset light on the storm. However, the storm seemingly ingested the stratocu and we wound up with a great view of it late in the day, with lightning. I was not as successful as some on our team with lightning at this location ... after a time, we began to think about lodging for the night so it seemed time to leave. But after driving only a short distance, another supercell that had developed behind the one we chased began to go wild with lightning, so we stopped to photograph the storm (in full moonlight, now). It was lighting up nearly continuously for a time, and as this enhanced image suggests, there might have been a tornado with the storm. It had the MTN 'wheelie' and it sure looked good on radar ... here's another shot of the storm near that time, with another enhanced image. The slight rise in terrain in front of us didn't allow us to see completely under the storm, unfortunately, but it sure looks like a rain-wrapped tornado could be in there.
25 June 2009 (Friday) - supercells
Route: MBG, US12 east to I-29, south to US212, east to … a complex path that took us through Marshall, MN - near RWF - Sleepy Eye, MN - Garden City, MN - Amboy, MN, south to I-90, west to OTG, southwest on MN60 to IA60, continuing southwest to US75, southwest to SUX
According to Bill Reid:

Our group began this day in Mobridge, SD, with a target of east-central SD in mind. The best air appeared to be along an E-W axis which was situated between Watertown and Brookings, SD, and extended east into sw MN. CAPE values were very high and effective bulk shear was excellent, with about 50-kt flow from the west at 500 mb. Surface winds, though, were not backed very much in vicinity of the E-W theta-e axis that I was interested in.

We arrived at Watertown near 2:30 p.m., and soon a beefy tower was going up to the east. It was moving ENE somewhat quickly and was not quite near the area that I wanted it to be near...but it was close. I elected to head south towards Brookings. If this new storm was going to be the main show, the only way we would ever catch it would be if it slowed considerably and it turned sharply southeastward. We exited I-29 at hwy 30 and moved east into MN towards Marshall. The original cell looked pretty good on radar and visually to our NE some 50-60 miles, but it continued eastward. Fortunately, new strong towers blew up just 20 miles or so to our east when we were near Marshall. We got into position south of a new supercell in eastern Redwood County, near Morgan. The storm base was very large. The base had a somewhat stable look to it early on, but now it was looking more ragged, and a clear slot and lowered area began to emerge. In the Morgan area, the cell looked to be very serious about going into tornado mode. The storm took a sharp turn towards the east-southeast and chased us to just north of the town of Sleepy Eye, in Brown County. A wall cloud rotated rapidly just to our NW, and then N, and then NE. We were expecting a significant funnel cloud or tornado to develop, but none did.

To stay close to the action area we headed S to Sleepy Eye and east to near Essig. Bands of heavy precip began to rotate around the "tornadic" circulation to our NE. We were hit by perhaps 40-50 mph winds from the NNW as for a couple of miles before we could escape to the south. The storm was nearing New Ulm, and we stopped to watch from near Searles. Our view now was of a greenish, precip-filled HP beast. The action area looked quite wrapped up to our north, but anything inside was hidden by rain. That wound up being the last hurrah for easily visible tornado prospects. We continued to near Good Thunder and Amboy and stopped for some HP storm structure shots, and then bailed south and west along I-90.

We grabbed dinner at Jackson, and were treated to an eerie display of continuous in-cloud lightning and continuous thunder rumbling during moderate rain. On our way to the Sioux City motel, we crossed part of the damage path due to the Sibley, IA, tornado. Power lines were down and the road had a little vegetation debris on it.
Yet another great chase day. Storms went up a bit early. We couldn't catch the first storm, so we worked the closest of the storms that fired behind the first. The one we chased evolved into a supercell that at first had a pretty cold, blue, stable-looking base. However, this rapidly changed, and the storm showed us a great mesoscyclone near Sleepy Eye, MN. We were in close, in great position if a tornado developed, and the mesocylone even began to wrap up into a cyclinder, eventually rotating as fast as any tornadic mesocyclone I've ever seen … but no tornado. Then the storm rapidly evolved into an HP, outflow-dominated supercell - if there were any tornadoes with it, they would only have been visible from ahead of the "notch" but we couldn't get ahead of it for that view. At one point, there was an interesting hole in the clouds in the RFD gust front shelf. As it had become late in the day, we let it go and started toward supper and our lodging. After supper, the squall line that evolved out of the early storms rolled us and treated us to continuous thunder as we waited for everyone to finish their meals. Driving to our motel, we were delayed by downed power lines from a tornado that had happened with a "tail end Charlie" supercell after sunset. A late arrival at the motel …
26 June 2009 (Saturday) - thunderstorms
Route: SUX, west on US20 to ONL, continuing west to NE11, south to county Rd into Amelia, then south to NE95, east to US281, south to NE91, east to NE14, south to US30, southwest to county road east of downtown GRI, south to I-90, west to Cozad, NE
According to Bill Reid:
Our group targeted northeastern NE, a little southwest of the moderate risk area. We waited around Atkinson mid-afternoon as an area of weak surface convergence approached from the west. Winds were backed nicely up in SE SD, but we were stuck with weak winds from the SSW. A strong tower went up to our southwest and croaked. Two additional strong towers went up some 40 miles southeast of there, not too far from Bartlett, and we quickly jumped on them. They became warned and looked promising for about 20 minutes, and croaked. Surface winds were very weak, and it may have been that the weak boundary that aided in convection weakened even further. CAPE values were nearly off the charts, so it was a little surprising that these fairly isolated cells were unable to persist. More strong towers developed to the south towards Albion and looked good for five minutes maximum. Game over. Back to DEN.
We were operating on a tether because we needed to get some of our clients back to DIA next day, in time for their flights back. Thus, we felt we couldn't chase into far eastern SD and western MN and still get back reasonably. As luck would have it, the day was an underperformer compared to expectations associated with the MDT risk from the SPC, anyway. The first storm we chased had a fair, but clearly multicellular look to it, with interesting rain shafts and nearly continuous thunder. But rather than intensifying, the storm went downhill, so we chased another, which never became even as good as the first, but managed to produce a shear funnel (here's a zoomed-out view, for scale).
27 June 2009 (Sunday) - nothing
Route: Cozad, NE, west on I-80 to I-76, southwest to DIA
Brought the guests back for their flights home. Hung around DIA for the afternoon, and had dinner with Jenna Blum and her friend, along with Chad Cowan.
28 June 2010 (Monday) – travel day (nothing)
Route: DIA, east on I-70 to I-135, south to I-35, continuing south to OUN
Not much to say here. Listened to my iPod and coped with idiot drivers on the Interstates...
---
Ups and Downs
The year's severe weather was rather slow to get started, and it seemed it might turn out to be something of a poor year, but things began to happen with some regularity in May and while the pattern wasn't always classically ideal, there were a lot of supercell days to chase and tornadoes to be captured. We had some days in Oklahoma (10 May and 19 May) where I didn't chase and I'm glad I didn't - because of the egregious chaser convergence. Fortunately, it's still possible to avoid this mess, if you're willing to give up the chance to be right up close to tornadoes, especially on chase days in May and June in Oklahoma, Kansas, and Texas. I had several enjoyable chase days where I saw few chasers while chasing some great storms.
I continue to enjoy meeting with friends after the chase part of a chase day is essentially over. In my daily summaries, I note several great post- or pre-chase visits with many of my friends. Plus, I made some new friends this year again.
As usual, I made some poor chase decisions on several days - documented in my daily summaries. I never, ever get entirely over missing a great opportunity for any reason, but chasing inevitably involves making some occasional really poor choices. Whatever happens, though, each chase day begins with the excitement of not knowing what lies ahead, no matter how disappointing the previous day had been. When the unforgiving atmosphere relents and I get to see another tornado, it's still seems like a miracle that it's happened to me at all.
As expressed so well in his 19 June 2010 blog by my friend, Amos Magliocco, I find it's not so important as it used to be that I see every tornado, or chase every chaseable day. I'm not "jaded" by what I've seen in my 38 years of storm chasing, but I have some perspective now that I didn't have when this was all still very new to me. One thing that kind of amuses me about newbie storm chasers is their apparent tendency to rank storm events on their personal scale of experience. When I see what they show for their "greatest tornado day, ever!", I find myself thinking that their catch may have been really good, but I often find I wouldn't place it at the apex of my experience scale. And where it ranks on their personal scale means very little to me (and vice-versa, of course). This takes nothing away from anyone for their evident excitement - I lay no claim to have seen anything resembling the "best ever" but any day that includes seeing a tornado is pretty special. My chasing skills aren't that good - nevertheless, I have no complaints about my chase experiences and feel no need to compete with the "extreme" chasers or those who have that knack for being in a good place at the right time.
My trip with Tempest Tours was most excellent this year. We had a full range of chase experiences, from total busts to seeing tornadoes. This part of my chasing has become something to which I really look forward, now. Unfortunately, we sustained some hail damage from stones around 4 inches in diameter. I'm never happy when that happens, and for the most part, I've only had hail damage a couple of times in 38 years of chasing. Road construction delays seemed more common than ever this year, including some anxious moments on 21 June, with the HP supercell behemoth roaring down on us. We also were apparently more concerned for the safety of the construction crew than they themselves were. I don't think they understood what was about to happen to them. I hope none of them were hurt.
---

Bonus images:
Images from 19 May - not a chase, but from right here in Norman

A panorama stitched together from 3 photos, showing the sky from NNW to ENE
A wide angle late in the day
Lightning in the anvil to the east

Images from 03 June

Images from 08 June

Images from 09 June

Another storm coming up behind our supercell
Interesting view of the storm following our supercell

Images from 10 June

A wide angle view of the northern CO storm, when it was still interesting
Another wide angle, as the storm began to go downhill
A panoramic shot of the northern CO storms

Image from 12 June - An OK Panhandle storm produces a microburst
Images from 19 June

Images from 20 June

Images from 21 June

Images from 24 June

A brief stop in the SD Badlands NP - midday light was not attractive, but ...
A somewhat artsy scene near the mesocyclone
A great shot by Roger Hill (used by permission) of our first supercell, but from the east, not the west side

Image from 25 June - another view of the mesocyclone
Images from 26 June
---
Food and Lodging Recommendations
These will be updated and can be found here.