Chuck Doswell's
Storm Chase Log - 2008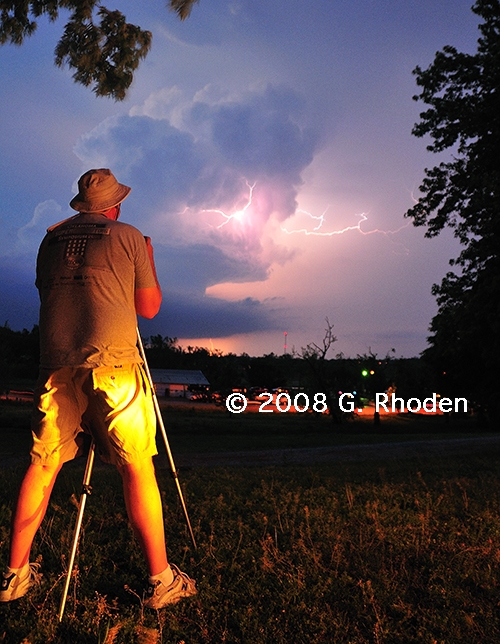 Photographing lightning with a supercell northeast of OKC on 01 May 2008 - photo by Gene Rhoden
---
Posted:
18 Jun 2008
Newest update:
05 July 2009:
added some bonus lightning images.
NOTICE - Any duplication, electronic or otherwise, of the images at this Website without my expressed permission is a copyright violation, and I will treat it as such. Do us both a favor and ask me for permission before using any of the images herein ... you can e-mail me at cdoswell@earthlink.net.
NOTICE - All images on this page have been shot with a digital camera, or captured from digital video, with some enhancement (to make them look more like reality or to enhance the image quality). I do not alter my images to put in things that were not originally in the image and I do not make digital composites to make scenes that I did not actually see. I might, at times, remove clutter like power lines.
Route notation: "USXX" denotes US highway XX, "I-xx" denotes Interstate highway xx, "SSxxx" denotes state (SS) highway xxx, "FMXX" in TX denotes farm-to-market highway XX. Wherever possible, cities that are National Weather Service sites are identified with the appropriate 3-character identifier.
The abbreviation MTN stands for "Mobile Threat Net" - mention of a commercial product does not imply an endorsement.
---
Part 1 - Spot Chase
(w/Gene Rhoden)
01 May 2008 (Thursday) - supercell
Route: OUN, north on 24th St, to Franklin Rd., west on Franklin Rd to Sooner Rd, north to I-240, to I-40, continuing east to OK102, north to US62, east US177, north to US66, east to Chandler, then north to I-44, southwest to I-35, south to I-40, east to Sooner Rd, then south to OUN
A nice way to start out the chase year. After being rather pessimistic about storm initiation before dark, storms fired despite my pessimism along a retreating dryline, with the first echo forming just west of Norman. Gene Rhoden picked me up and we had a short "chase" to intercept the storm as it was approaching Midwest City. Right from the start, the views we had made the chase successful! We then began a relatively simple zig-zagging chase to keep up with the storm as it moved northeastward at a decent clip (30-35 mph). While in the eastern parts of the OKC metro area, it supposedly produced a brief tornado touchdown. As we stayed with the storm, I saw a stubby cone funnel less than 1/4th of the way down that apparently made a brief connection to ground (we didn't see that, but the local OKC media circus helicopters apparently did). We continued to pace the storm north and east and obtained several nice views of the storm, here, and here. Eventually, the sun began to set and we tried one more time to get to where we could see the visual vault, and in the process lost most of the hordes of chasers that had begun to appear on US66 northeast of OKC, who clearly were seeking tornadoes under the meso, which we had eschewed. We finally stopped in Chandler to get some lightning images, and then decided the chase was done - even as the storm began to decline. Turns out we were on the wrong storm to see tornadoes - a much stronger storm developed north of the one we chased, which produced several tornadoes. But we were still pleased with the structure shots we were able to get and the views we had of the storm were pretty much worth the "gentleman's chase" effort.
---

Part 2: Chase vacation (with my wife, Vickie)
21 May 2008 (Wednesday) - nothing
Route: OUN, west on Main St to I-35, north to I-240, west and north to I-40, west to US183, south to OK9, west to Granite, OK, south on OK6 to Blair, OK, back north to Elk City, west to US283, north, to US60, east to OK34, north to Woodward, OK
Basically, a positioning day and little else. Thought there might be a slim chance in southwestern OK, but the cap held.
22 May 2008 (Thursday) - supercells (missed the tornadoes!)
Route: Woodward, OK, northwest on US270 to US183, north to HYS, west on I-70 to KS23, south to 15 mi south of Gove, KS, then back north to 3 mi south of I-70, then south to KS04, then east to US283, north to US24, east to Stockton, KS, south on US183 to I-70, west to KS147, then back east to HYS
A very frustrating day. We met John Monteverdi and Thom Trimble and got on one of the early storms as it was approaching. It had nice initial structure and some interesting mammatus, but then it evolved rapidly into a messy HP storm, so we kissed it off and watched another storm coming rapidly behind it. This turned out to be a big error, as this first storm went on to produce tornadoes near Hoxie, KS, as it continued north. The second storm also looked good for a while and we thought it might do something for us, but more storms were coming up behind it, as well. I think the second storm also produced tornadoes later. Anyway, we dropped back and picked up yet a third storm, with which we tried to stay . It got north of the Interstate and we were within a few miles of what seemed to be very strong signatures on MTN but we couldn't see a damned thing! We took a dirt road west for a short ways and finally got close enough to see some structure, but it wouldn't do it for us, and was clearly becoming gusted out. So we started toward HYS to call it a day. But another storm was developing to the southwest of HYS and we went west to meet it after sunset. However, it also seemed pretty outflow-dominant by the time we got there, so we finally bagged it and put down for the night. Ran into several jubilant chase crews in the HYS Applebee's - saw Doug Speheger, Tony Laubach and friends, and Tim Samaras and friends, as well as Reed Timmer et al. Not a pleasant experience, hearing all their excited tornado stories ...
23 May 2008 (Friday) - supercells, tornado (missed most)
Route: HYS, west on I-70 to Oakley, KS, then back on I-70 to Collyer, KS, south on unpaved Banner Rd to 804 Rd, then west to unnamed road (1 mile west of Trego-Gove County Line), then north to 1977 Rd, then northwest to Quinter, KS, then back southeast to 895 Rd, north to 7 miles south of US24, then east to 275 Rd, north to US24, east to HLC, south on US283 to I-70, west to Quinter, KS, then back east to Ogallah, KS, south on KS147 to KS4, back and forth through Brownell, KS, then east on KS4 to US183, north to HYS
Yet another very frustrating day. We jumped on the first storm to go up, but when we got there, it was too far away to see much and in between roads. We stayed with it, and wound up in the town of Quinter, KS, with dark skies looming to our south. Then, a cloud base emerged from the murk and we saw a multi-vortex tornado less than a mile from us, heading into town! We ran east to ensure out of its path, without getting any imagery (!), and pursued the storm on a miserable muddy road north, but bad visibilities and road conditions prevented us from seeing any more tornadoes this storm might have produced. In retrospect, we followed this storm mainly because we didn't follow a similar storm the day before, and this turned out to be a big mistake, as it took us way out of position for the second Quinter tornadic supercell. We finally broke off and began a dash toward the second supercell heading for Quinter - unfortunately we got there about 10 min too late to see the second Quinter tornado as it crossed I-70. Again, we went south after yet another developing supercell, which we intercepted but found no tornadoes. This storm went on to hit Ellis, KS late in the day, but we didn't see any tornadoes from it. Once again, the Applebee's in HYS was "Chaser-Central", where we ran into many of the same folks as before, plus Matt Crowther. Again, not a pleasant experience, hearing all their elated stories and seeing their images. I took no video and shot no stills at all, for the entire day! Aaaaaaarrrrrgh! I'm learning to dislike fast-moving, outflow-dominant HP supercells.
24 May 2008 (Saturday) - weak supercells
Route: HYS, east on I-70 to SLN, north on US81 to NE92, west to NE39, northwest to Albion, NE, east on NE91 to NE45, north to 1 mi north of Newman Grove, then back south to NE91, east one mile, then north on section road, zigzagging east and north through Enola, NE to US81, then north to OFK
A day with relatively low expectations, which were realized - why is it that this seems to be the situation when expectations are met most frequently? A short line of cells developed from an initiation point north of GRI, and moved northeastward. After a while, some of the late afternoon cells became weakly supercellular, with lowerings and inflow bands, taking on something of an HP look. We stayed with them for a while and then they began to go downhill rapidly. At one point, there was nearly continuous thunder with the storms, and then 15 min later - no thunder at all! We bagged it early. John M. had to leave to get Thom T. to OMA tomorrow for his trip back and to pick up Scott Landolt.
25 May 2008 (Sunday) - supercells
Route: OFK, south on US81 to SLN, west on I-70 to RSL, south on US281 to KS4, west to unnamed county road, south to about 1 mile south of Bison, KS, west about 2 miles, then north to KS4, east to country road, then north and east again to Galatia, KS, then south to KS96, southeast to GBD
Not a bad chase day. Came a long way back to central KS and managed to intercept a developing supercell, which looked really promising for a while but fell down when a new storm developed to its southwest. It may have produced a gustnado or non-meso tornado that we didn't see. We let the dissipating storm go by and waited for the the second storm, which also had a promising look for a while, but again failed to produce a tornado for us. The second storm reminded me of a similar storm we saw near Ford, KS, on 27 May 2001 (the day of the "people-eater" derecho) which also failed to be tornadic despite a ground-scraping wall cloud. Continued chasing of the next storm produced a view of yet another outflow-dominant HP supercell, with scads of chasers around it just west of Galatia, KS. We reconnected with John M. and Scott south of Galatia. I seem to have caught a miserable cold or flu bug, probably from Thom, who had laryngitis when he went home ...
26 May 2008 (Monday) - supercells, tornado
Route: GBD, southwest on US56 to Larned, south on KS19 to Belpre, east on US50 to US281, north to near Seward, then south to about 5 miles south of Pratt, KS, then north to unnumbered road 1mile south of Pratt, east about 3 miles, then back west to US281, north to US54/400, then east to Cunningham, KS, north then zig-zagged east and north on country roads to KS14, then north to KS61, northeast to HUT
A satisfying chase day, except image-wise. We waited in GBD until relatively late in the afternoon, finally heading after developing storms, but the storms quickly formed a messy line, from which two supercells emerged. We initially targeted the northern one, but it clearly was on its way downhill, so we dropped south through Pratt, passing under some impressive inflow bands. When we stopped and looked back the storm didn't look very promising at all, but we decided to stay with it. Owing to my navigation error, we turned east just south of town, but since it would connect with the highway going east from Pratt, we continued. Soon, it was evident a tornado (photo - showing a subvortex beneath the truncated cone funnel - has been digitally sharpened) was forming nearby, to our northeast. It persisted for several minutes, passing to our southeast, but the low light was a problem and my video camera was still in its case. Anyway, we eventually chased the storm farther to the northeast, but it went downhill after that, with no more tornadoes.
27 May 2008 (Tuesday) - nothing
Route: HUT, northeast on KS61 to McPherson, north on I-135/US81 to York, NE, west on I-80 to OGA, northwest on US26 to Bridgeport, NE, northwest on NE92 to Gering, NE, north on NE71 to BFF
Nothing weatherwise – a repositioning day
28 May 2008 (Wednesday) - busted
Route: BFF, US26 to Torrington, WY, then back to OGA, east on I-80 to LBF
We had some hopes for some isolated high plains supercells, but it just didn't happen. We have higher hopes for a day in NE tomorrow. Wound up in the same motel with Bill Reid, Brian Morganti, and the Tempest Tours crew in LBF tonight.
29 May 2008 (Thursday) - busted (missed the tornadoes!)
Route: LBF, east on I-80 to GRI, north on US281 to ONL, then west on NE95 to NE11, south to Burwell, NE, then southeast to NE92, then east US81, south to US34, then east to Utica, NE, south to I-80, east to LNK
Simply another bad day, marked by one primary bad decision. Our intial target was the GRI area - however, the backed surface winds had shifted well northward. We thought the storms developing relatively early in southwestern NE were "sucker" storms, and so continued northward toward the warm front, what we thought would be better shear, and backed surface winds. Wrong! The early storms went supercellular and produced several tornadoes along and near I-80, including in EAR. Even better storms developed in northern KS. Only some pathetic, weak storms developed in northern NE in the region where we thought the best combination of shear and buoyancy would be. I have no clue why the atmosphere did what it did. We were out of it the whole time, anyway. All we got was some mammatus clouds on the north side of the storms in southern NE. To put the perfect end to such a day, it turned out I left my laptop in the library at ONL!
30 May 2008 (Friday) - nothing
Route: LNK, westward on I-80 to GRI, north on US281 to ONL, then south on US291 to NE92, east to US81, south to I-135, south to SLN
A "leisurely" day, spent recovering my laptop, which the ONL librarians had found and kept for me, and then dropping slowly southward, doing landscape photography along the way. Nebraska was very much awash with water - several streams and rivers (including the Elkhorn River, near ONL) were out of their banks.
31 May 2008 (Saturday) - busted
Route: SLN, south on I-135 to ICT, west on US54/400 to Kingman, KS, south on KS14 to Anthony, then continued south into OK along OK 132 to Nash, OK, west on US64 to US183, north to KS34, continuing north to US400, northwest to DDC
Enjoyed a leisurely tour of Kingman, KS and its interesting old buildings. We had some hopes for activity forming in southwestern KS/northwestern OK along an OFB, but ... the cap held and the only daytime activity was east of I-35. Late in the day, storms went up in west central OK and wound up including a nice supercell - after dark - which we saw develop but didn't chase.
01 June 2008 (Sunday) - supercell
Route: DDC, northwest on US50/400 to GCK, north on US83 to I-70, west to ITR, north on US385 to I-76, northeast to I-80, west to NE27, north to Oshkosh, NE, northwest on US26 for about 25 miles, then back southeast to NE27, south to Julesburg, CO, south on US385 about 10 miles, then back north to I-76, northeast to I-80, east to OGA
All in all, a decent chase day. We intercepted a supercell coming down the Platte River valley which seemed pretty promising at first look. However, it became clear with time this storm was having trouble controlling its outflow - like most everything we saw this year. We stayed with the storm for several hours, eventually encountering Brian Curran and Ed Calianese – the storm produced some good looks structurally but never seemed capable of a tornado. We did experience a heatburst and several nearby invisible gustnadoes (made apparent by the tumbleweeds), including one that actually hit us with a good gust (of perhaps 35 kts), as the RFD was passing over us. As the storm moved east of us, it produced some tornado look-alikes that were not rotating. We also saw a distant gustnado. As the sun set, the storm continued on but we let it go. Bt the end of the day, my cold was making me miserable, so it was an early bedtime for me.
02 June 2008 (Monday) - supercell
Route: OGA, west on I-80 to I-76, southwest to Brush, CO, south on CO71 to LIC, then east on I-70 to Colby, KS
Disappointing outcome for a reasonable chase day. We wound up seeing the supercell that developed near ITR, coming in from the west and arriving in its near vicinity as it croaked. It looked promising for a while, but crapped out as it crossed over the border into KS. No images were shot. We bade farewell to Scott and John shortly thereafter.
03 June 2008 (Tuesday) - supercell
Route: Colby, KS, south and east on I-70 to HYS, then south on US183 to US54/400, east to PTT, south on US281 to P28, east on US160 to Harper, KS, north on KS14 to Kingman, KS, east on 54/400 to KS251, south to Cheney, KS, east on KS__ to KS49, south to KS44, west to Anthony, KS, then south on KS 137 to Manchester, OK, then north again to Anthony and north on KS14 to Kingman, KS, east on 54/400 to I-235, north to I-135, to ICT
An interesting, if not entirely successful chase day. After some photographic interludes and periods of sitting as we waited for something to develop in south-central KS, we got ready to call it a day and were returning northward when things finally began to develop to our south and east. Going for this development, it soon became clear that it was not going to be very good - the storms were high-based and weak. We had been watching an isolated storm that formed earlier in the far western OK panhandle via MTN, and its anvil was overspreading the new developments in northern OK, which promptly shriveled and died. But by this time, this isolated storm had raced eastward fast and far enough that we went west and south to try to intercept it. In Anthony, KS, it was already close and menacing (no images!) when we turned south. A base on the north side of the precipitation had some nasty lowerings and an RFD-induced shelf/wall cloud was on the south side. We dove south to beat any hail but couldn't escape the RFD guster, filled with dust and rain, as well as strong winds (estimated 70+ kt) in Manchester, OK, where we sheltered from the westerly blasts of the RFD in the lee of a grain elevator. Some minor damage was done in Manchester, while our vehicle was being buffeted by the wind gusts and swirls in the lee of the elevator. Fun - it turns out Tim and Kay Marshall were in town doing what we were doing at the same time - sitting out the storm. Then we bagged it for the day.
04 June 2008 (Wednesday) - supercells, lightning
Route: ICT, north on I-135 to SLN, continuing north to 8 miles north of York, NE, then back south to NE34, west to Hampton, NE, then south to I-80, west to US281, north to GRI
Another interesting chase day. After a visit to Lindsborg, KS, we hoofed it north to near York, NE, where we encountered a messy set of supercells, with numerous "wheelies" on MTN, which clearly had begin to pour out outflow (what a surprise!), so we headed west again, toward a more discrete storm. However, it became evident that this storm and the others to the west were also elevated over a huge mass of outflow. So we parked in a rest area on I-80 and did some photography. The storm to the west showed a nice vertical wall of convection, while storms to our east were moving along a line and producing some dramatic mammatus. We "time-lapsed" the approaching storm from the rest stop for a while and then moved into the outskirts of GRI where I got some daytime lightning shots. Not a bad day.
05 June 2008 (Thursday) - supercells
Route: GRI, south on US281 to US36, east to US81, south to KS18, west to Tescott, KS, then back east and south through Culver, KS on country road to I-70, east to I-135, south to Park City, KS
A high risk washout. After some photographic interludes while driving south and east, none of the fast-moving storms we dropped south into central KS to see turned out to be producing tornadoes, and the storms in general were not what we expected on a high-risk day. What we had were fast-moving, outflow-dominant HP supercells - again. In fact we did the "picket fence" strategy once again, and thereby saw several, including one near Lindsborg, KS. None of them seemed even remotely tornadic, so we bagged it early.
06 June 2008 (Friday) - busted
Route: Park City, KS, south on I-135 to US54/400, west to KS251, south to Cheney, continuing south on country road 391to KS 42, northeast to Viola, south on KS49 to Caldwell, KS, continuing south on US81 to Medford, OK, west on OK11 to OK11a, north to Wakita, then back to Medford, continuing south on US81 to Pond Creek, OK, east on US60 to I-35, south to I-40, east to Sooner Rd, south to OUN
Dawdled in southern KS, and northern OK, including a trip to the Twister museum in Wakita, in hopes of seeing something develop west of I-35. Nothing did, so we went home, since Vickie had to work and the weather looked relatively dead for a few days.
---
Part 3: Continuation of chase vacation (w/Vickie)
11 June 2008 (Wednesday) - supercells, tornado
Route: OUN, Rock Creek Rd to US77, north to I-35, north to I-135, north to SLN, north on US81 for about 7 miles, then back south to I-70, west to KS156, southwest to KS4, west to near Hoisington, KS, then back east to country road through Odin, then east and north on country roads to county line road between Ellsworth and Barton counties, then north about 7 miles then back south to country roads, zigzagging north and east to Ellsworth, KS, then back southwest on KS156 to near Holyrood, then back northeast to Ellsworth
An exciting, reasonably successful day. We waited in a wifi spot in SLN for a while, then set out – first north, and then back southwest to the GBD area, where storms seemed to fire repeatedly. The first supercell we intercepted was pretty nice - more classical in structure - it may have been producing a tornado when this image was shot, but we couldn't see it at the time. We stayed with it for a while longer, and were rewarded with a tornado just before 7 pm CDT northwest of Holyrood (note the apparent anticyclonic funnel in the near foreground on our side of the RFD "cut"), which produced condensation to the ground briefly but then soon "lifted". Unfortunately, I was ill-prepared and only got a few still images. As the storm continued northeastward, it exhibited a really serious-looking lowering that inexplicably never produced a tornado. We broke off in Ellsworth and ran back southwestward to intercept the next supercell coming up the line. It was a beautiful, sculpted HP supercell that eventually began to roll over us as we were with VOF Al Moller, but no tornadoes - only a gustnado. We raced back into Ellsworth just ahead of the big hail core and found a shelter under a gas station canopy. We then got a motel room and went out after one last supercell, but it rapidly became too dark for good images. Again, we sheltered under the gas station canopy in Ellsworth as the storm raged. No steak dinner tonight, though - or any decent meal at all. In KS, restaurants shut down in a tornado warning and don't open up until they sound the sirens for "all clear" - which never happened.

12 June 2008 (Thursday) - supercells, lightning
Route: Ellsworth, KS, south on KS14 to US56, east to I-135, south to ICT, east and south on KS96, east on US400 to KS99, north to US50, west to Strong City, KS, then back west to EMP, south on KS99 to US54, west to El Dorado, KS
A pretty decent chase day, albeit without a photogenic tornado. We chased the developing multicell storms in Chase County, KS, which conveniently waited for us to get close before becoming supercellular. I got a pretty decent lightning shot near Strong City. Ran into Dan Dawson and Robin Tanamachi east of Strong City, chasing the first supercell, which we stayed with to near EMP. Then we broke off and went through EMP and then south again to the actual airport site where the obs are taken, waiting for the second supercell to come to us. It finally got close but earlier, while still very distant, it produced a brief tornado in Chase county, west of us. Then we basically gave up for the day. Roger and Elke Edwards joined us at the EMP airport, so we teamed up to find a place in El Dorado, KS, after stopping for some shelf cloud photography as the sun went down. Another supercell moved eastward to our south and the outflows from all the older storms had linked up. We had an adventure with our late supper in a Chinese restaurant and then bagged it.
13 June 2008 (Friday) - nothing
Route: El Dorado, KS, west on US254 to I-135, north to KS4, west to KS14, north to near Ellsworth, then south about 7 miles, then back north to KS156, southwest to KS4, west to county road north through Odin, then meandering about northeastward, finally coming south on county line road between Ellsworth and Barton counties to KS156, southwest to GBD
I had a great day photographing old buildings (here, here, and here) near Ellsworth, some of which we had seen during our chase on the 11th, but also found some others. At first, Roger and Elke did this with us, but they had to leave for DEN, so we went on alone. We finally had our celebratory steak dinner in GBD before even finding a place to stay. The Comfort Inn in GBD had a very helpful staff.
14 June 2008 (Saturday) - nothing
Route: GBD, southwest on US56 to DDC, south on US283 to US270, east and southeast to I-40, east to I-240, south and east to Sooner Rd, south to Franklin Rd, east to 24th St and home
Another great nonchase day. Visited with Jim Johnson in DDC (unfortunately, his wife Carolyn wasn't there), after doing some old tractor and old grain elevator photography on the way. Following a great lunch with Jim, we continued on our way home, doing some wildflower photography down the "northwest passage" in OK. Vickie had to work again, and the weather looked relatively dead for a few days.
20 June 2008 (Friday) - travel, thunderstorms
Route: OUN, north on Porter to Rock Creek Rd, to I-35, north to ICT, north on I-135 to I-70, west to DIA
Just a travel day. Saw several mushy storms along the way, one of which might have been weakly rotating, but no images were shot as the cameras were packed away. Also saw a swath of small hail still sitting on the roadsides from just west of the Siebert exit west to the first Flagler exit in CO. After supper at DIA, the sunset clouds were fairly interesting.
21 June 2008 (Saturday) - busted
Route: DIA, north on Tower Rd to 120th Ave, west to I-76, northeast to Fort Morgan, CO, north on CO52 to CO14, east to Stirling, CO, northeast on US138 to Iliff, CO, south to I-76, northeast to exit 107, north to US26, northwest to NE88, south to Courthouse and Jail Rocks, then back to U26, north on US385 to AIA
Another low expectations day that was fulfilled. We contemplated chasing a supercell that developed near LBF and moved SSEward, but it was too far away from our expected chase tomorrow, so we broke it off. Visited Courthouse and Jail Rocks for a sunset photo op and then on to AIA for the night.
22 June 2008 (Sunday) - supercell (anticyclonic), lightning, funnels
Route: AIA, north on NE87 to "Carhenge", then back to AIA, south on US385 to Bridgeport, NE, south and west on NE88 to Steagall Rd, north to Steagall, then west and north on NE82 to Lyman, then west and north to county/state line road about 8 miles, then back through Lyman and east on NE82 through Gering, NE to Melbeta, NE, then north on NE178E to Minitare, NE, then east on NE26 to NE162A to US385 to AIA, north on NE87 about near Antelope Rd, then back south to AIA
All in all a chase day that turned out reasonably successfully. After traveling southwestward nearly to WY to look as a storm coming east-southeastward out of WY, which turned into a high-based guster and died, we moved back eastward through the Scottsbluff Nat. Monument to intercept some storms apparently developing on the old boundary between dry and relatively moist air. This stuff was really junky, but finally seemed to get organized north of AIA. We intercepted several developing storms along a short line - one finally produced a cyclonic funnel cloud (without reaching the surface) as it dissipated, as well as a series of minor shear funnels. The other, northernmost storm was an absolutely gorgeous anticyclonic supercell that went on to develop rapid rotation and very nice visual structure and very evident rotation, but dissipated fairly soon, experiencing a minor resurgance late in the day - enough to produce some lightning, and then finally died, leaving us with some nice sunset scenes. Given our relatively low expectations, this was a pretty decent day, after having to be patient and persistent for most of the day.
23 June 2008 (Monday) - supercell, lighting
Route: AIA, north on NE87 to US20, east to NE516F, south and east to NE97, south and west to NE2, west about 10 mi west of MHN, then back east to US83, north to VTN
Another successful chase day, right up to but not including a tornado. We caught storms from their initial development west-southwest of VTN, in Cherry County (infamous for a lack of roads). Dropping south ahead of the storms, the southernmost of which had become a southward-moving supercell, it cycled up and down several times. At one point it developed a blocky wall cloud that seemed to persist and exhibit rapid changes with time, but thanks to the Sandhills, we couldn't see below its base. By sunset, it had actually moved westward, so when it produced a suspicious lowering, it was around 20 miles west of us and although we could now see under the base,we couldn't be sure if a brief touchdown might have occurred. One last look at the storm rewarded us with some interesting lightning opportunities.
24 June 2008 (Tuesday) – severe thunderstorms
Route: VTN, north on US83 to I-90, west to SD73, north to about 8 mi north of SD20, then back south and then west on SD20 to about 7 miles west of Bison, SD, then back to a country road, south to Maurine, SD, then west on US212 to Ben Ash Monument, then back east to SD65, north to US12, then west to Lemmon, SD
We were treated to a fabulous display of convectivus patheticus for most of the day. We went from VTN to northwest SD, but gave up any options for storms north of I-94 as being unreachable for us. Wandering about in northwest SD, we watched storms develop, mature, and then shrivel and die to our west - from northwest to southwest. The last died as we watched from the Ben Ash Monument west of Maurine, SD. Then, in desperation, we headed east and then north after storms coming southeastward from ND that were becoming what the SPC called a "compact MCS" with multiple updraft towers on the southwest flank. This was clearly undercut by outflow so the tornado potential had all but ended. Nevertheless, we had a nice view of the storm late in the day, so we headed northward after it passed us by (north of Isabel, SD) and were able to cap off an otherwise disappointing day with some great scenes of the storm's backside, including a top-end mammatus display showing fantastic colors behind this system, before we headed to our motel for the night. Unfortunately, during the evening, we were plagued with many mosquitoes ...
Along the way, we found 1 1/2-inch diameter hailstones deposited by the storm near the intersection of highway SD65 and BIA4, about 4 miles north of Isabel that fell about 1945 MDT
25 June 2008 (Wedesday) – severe thunderstorms
Route: Lemmon, SD, south on SD73 to SD20, west to US85, south to I-90, west to Sundance, WY, then back east to Kadoka, SD
After an interlude with some bison, and some indecision, we went after a storm developing in eastern WY, which promptly fizzled as we approached. Then we went east and watched a line of severe-warned storms moving toward us. The northernmost storm in the line showed some signs of being a supercell, but it was about to roll over us so we took off. Another apparently strong storm nearly caught us on the road after dark, but we outran it and put down for the night
26 June 2008 (Thursday) – supercells
Route: Kadoka, SD, east on I-90 to US83, south to Thedford, NE, then back north about 10 miles, then back south to Thedford, then back north about 2 miles, then back south to Thedford, east on NE2 for 15 miles, then back west to about 8 miles west of Thedford, then back to US83 and south to LBF
A decent chase day, again short of a tornado. After much waiting and slow movement we found a developing supercell, with a left split companion. There were some high-based shear funnels with this storm but nothing approaching a tornado. Unfortunately, there was a line of storms to the west of the supercell, which eventually became a problem. The supercell went into the "ever-diminishing base" syndrome and died, so we abandoned it, but then a very strange high-based supercell re-developed ahead of the squall line. It had some interesting visual appearance but never appeared to have much of a tornado threat. Eventually, the squall line began to interact with it and produced an evident LEWP visual structure. The advancing squall line first caused us to break off and head east, but it was on the decline, so we just let it roll over us and then retreated west to do some photography. A nice rainbow was produced and we had fun with the scene for a while but then bagged it for the night.
27 June 2008 (Friday) – severe thunderstorm
Route: LBF, south on US83 to Oakley, KS, west on US40 to country road, south to KS25, south to country road south of Lakin, KS, then west and south on country roads to east o Johnson, KS, north on KS27 to US50/400, west to US287, north and west to LIC, then west on I-70 to DIA
A fair chase day. After a photographic interlude, we intercepted a high-based storm in southwestern KS that was marginally severe. To our southeast, an apparently somewhat stronger storm developed in the OK panhandle, but we had to be in DIA tonight, so we didn't go after it. The storm we were on produced some moderate outflow both northward and southward and apparently split, as a gap developed between the updrafts on the south and north flanks. It wasn't a supercell but also wasn't entirely uninteresting.
28 June 2008 (Saturday) – thunderstorm
Route: DIA, east on I-70 to KS27, south to KS96, east to KS25, south US50/400, east to GCK, south on US83 to US64, east to Buffalo, OK, south on US183 to US270, southeast to I-40, east to I44/240, south and east to Sooner Rd, south to OUN
Mostly a dull trip home under mostly cloudy skies. As I was approaching OKC on I-40, storms were developing near OUN, and the sky was very dramatic at sunset … but my cameras were packed away. I had a short burst of rain on Sooner Rd just before arriving home - this only removed some of the dust and grime that had accumulated during the week my car was parked at DIA.
---
Ups and Downs
This obviously was not a banner year for my storm chasing. Although tornadoes were there to be seen, this was a year dominated by poor visibilities, fast-moving HP-ish storms, and not very many photogenic tornado opportunities. Supercells were relatively easy to come by, and even good storm structure occasionally. I screwed up a lot of the opportunities we had, so although I have a few tornado images (no video!), none of them are very good. If I needed evidence that I'm not a great storm chaser, this was the year to get it - although I think I knew that already, anyway. My congratulations to the few excellent chasers, like Gene Moore, who consistently pull in big tornado successes every year. This year, my recent acquaintance, Dr. Bill Hark, had a banner year with tornado stills and video, as did fellow "chase doc" Dr. Jason Persoff.
Speaking of docs, the miserable cold/flu bug I caught on this chase continues to hang on to some extent even as I work on this summary. Being sick on a chase is not much fun.
The proliferation of chasers and chaser convergence continues its upward spiral. There were several occasions where chaser actions directly threatened us on the road - on one chase, a chaser pulled onto the highway in front of us to do a U-turn almost too close for us to stop! It was a chase tour van, actually, with the words "Safety First" on the back - not exactly living up to the advertisement! I also saw a chase vehicle with a "mobile mesonet" array on its roof nearly cause an accident by a very risky passing maneuver on 12 June. On at least three occasions this year, chasers have been very close to, or even within tornadoes. It's my belief that the exploitation of such videos by idiot chasers is simply encouraging more idiotic behavior and the day is fast approaching when a tornado will kill its first storm chaser. Responsible chasers who have such experiences are chastened by them, and are willing to share what they did wrong, in order to help other chasers to avoid those mistakes that nearly had serious consequences - the late Eric Nguyen and Amos Magliocco come to mind as responsible chasers who readily admitted to mistakes in the past that could have killed them. Having live radar in the vehicle apparently has encouraged more risk-taking, in the false belief that the radar will allow the chasers to "push the envelope" when venturing into the bear's cage. The fact is that the radar lags the storm by several minutes and, moreover, the radar doesn't generally show you where the tornado is - not all tornadoes are in the traditional storm-relative location. Many chasers are tempting Darwin to act - given enough screw-ups by chasers, Darwin will claim his first victim via a tornado someday. We all take some risks by chasing storms, but some chasers seem to think that the goal is to take the greatest possible risk, to march right up to the precipice and hang their toes over the edge. Weeeelll ...
Seeing my chaser friends (and others) talking excitedly about their tornado successes on 22 and 23 May in the post-storm HYS restaurant conversations was definitely a downer. On many past occasions, it's been me doing the enthusiastic re-telling, while giving little thought to what went wrong for someone who missed the action. In past years, my screw-ups often have been compensated for by a stunning success, but not this year. All I can say is that the feeling definitely sucks. I know I've said it before, but the difference between having a great chase vacation and a lousy chase vacation can be razor-thin. Only a few small number of poor decisions is all it takes. This year was one of multiple bad decisions on many of our chase days, so I have to do some re-thinking about how my chase vacation is going to operate.
Since Vickie and I have been chasing, I've kept some detailed records of my expenses during a chase. The results are shown here: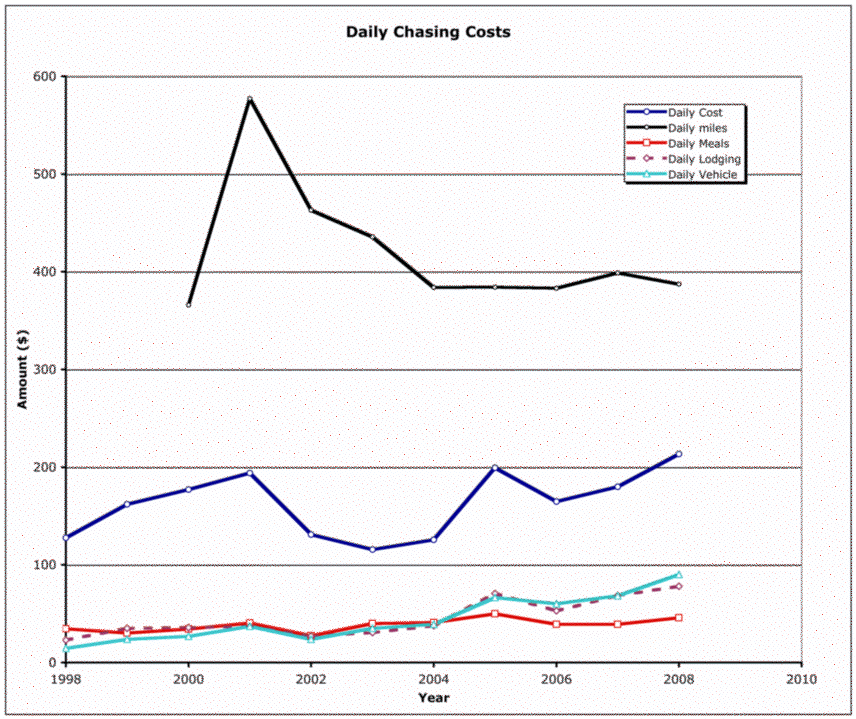 As can be seen, lodging and vehicle costs (mostly gasoline) have gone up pretty drastically. In 1998, vehicle costs were about 10% of our daily costs, whereas in 2008, they had risen to about 40% of the daily total. Nowadays, Vickie and I tend to stay in nicer motels than we did at the start, so our lodging costs have risen, but so have prices, even for the relatively inexpensive places. If gas prices continue their steep ascent, and I don't know why they wouldn't, there will come a time - perhaps sooner than I would have hoped - when we simply can't afford to chase; or at least to chase on our own in the way we've always chased.
As always, I'm pleased with the friendliness and willingness to help that ordinary Plains folk show us every year. It's one of the most reliable things in storm chasing, if you take the time to immerse yourself in the whole experience.
One of the aspects of chasing we always look forward to was nearly a non-factor this year: wildflowers, which were pretty sparse in the southern Plains. There were some in Nebraska and northwestern Oklahoma, but not many. It was a disappointing year for wildflowers, in general. Once again, my favorite spots were mostly barren.
I really enjoyed the guests on this year's tour with Tempest - I thank Ivanoh especially for sharing many interesting photographic ideas (and some of his equipment). And of course, I appreciate Bill Reid, as usual, for his leadership, patience, and sense of humor, as well as the opportunity to meet Rob Petitt and chase with Keith Brown.
States entered during chasing: Oklahoma, Kansas, Nebraska, South Dakota, North Dakota (barely), Wyoming, Colorado. We never touched the state of Texas this year! Nebraska and Kansas occupied most of our time.
---

Bonus images:
---
Food and Lodging Recommendations
These will be updated and consolidated into a single new page, here. ...